As you may know, the Lifeline program is one of the ways to get free cell phone service. The "service" now includes unlimited internet when you combine your benefit with ACP. But then, is it really wise to redeem the internet benefit with a lifeline carrier? And if No, what is the difference between ACP and Lifeline on availability and perks?
Well, these two words have been common lately as many employers across various fields continue to issue mass layoffs. And both are programs under the Federal Communications Commission (FCC) on a mission to bring affordable communication service to those struggling with bills.
However, ACP (or affordable connectivity program) is a relatively new program, started in 2021. The Lifeline program has been around for a bit longer- since 1985, albeit the allowance hasn't always been as great.
ACP vs Lifeline: A Summary of the Free Government Communication Programs
The following is an overview of SafeLink and Cintex Wireless services. I've used the pair to give you a peek at the difference between ACP and Lifeline connectivity programs.
| Fact | Cintex Wireless | SafeLink Wireless |
| --- | --- | --- |
| Lifeline-Only Plans     | Unlimited texting, Up to 1000 talk minutes, 4.5GB of High-speed data | Unlimited texting, up to 1500 talk minutes (unlimited in California), Up to 4.5GB of high speed (6GB in California), |
| ACP-Only Plans | Unlimited texting, Unlimited talk minutes, 8GB of high-speed data | Unlimited texting, Unlimited talk minutes, Free calls to Canada & Mexico, 10GB of high speed in all states (except California), 5GB of mobile hotspot data in all states (except California) |
| Lifeline + ACP Combo Plan   | Unlimited texting, Unlimited talk minutes, Unlimited data (15GB of high speed) | Unlimited texting, Unlimited talk minutes, Free calls to Canada & Mexico, Unlimited data (60GB of high speed in California & 25GB for other states), Up to 15GB of mobile hotspot data in California & 5GB for other states |
|   |   |   |
What is a Lifeline Connectivity Program?
As was just mentioned, Lifeline is an FCC program aimed at bringing affordable communication services to low-income individuals. The "affordable communication" mostly comes in the form of free cell phone service, with an allowance of talk minutes, texts, and browsing data.
Unfortunately, only select providers participate in offering lifeline services. Safelink is one of these participating providers and the best on allowances, or at least here in California. In the chart above, you can see the TracFone brand has 6GB to 60GB of high-speed data for Californians, whereas other states get 4.5GB to 25 GB.
It's seemingly unfair Californians get to enjoy better allowances than the rest of the country. But the truth is that the local government pays extra fees (for the benefit) that other states don't.
Regardless of the state, though, the lifeline phone program is still worthwhile. Everyone can now keep in touch with loved ones, plus access job opportunities and schoolwork. The only setback is that while available to everyone, only eligible families get to access it.
I've used the term "families" as the FCC allows just a single Lifeline support per household, not per person. A household refers to either an individual or a group of people who live together with shared income and expenses.
What is ACP (Affordable Connectivity Program)?
Just like the name, ACP (or Affordable Connectivity Program) also aims at bringing affordable communication to low-income households. It opened its doors for enrollment on December 31, 2021, the same time the Emergency broadband Benefit (or EBB) ended.
A little different from the lifeline program, the ACP primarily covers broadband benefits to eligible individuals. But when applying through phone carriers, you get to enjoy both internet and cellular phone services.
On my chart with SafeLink and Cintex above, you can see the internet data pack comes with unlimited talk and texting.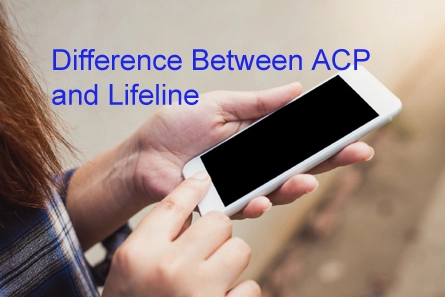 However, other providers will have slightly less talk allowance with the ACP plan- like Qlink Wireless gives 1000 minutes. Then in some states, it may be even impossible to apply for the ACP-only benefit with the providers approved in the area.  (Safelink Wireless is a nice example with just an ACP + lifeline combo in places like California and Kansas).
But even then, ACP and lifeline are still different programs. You can apply the two discounts separately from different carriers, provided you'll stick to the one/ household rule.
In fact, you can get an affordable connectivity program with Verizon wireless or fixed broadband. The provider, alongside others like Frontier and Xfinity, actually offers a full discount on some of the broadband plans.
So, you can get free cell phone service with a lifeline provider, then get the ACP benefit through a fixed broadband provider. A fixed internet service is more stable, unthrottled, and sharable with many devices, anyways.
ACP vs Lifeline: Comparing the Features & Perks of the Free Government Connectivity Programs
There's typically so much to talk about on ACP and Lifeline connectivity programs. But the main differences (and similarities) between the two come down to:
What Do I Need to Qualify?
There's not much difference between ACP and the lifeline program here. They both are only available to individuals, or rather households struggling financially.
To redeem either federal communication assistance program, you'll need to be eligible. And the two eligibility requirements are proof of low income or participation in approved assistance programs.
However, the specifics of these two requirements are a bit different. If it's a lifeline program, you'll need to have a total household income at or below 135% of the federal poverty guidelines or participate in assistance programs like:
Medicaid
Supplemental security income
Federal public housing assistance
Veterans & Veteran's Survivors Pension
Temporary Assistance for Needy Families (TANF)
Food Stamps or Supplemental Nutrition Assistance Program (SNAP)
Head Start, Bureau of Indian Affairs General Assistance, and other Tribal-administered assistance programs
The federal assistance programs above (or an active lifeline subscription) will automatically qualify you for the ACP benefit. But the FCC has added a few eligible assistance programs here, including:
A Federal Pell Grant in the current award year
Low Income Home Energy Assistance Program (LIHEAP)
The Special Supplemental Nutrition Program for Women, Infants, and Children (WIC)
School Lunch or School Breakfast Program (even from the USDA Community Eligibility Provision).
If applying your ACP with proof of low income instead, the limit is also at or below 200% of the federal poverty guidelines. And mathematically, this is slightly higher than the cap for a lifeline. Hence, the reason you automatically qualify for ACP when already on the lifeline program
At the same time, the high low-income cap for the ACP means you won't automatically qualify for the lifeline benefit. The four additional assistance programs above (federal grant, WIC, LIHEAP, plus School Lunch/ Breakfast program) are also not eligible for a lifeline.
Where Can I Apply for the Discount?
ACP and lifeline programs are also partly similar here, as we have many providers you can apply for either or both. In particular, all lifeline providers with free government phones are also offering ACP benefits to eligible users.
As a matter of fact, you receive better monthly phone allowances with a Lifeline + ACP combo than Lifeline-only or ACP-only plan. A perfect example is Cintex Wireless or SafeLink and Qlink. (See other providers of the free lifeline phone in the table below).
Even so, a fixed internet provider will be more convenient if you're looking to apply for ACP benefits. Many of the options in this category, yes, only have a partial discount of $30 that the program offers. But as said earlier, a few providers, such as Xfinity and Verizon, can connect you for free with ACP.
Beside lifeline and fixed internet providers, you can also apply for the ACP discount through regular (paid) phone carriers. AT&T or US Cellular and Verizon are the only Main Carriers you can receive the benefit. You can get a full discount on the monthly bill for some prepaid services. But with postpaid, the rate plans are a bit pricey, thereby you'll only get a partial discount on the bill.
T-Mobile currently has the ACP discount only through its brands MetroPCS (prepaid MVNO) and Assurance Wireless (lifeline). The $30 basic Metro plan with 5GB of high-speed data is Free when you redeem the ACP benefit.
Red Pocket and Cricket Wireless also offer a full discount on their $30 plans if eligible for the ACP benefit. The rest of the plans selling above $30 only have partial savings, then you'll have to settle the outstanding balance.
How Many Allowances Do I Get if Eligible
Technically, the monthly allotments on our two Federal connectivity programs vary from one user to another. Take the lifeline program, the amount of data and talk minutes will depend on the carrier you use and your region.
As you already know, here in California we usually get better lifeline phone allowances than the rest of the states through some operators. SafeLink is yet the perfect example, whereby the lifeline service has 6GB of high-speed data and unlimited talk versus 4.5GB and 350 – 1500 voice minutes in other states.
The following is a summary of other Lifeline providers and the data allowance you get with lifeline-only and lifeline + ACP combo plan:
| Free Government Phone in Florida | Carrier Network | Lifeline-Only Data | ACP+ Lifeline Data |
| --- | --- | --- | --- |
| SafeLink Wireless | T-Mobile/ Verizon/ AT&T | 4.5GB (6GB California) | 25GB (60GB California) |
| Assurance Wireless | T-Mobile | 4.5GB (6GB California) | 35GB |
| Cintex Wireless | T-Mobile | 4.5GB | 15GB |
| AirTalk Wireless | T-Mobile | 4.5GB | 15GB |
| Newphone Wireless | T-Mobile | 4.5GB | 15GB |
| Access Wireless | T-Mobile | 4.5GB (6GB California) | 15GB |
| TruConnect | T-Mobile | 250MB (6GB California) | 14GB |
| Life Wireless | AT&T | 4.5GB (6GB California) | 15GB |
| Q Link Wireless | T-Mobile | 4.5GB | 28GB |
| StandUp Wireless | T-Mobile | 4.5GB (6GB California) | 10GB |
| American Assistance | T-Mobile | 4.5GB (6GB California) | 14.5GB (16GB California) |
| TAG Mobile | T-Mobile/ Verizon/ AT&T | 3GB (1GB California) | 8.5GB (8GB California) |
| Assist Wireless | T-Mobile | 50MB or 3GB | 12GB |
| Safety net Wireless   | AT&T | 1GB (6GB California) | 22GB |
| Easy Wireless | T-Mobile | 25MB | 7.5GB |
|   |   |   |   |
Of the service providers I've gone through until now, TAG Mobile is the only one that seems to prioritize other states before California. The rest have California with relatively more allowances, mostly with a 1-2GB difference in data. Then the talk allowance includes unlimited minutes for Californians, whereas other regions vary from 100 – 1500 minutes.
Meanwhile, ACP usually includes a $30/ month discount for most consumers and $75 for those households on tribal lands.
If applying through lifeline carriers (like above), you'll receive a full discount with no monthly bill to worry about. In the ACP-only, you'll get slightly more monthly allotments than the Lifeline-only plans, but lesser than the ACP + lifeline combo.
If you opt to redeem your ACP benefit with a premium phone or internet provider, some service packages will be available for Free. Then the priciest plans will only have partial savings, and the remaining balance will be due beginning or end of the month.
When Will the Free Connectivity Program End?
In a nutshell, Lifeline service has been around for a long time- since 1985, providing discounted phones to low-income consumers. It's part of the Federal Universal service fund, which the FCC funds through taxes from telecommunications providers.
FCC designated Universal Service Administrative Company (or USAC) as the administrator to collect the monies of this fund. The body (USAC) is also responsible for the distribution of these funds to the programs in play, including our Lifeline.
So, lifeline is a long-term program that isn't likely to end anytime soon- as long telecommunications providers continue to pay for it, that is.
Meanwhile, how long Affordable Connectivity Program (ACP) will Last is still shaky and unclear at the moment. The benefit is part of the $1.2 Trillion the Senate passed in late 2021 for infrastructure expansion. And out of these trillion, the program received $14.1 billion, about 440% more than the amount allotted for the previous EBB.
Unlike the EBB which was a temporary "Emergency Broadband Benefit", FCC places ACP as a more long-term "Affordable Connectivity Program". There's no mention of the exact date the program will end.
So, we can expect the program (ACP) to last until the $14.1 billion runs out, or perhaps Congress will find a way to have it run forever like Lifeline phones.
Oops! No Transfer Allowed
While there are still things to talk about, this is the main difference between ACP and Lifeline. The programs have helped many households, especially those of us the current financial hardships have hit hard.
As you can see, it's possible to combine both of these programs as long you maintain the rule of one per household. But I'm still not recommending the ACP + Lifeline combo. Instead, get a lifeline-only plan for the lifeline program, then redeem the ACP benefit with a fixed internet service provider.
One crucial point I'd like to add is to remember the FCC doesn't allow transferring your ACP or Lifeline program. If the idea was to relocate but want to leave the benefits with another member of the family, you'll have to contact the provider/s and cancel your service. Then another member of your household can apply afresh with his/ her details.