Netspend is one of the easiest prepaid cards that you can get for yourself, your college teen, or any other member of the family. It's one of the best ways you can use to manage your finances and shop anywhere without a hassle. Anyway, in this article, we're going to show you how to transfer money from one Netspend card to another, perhaps your kid's or mom's, at no charges.
Of course, it's not all the methods will be free, but some are in case you use the method to pay your workers. Also, you'll come to notice some of the ways are similar to those we mentioned you can use to get money off Netspend account without a card.
Netspend Prepaid Card vs Credit Card vs Bank Debit Card
Technically, we have three main types of card payments: Credit cards, debit cards, and prepaid cards.
Credit Card
Credit card payment is the oldest of all and just as the name, it revolves around a line of credit.
Usually, the card issuer will provide you with a credit limit, which consists of the amount that you're allowed to spend. The set limit can be from as low as $500 to a maximum of $100,000 based on your gross annual income, credit score, credit history, and repayment history.
More on that, credit cards are the best in building or even rebuilding your credit score. Surprisingly, however, it's not everyone who will get approved for a credit card with no credit, but there are some easy tricks around it.
Bank Debit card
Debit cards are usually available to banking customers who would like to access their funds electronically. That's without needing to visit the bank or write a check. Other than accessing the funds via the ATM, you can also use debit cards to shop online or in-store and pay various utility bills.
However, your purchase power when using a debit card is limited to your linked bank account balance. If the total purchase amount is beyond the available balance, the bank will automatically decline the transaction, unless you have overdraft protection.
Prepaid Card
When it now comes to prepaid cards, the money you use to make purchases is the amount you've loaded. Some, like our Netspend prepaid card, you could also make withdrawals from ATM, PayPal, or authorized registers. And best of all, you don't need to have a bank account or a perfect credit score to get and use one.
Even better, a Netspend prepaid card provides an option you can create a temporary virtual card number. While it will still work just like the actual prepaid card, this virtual card number won't display the original details of your account. Hence, helping protect your money from fraudulent charges and also enabling you to manage your minor's spending.
How to Get a Netspend Card Online
As was just mentioned, a Netspend prepaid card is so easy to get. It doesn't require a credit history like credit cards or a bank account as with the debit card. You just order the card, load the funds, and start shopping.
Speaking of shopping, you can order your Netspend card from the company website or through Walmart. The Bigbox retailer is one of the major partners of the global payment company, in which case you can even withdraw or recharge your card.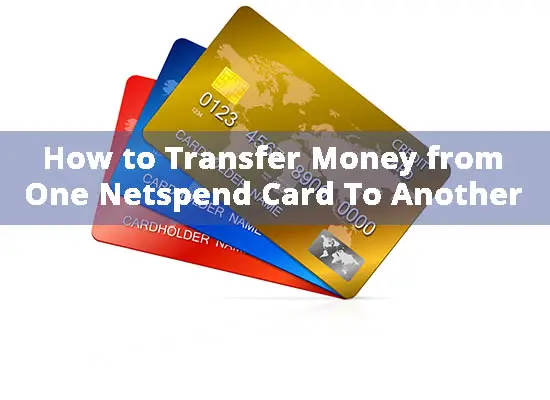 But, anyway, the Netspend prepaid card is also absolutely free to get after you fill out the issued online form. However, you must be at least eighteen as you'll need to activate and verify with your national ID card, plus your social security number.
In the case of minors, high school or college teens, you can add them as secondary cardholders, or otherwise create them a virtual card number. The virtual card account is similar to digital wallets, but you can specify a spending limit. Hence, enabling you to control your teens spending and even locking them out with ease when they misbehave.
How to Transfer Money to a Netspend Card
Overall, there are up to ten different ways to transfer money to a Netspend card account. However, half that number are the only methods you can perform a direct transaction to the card. They include:
Direct Deposit
A direct deposit is one of the ways you can use to transfer money to a Netspend card. It's convenient and relatively fast compared to a paper check as you can access your funds at most two days. As you may know, check deposits can take up to five or seven days to clear and deposit the funds, especially if it has a large amount.
As for a Netspend card account, you can perform a direct deposit of up to $15,00. The funds will be available in your card account as soon as the electronic transaction completes- 1-2 days.
Note, the direct money deposit to the Netspend card isn't limited to only personal and work checks. You can also set the card account to be receiving your tax refunds, pensions, social security, SSI (supplemental security income), and other government benefits.
Bank Transfer
A bank transfer is another way you can load money to your Netspend card account. The process applies to virtually any U.S.-issued bank account (checking or savings account). You just need to have the information of the Netspend card you want to send money to, namely the name and FlashPay ID.
Regardless, you still need to link the receiving Netspend card account with the bank account you're using for the transfer. So, you must have an online account for the participating bank to complete the money transfer. But again, the means is pretty fast as the funds can reflect in the prepaid card account within a day.
PayPal
If you already have an active PayPal account, you can also send money to the respective Netspend card account instantly. In case you don't have one, you can create one within seconds while using your email account. And considering it's an online payment platform, you should be able to transfer funds to the Netspend account without a hassle.
To do that, you just need to log in to your PayPal, click the wallet button, and select the "Link a Bank Account" option. Next, enter the account and routing numbers of the Netspend account you want to transfer funds to, and hit "Continue".
Then, you can start transferring money to the Netspend card from anywhere, anytime as long the PayPal account has some funds. Don't forget, PayPal does charge a minimum fee for the transfers as well.
Note, unlike with the bank transfer, one can also use PayPal to make withdrawals. And considering both PayPal and Netspend are online payment platforms, you necessarily don't need a card to get money off the Netspend account. So, it can come in handy times when you have lost or forgotten your prepaid card at home.
Western Union Transfer
Western Union is another major partner of Netspend company. If you have an account, you can easily transfer funds to your Netspend card in two different ways. In the first option, you can directly send funds to the card through the Western Union money transfer online.
Luckily, the Western Union Money Transfer service is not available in just the U.S, but over 200 countries and territories. So, it can be very useful if you're trying to recharge the Netspend prepaid card while outside the United States.
Other than the Western Union Money Transfer, there's also the Western Union® Netspend® Prepaid Mastercard®. It's very similar to the regular Netspend card, including transactions policy, applicable fees, recharge at reload locations, cashback rewards, amongst other perks.
If you want to transfer funds to the regular Netspend card account, you can log in to wunetspendprepaid.com. Or else use the Western Union Netspend Prepaid mobile app.
Note, the Western Union Money Transfer to Netspend account is only available to select card programs. You can log in to your Netspend Online Account Center to check if you're eligible or not.
Another thing, there are fees for the Western Union money transfers, but they do vary based on the transaction.
Netspend Reload Points
The Netspend reload locations are yet another way you can use to transfer funds to a Netspend card account. It comprises cash centers and stores that have partnered with Netspend to allow easier reloading from your locale. Some of these stores include 7-Eleven, Advance America, Check 'n Go, CVS Pharmacy, Flying J, Walmart, Office Depot, Walgreens, and others.
In total, there are over 130,000 reload locations here in the United States as each of the participating merchants has multiple branches. Then, they all charge varying reload fees, ranging from $0.00-$3.95.
Transfer between Netspend Accounts
 Although the last on our list, transfers between Netspend accounts is perhaps the best way to add funds to a Netspend card account. It's not only easy to perform but also quick and free, though not in all cases as we shall see below.
Furthermore, you can transfer money from one Netspend card to another anytime, anywhere. All you need is the prepaid card details of the recipient, namely the name and the FlashPay ID.
Even so, there are three different ways you can transfer money from one Netspend account to another. The first one involves using a customer service agent, who will charge you up to $4.95 to complete the transaction. Then, the other two require you to complete the money transfer yourself, but you won't need to pay a transaction fee.
How to Transfer Money from One Netspend Card to Another for Free
To be honest, the $4.95 the Netspend customer service agents demand to help you isn't little as it seems. It's a whole Grande White Chocolate Mocha from Starbucks and even leaves you with some pocket cents. So, it might be worth learning how to transfer money from one Netspend card to another by yourself if you want to grab that snack.
In any case, the two ways you can send money between Netspend accounts for free is through online transfer. You can do that by using either the Online Account Center through the Netspend website or the mobile app. But again, you must have the name and the FlashPay ID of the other person.
Note, you can also transfer money from one Netspend account to another indirectly. That's you first get the money off the Netspend card you want to send from, then deposit the withdrawn amount to the other Netspend account.
Transfer Limits and Fees Associated with Netspend Card Account
Part 1: Netspend Money Transfer Limits
In a nutshell, the fees for transferring money to a Netspend card account vary across the various methods. The direct deposit, bank, Western Union, PayPal, and even reload locations have their own minimum charges.
It's only the transfer from one Netspend card to another that has a fixed fee for all the accounts. And that's either the no cost ($0) if you're transacting by yourself or $4.95 when using a Netspend customer service agent.
In addition to that, each of the transfer methods has a set daily and monthly limit that you have to observe. For instance, Netspend's direct deposits are limited to $7,500/ day and 15,000/ month. Then reload locations like Walmart and CVS will allow you to load up to $2,500/ day.
Part 2: Netspend Free and Monthly Plan Fees Comparison Chart
Here's a summary of some of the fees attached to the Netspend prepaid card. You can check the complete fee schedules at the Netspend-managed cardholder agreements page.
| | | |
| --- | --- | --- |
| Fee For | Pay-As-You-Go Plan | Monthly Plan |
| Plan Subscription | $0.00 | Up to $9.95 |
| Purchases | $1.50 | $0.00 |
| ATM Withdrawal | $2.50 | $2.50 |
| "OTC" Withdrawals | Varies | Varies |
| Cash Reload | $0.00-$3.95 | $0.00-$3.95 |
| Online Balance Inquiry | $0.00 | $0.00 |
| ATM Balance Inquiry | $0.50 | $0.50 |
| International ATM Withdrawal | $4.95 | $4.95 |
| International Balance Inquiry | $0.50 | $0.50 |
| ATM Transaction Decline | $1.00 | $1.00 |
| Additional Card | $0.00-$9.95 | $0.00-$9.95 |
| Replacement Card | $0.00-$9.95 | $0.00-$9.95 |
| Customized Card | $4.95 | $4.95 |
| Standard Card Delivery (7-10 business days) | $0.00 | $0.00 |
| Regular Card Delivery (3 business days) | $20.00 | $20.00 |
| Express Card Delivery (1-2 business days) | $25.00 | $25.00 |
| Inactivity (after 90 days with no transactions) | $5.95 per mo. | $5.95 per mo. |
|   |   |   |
Final Thoughts:
Well, you can now see you don't have to pay the fees to reload your Netspend card if you don't want to. If you have a laptop or smartphone that can access the internet, you can easily transfer money from one Netspend card to another free of charge. Best of all, you can even send the funds to someone outside the U.S. and still won't incur any charges.
As a Netspend user, it's worth noting that you cannot directly link your card to CashApp as some bloggers claim. Also, the company doesn't perform credit checks, neither do they report to Credit Bureaus. So, you cannot use it to improve your poor credit history.