At this point, we've talked a lot about wireless phone services. But now with so much about working and studying from home, a reliable internet connection has become as important as phone service. So, I've thought it'd be nice if we break down Spectrum vs Frontier wired internet packages to see which would be better for you. But why the two?
Well, the Federal Communication Commission (FCC) has recently published the details on fixed broadband deployment in the country. And amongst the list of the largest providers are Comcast (Xfinity), Charter (Spectrum), and Frontier.
In this article, the focus is on the last two options. But we'll only be looking at the features that matter, such as coverage, network technologies, and data speeds.
Spectrum vs Frontier: A Quick Peek on the Features & Perks of the Internet Service Providers
| Feature | Spectrum | Frontier |
| --- | --- | --- |
| Parent Company | Charter Communications | Frontier Communications |
| Service Availability | Residential & Business | Residential & Business |
| Internet Technologies | Fiber & Cable | Fiber, ADSL, & Fixed Wireless |
| Internet Speed Tiers | Three | Six |
| Fastest Download Speeds | About 940Mbps | Up to 2000+Mbps |
| Fastest Upload Speeds | About 40Mbps | Up to 2000+Mbps |
| Data Caps | NO | NO |
| Cheapest subscription | $49.99 introductory price | $32.99 introductory price |
| Affordable Connectivity Program Discount | YES | YES   |
| Coverage Across the U.S. | 33.65% | 10.75% |
| Subscribers | 30+ Million | 3+ Million |
| Out-of-home WiFi Access | YES | YES |
| Phone Discount | YES | YES |
| Contract Buyout | YES | YES |
| Other Extra Perks | 3-month Premium Peacock trial plan & Advanced Home WiFi | 3-month Apple TV+ trial & $10 discount on YouTube TV |
|   |   |   |
Is the Spectrum Internet Any Good?
Spectrum (Charter) is the second-largest internet provider across the country. We could say the success is from its long time on the market. But the service itself has some lovely perks too.
If it's the delivery, Spectrum offers its internet via (coaxial) cable and fiber-optic connection. However, the majority of users are on the cable internet, which has extended coverage to even the rural areas.
While looking at AT&T vs Spectrum Mobile performance last week, we saw the Spectrum phone data speeds can record up 2000Mbps. The cabled internet is yet to get that fast yet, but you can still enjoy some decent speeds that you can stream and game with ease.
Is the Frontier Internet Any Good?
Absolutely! Of course, the coverage is not as good as its main competitors. But its recently-released 2Gig internet package is now everything any avid gamer or website creator will love to have.
The Frontier 2Gig internet plan is available via fiber connection, which has remarkable speeds of up to over 2,000Mbps. And the best part, this connection is symmetrical, which means you get the upload speeds as high as the downloads.
Furthermore, Frontier offers the 2Gig and all the other internet packages with no caps or annual commitment. Then you can also get connected at a slightly lower cost with an internet and home phone bundle.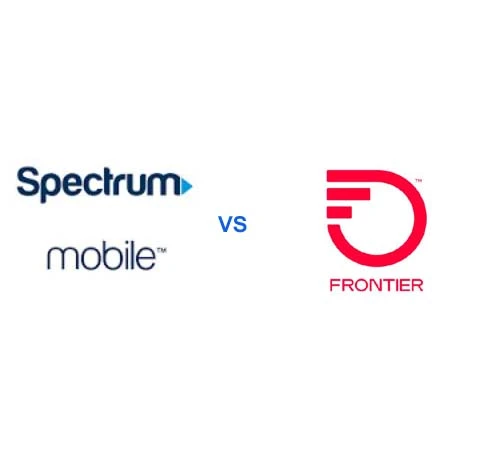 Spectrum vs Frontier: Comparing the Features & Perks of the Internet Service Providers
In this section, we'll now look at how Spectrum and Frontier stand out from each other.  
Fans Favorite
Both Spectrum and Frontier are great internet providers and a favorite of many users across the country.
However, the 2021 American customer satisfaction index listed Spectrum to have an approval rate of 63 out of 100 points. The score is similar to that of the 2020 results, two points less than the average 65, but still higher compared to Frontier.
Of course, there's about a 4% improvement on the 2021 Frontier satisfaction index. But it has a score of 57 points, which is still lesser than that of Spectrum and the average score.
Coverage & Availability
Spectrum Internet also leads in this category. It has a 33.65% nationwide coverage, which means over 105 million Americans could get a connection today if they wanted.
 Nonetheless, in the 46 states covered, Spectrum has confirmed a total of 29.2 million internet customers in 2021. And that would be a total net addition of about two million new customers between the 2020 – 2021 period.
On its end, Frontier is relatively smaller in both coverage and consumers. It has about 10.75% nationwide coverage, which is about 35 million Americans ready to be connected at any given time.
But in the 25 states available, Frontier recorded approximately 2.79 million customers in 2021. And considering the year 2020 had about 2.83 million customers, that would mean the company lost over 30k subscribers within the one year.
Also, that would confirm my previous argument of Spectrum as the favorite of many and also wider on coverage.
Internet Technologies
Usually, internet providers will bring a connection to your home or business on different technologies. For instance, our two carriers now have fiber connections, which you should know has the fastest data speeds.
But with Spectrum, the fiber connections comprise less than 1% of the total residential and business clients. The other 99+% customer base gets their internet connection via coaxial cable, which, unfortunately, isn't as fast as fiber.
As we shall see shortly, though, the Spectrum cable internet is faster than the Frontier DSL connection.
DSL (or digital subscriber line) internet is the type of technology that gets you online via the existing telephone lines. Your active phone service e will still work perfectly since the internet will be traveling on a different frequency. But the data speeds will be way slower than the fiber-optic and even (coaxial) cable connections.
Speaking of fiber-optic, Frontier has about a third (33.70%) of its residential and business clients on fiber internet. Then, a small portion of connections (about 0.4%) is on the Frontier fixed wireless- LTE network.
Internet Speeds
On the Frontier vs Spectrum speed test, the former is the clear winner. The 2Gig package we mentioned earlier has a  browsing speed of 2200Mbps to 2300+Mbps. And since the package offers a symmetrical fiber connection, you'll get about the same download/ upload speeds.
As for the Frontier DSL internet, the available plans have an asymmetrical connection. And the featured premium plan will give you 115Mbps downloads/ 3Mbps upload speeds, which is slow but enough for even video streaming or gaming for multiple users.
On the other hand, Spectrum has the Internet Gig as the highest connection plan. The plan only offers an asymmetrical connection, with 940Mbps for downloads and 35Mbps on upload speeds.
If on a tight budget, you could check out the Basic 200Mbps Spectrum Internet plan. But the package still has super low upload speeds that you might find inconvenient as a YouTuber or in uploading large files to cloud servers.
See charts 2.1 and 2.2 below for a complete summary of the Spectrum and Frontier internet speeds.
Internet Plans & Pricing
Our two internet providers offer mixed convenience on the various connection packages.
Chart 2.1 Spectrum Internet plans Structure
| Features | Basic Internet Plan | Internet Ultra Plan | Internet Gig Plan |
| --- | --- | --- | --- |
| Introductory Price (for the first 12 months) | $49.99/ mo. | $69.99/ mo. | $89.99/ mo.   |
| Regular Price (after the first 12 months) | $74.99/ Mo. | $94.99/ mo. | $114.99/ mo.   |
| Professional Installation Fee | $49.99 | $49.99   | $199.99 |
| Modem Fee | NO | NO | NO |
| Router Fee | $5/ month (Avoidable) | $5/ month (Avoidable) | $5/ month (Avoidable) |
| Download Speeds | 200Mbps | 400Mbps | 940Mbps |
| Upload Speeds | 10Mbps | 20Mbps | 35Mbps |
| Free Peacock Premium Deal | NO | NO | YES (three month trial) |
|   |   |   |   |
 2.2 Frontier Internet Plan Structure
| Features | Basic DSL Plan | Preferred DSL Plan | Premium DSL Plan | 500Mbps Fiber Plan | Gig Fiber Plan | 2Gig Fiber Plan |
| --- | --- | --- | --- | --- | --- | --- |
| Introductory Price | $32.99/ mo. | $39.99/ mo. | $49.99/ mo. | $49.99/ mo. | $74.99 mo.   | $149.99/ mo. |
| Installation Fee | – | – | – | $85 | $85 | $85 |
| Modem Fee | NO | NO | NO | NO | NO | NO |
| Router Fee | $10 (Avoidable) | $10 (Avoidable) | $10 (Avoidable) | $10 (Avoidable) | $10 (Avoidable) | $10 (Avoidable) |
| Download Speeds | 9Mbps | 25Mbps | 115Mbps | 500Mbps | 940Mbps | 2000+Mbps |
| Upload Speeds | 1Mbps | 1Mbps | 3Mbps | 500Mbps | 880Mbps | 2000+Mbps |
| Free YouTube TV Discount | N/A | YES ($10 off) | YES ($10 off) | YES ($10 off) | YES ($10 off) | YES ($10 off) |
| Other Promo Deals | N/A | N/A | N/A | $50 | $200 | Free Apple TV+ Deal |
|   |   |   |   |   |   |   |
Well, the Frontier internet plans are a little bit more flexible compared to its competitor. Not all areas have both DSL and fiber-optic connection, for sure. But in the areas that do, you can get online from as low as $33 in the first year.
However, the Frontier fiber packages are the best option if you'd like to have a more reliable connection. The half-gig plan is the lowest in that category and you can get it at an introductory price of $49.99 with auto-pay.
If your online needs call for a higher data speed, the Frontier 2Gig fiber plan will be the best option. But the package will cost about $150/ month and there's also an installation cost of $85 and router lease fee of $10.
Spectrum internet plans also include the router lease fee, but at half the price. You'll also pay a one-time installation fee ranging between $20 (for self-installation) to $200 (on the Gig plan).
As for the service charges, Spectrum offers all three connection plans at a price range of $50 to $90 in the first year. Then, after one year, you'll have your bill increase by about twenty-five bucks.
Note: The pricing listed for the Frontier internet plans above is also an introductory offer that extends for a whole year. Then your bill will revert to the standard rates, which I've intentionally left out as they vary from state to state.
Affordable Connectivity Program
A while back, we talked about the affordable connectivity program Verizon has for qualified low-income customers. And as internet service providers, Spectrum and Frontier also have discounted connection plans, with up to $30 savings/ month.
However, the two providers have separate internet packages for the qualified households that are applying for the first time.
If it's the Spectrum Internet Assist program, you can get connected for as low as $18 / month on a 30Mbps plan. Then, Frontier gives you access to the Essentials or 100Mbps fiber connection at $0, provided you pass the eligibility requirements.
Common Related Questions
Should I switch to Frontier from Spectrum?
Yes, indeed, you can switch to Frontier from Spectrum if your online activity involves a lot of uploading. The Frontier fiber internet plans comprise symmetrical connections with equal download/ upload bandwidth of up to 2+Gbps.
Is Spectrum a good choice?
Spectrum is the second largest internet provider, with cable connections to over 100 million Americans. So, it's a good choice to get online in rural areas where there are no other providers. Or if you're in a location with only dial-up or DSL connections and would want to have better data speeds.
Is there anything better than Spectrum?
Frontier is certainly not the best on coverage across the country. But it's certainly better than Spectrum on pricing, plus has more internet plans to choose from and way faster data speed.
Can you have Spectrum and Frontier at the same time?
A simple answer, YES, you can have Spectrum and Frontier internet at the same. The two operates on different infrastructure (coax vs fiber). So, you'll just have to make sure the technician from either provider uses a different line.
Does Spectrum use fiber or cable?
Spectrum internet is predominantly on the fiber-coaxial cable for the residential connections. But the provider also has about 0.5% of its enterprise connections on a private fiber network with symmetrical speeds of up to 100Gbps.
Final Thoughts
As was mentioned in the very beginning, reliable internet service is now as crucial as the phone service. And in our Spectrum vs Frontier review that we've just covered, you can see each provider has its unique strengths.
However, in my opinion, Frontier might be a better choice if its fiber is available in your area. Not only does it have slightly cheaper rates than the Spectrum options, but also you'll have high symmetrical data speeds.
Even so, remember the pricing that Frontier has on the website is a promo offer for the first twelve months. After that, your bill will have a surcharge of $10-$30+, depending on your internet plan and location.