5G connectivity has been the new race for almost every telecommunication company across the globe. It delivers ultra-fast browsing speeds of up to 4+Gbps, where you can download your movies or music within seconds. But now, do U.S. providers reach these speeds on fixed broadband? If yes, where is Verizon 5G Home Internet available with such a speed? And also, has the service reached my home town?
Verizon is one of the Internet service providers (or ISPs) in the country to consider for a fixed broadband connection. The service is now available in three different infrastructure technologies, including DSL (copper), Fios (Fiber-optic), and Fixed wireless access (on 4G LTE and 5G connectivity). It's about the same arrangement with Frontier, as we covered on the Frontier vs Xfinity review the other day.
As the headline reads, though, I'm going to focus on the Verizon 5G Home Internet in my short guide here. And while the idea was to answer the questions around coverage, I've touched on the other relevant areas as well.
What is 5G Home Internet?
Well, this should be self-explanatory.
5G home internet is a type of broadband service that brings you a connection via the fifth generation of wireless data networks. Some say it's an improvement of the previous 4G connectivity. But in reality, 5G is a whole new technology. It requires a "new approach in designing and deploying networks", says Verizon.
Speaking of, we can now define Verizon 5G Home internet as a type of broadband service on fixed wireless. It works by the dedicated receiver (home router) tapping in Verizon's 5G radiowaves roaming in the air.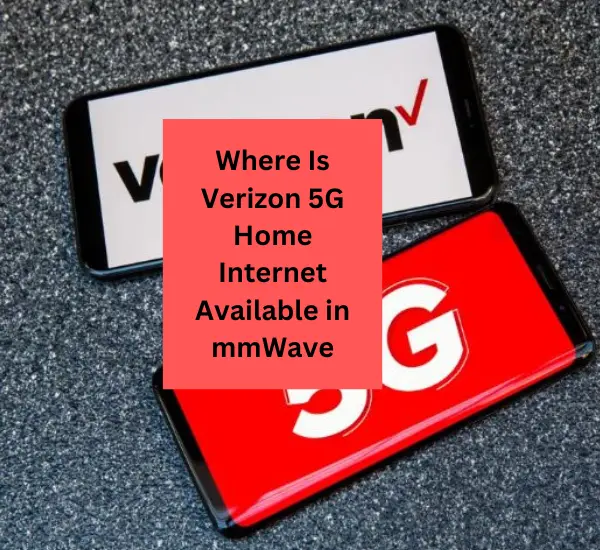 If a tech buff, I'm sure you know fixed wireless internet didn't have data speeds fast like the wired counterparts (cable or fiber). The advent of 5G technology is what has changed the rule to a point your data speeds can peak up to 4Gbps.
When comparing Verizon vs Spectrum Mobile phone services, we actually saw the former reaching up to  4020Mbps (4+Gbps).  However, the Verizon 5G Home internet hasn't reached there yet. The fastest data speeds I've seen so far are around 2.2Gbps (2200Mbps) on downloads and 0.3Gbps (300Mbps) on uploads.
Take note, the exact kind of data speeds you see on your devices will depend on whether connecting to the 5G mmWave (Ultra-wideband) or the mid-band (C-band) frequencies. And in either of the two, you must have the right Verizon receiver and access to the necessary frequencies
Is the Verizon 5G Home Internet Worth It?
The answer here will also depend, albeit the difference now is per your needs and preferences. But if I can speak my mind, the Verizon 5G Home internet is worth it.
Some of the positives of the broadband service include:
It's pretty affordable to acquire and maintain
Requires no long-term contract as some cabled ISPs
Offers "truly" unlimited data with no throttling/ data cap
The service is accessible in areas where laying wired internet is a challenge
Includes Free Verizon Cloud Unlimited package to back up your digital data
Comes with a free Gateway receiver (router). There are also no monthly equipment fees to worry about
You will get a free 12-month Walmart Plus subscription, which has benefits like Free video streaming, savings on fuel, Free delivery/ shipping, et cetera
The 5G Home internet also has impressive browsing speeds on both wireless LAN and ethernet connections.
In the last point, I mentioned earlier the kind of 5G Home Internet speeds you get depends on where you're applying from.
If your address only supports Verizon 5G on C-band, you'll get a C-band speed cap of 85-300Mbps downloads and 10-50Mbps uploads. The Verizon store rep will also send you the ASK-NCQ1338 Gateway Receiver that's only compatible with LTE, 5G C-Band, and 5G Nationwide signal.
If lucky to access 5G mmWave in your place, Verizon will now send you the LV55 Gateway Receiver that can tap into LTE, 5G mmWave, 5G C-band and 5G Nationwide frequencies. In the 5G mmWave, you can get up 2200Mbps download speeds and 300Mbps on uploads.
What's the Best Verizon 5G Home Internet Plan to Have?
While I've tried to generalize Verizon 5G Home Internet above, its browsing speeds typically vary with the subscription in use.  The subscription plans available at the moment are only two: Verizon 5G Home and Verizon 5G Home Plus.
| | | |
| --- | --- | --- |
|   | Verizon 5G Home Internet Plan | Verizon 5G Home Plus Internet Plan |
| Regular Monthly Price (without Autopay) | $60 | $80 |
| Monthly Price with Autopay | $50 | $70 |
| Monthly Price w/ Auto Pay & Deal | $25   | $35 |
| Contract | None | None |
| Compatible Equipment | ASK-NCQ1338 Gateway Receiver (Cube) | LV55 Gateway Receiver (with Window bracket) |
| Equipment Fee | None | None |
| Data Limit | Unlimited (No Cap) | Unlimited (No Cap) |
| Download Speeds | 85 – 300Mbps | 300 – 2000+Mbps |
| Upload speeds | 10 – 50Mbps | 50 – 300+Mbps |
|   |   |   |
Ps. The pricing at $25 on Verizon 5G Home (and $35 on Verizon 5G Home Plus) includes autopay and qualifying postpaid unlimited mobile service.
Is Verizon 5G Home Internet Good For Gaming?
As an avid gamer, you sure know the importance of having a stable internet connection. And "stable" means the internet should not only have high (or decent) data speeds. But the Jitter and ping rate (or latency) should be as low as possible.
If your broadband service has high jitter and latency, it can directly impact the tasks you're performing. For instance, in online gaming, you will be more likely to experience delays, lags, and inconsistency.
So, an internet connection with low jitter and latency is usually the best for gaming. In our Verizon 5G Home internet, you can expect 30ms – 50ms ping, then 5ms – 25ms jitter. And by the basic online rules, both rates are ideal for gaming.
Therefore, the answer you're looking for is a YES Verizon 5G Home internet is good for gaming.
Quick Notes:
Ping rate usually shows the speed at which your router (Verizon Gateway receiver) gets a response after sending out an online request (packet). It (Ping) counts in milliseconds (ms), whereby a rate of less than 20ms is Great for gaming, 20-50ms is Good, 50-100ms is Fair, and 100-300ms is Poor.
Jitter, also called PDV (packet delay variation), simply explains the rate/ time your online requests take to reach the destination and back. For instance, a situation where the Ping rate is the same has no jitter. But when you have a ping rate of 20ms in the first packet and 40ms in the second packet,  the jitter is 20ms. And as per the basic online policy, a jitter rate of less than 30ms is ideal for gaming.
What Areas Is Verizon 5G Home Available In?
Verizon has ranked first in the 4G LTE coverage for years now. It was also the first provider to have 5G (launched in October 2018).
However, Verizon lost the lead in the 5G race when they prioritized 5G mmWave (Ultra-Wideband) over C-Band. While the technology has the fastest data speeds, it usually doesn't travel far.
More sad news, Verizon still hasn't deployed mmWave cells in many states. On the Verizon coverage map, you'll noticethe service is yet available in about eight states. The eight not covered include Alaska, Hawaii, Maine, Montana, North Dakota, New Hampshire, Vermont, and Wyoming.
In January 2022, Verizon announced they have now extended the Ultrawideband service to 1,700 cities, covering 100 million people. Later in the year, the telecom giant announced their goal would be to expand the service to cover 200 million people by 2023.
Meanwhile, all the states have access to 5G Nationwide (on the low-band spectrum). It's available in 2,700+ cities, covering 200 million+ residents across the whole country.
Can I Get Verizon 5G in My Home?
Technically, whether you can get Verizon 5G internet in your home depends on your current location. Many areas in almost all states have access to 5G Nationwide. Then the coverage map shows only about eight states have no access to the Ultrawideband connectivity.
Regardless, these coverage maps online are usually not accurate. One aspect that confirms this is the dedicated Verizon local pages. For instance, the local pages of  Maine, Wyoming, North Dakota, and Montana claim some parts are eligible for Verizon 5G Home Internet.
How Do I Know If Verizon 5G Is Available In My Area?
There are three main ways how to know if Verizon 5G is available in your area or not. The first method is to follow up on Verizon news closely. They have been updating their news page with the 5G deployment progress, especially for the Ultrawideband.
The second way you can know if Verizon 5G is in your area will be to check the coverage map available online. It shows all the states the service is available, as well as the specific states you can get the 5G mmWave signal.
However, I've just mentioned these coverage maps (not just with Verizon) are not always accurate. Thus, the most effective method to know if your area supports Verizon 5G will be to verify the address.
To do the check, just go to the official page of Verizon 5G Home Internet. Next, locate and click on the "Check availability" button under your preferred plan (5G Home or 5G Home Plus).
After selecting the availability button, you'll get the prompt to enter your Street address, which will confirm within seconds. Then you can enter your phone number and email address to see if your 5G home internet will qualify for the latest promotions.
Does 5G Internet Accept Rural Areas?
The fixed wireless access internet has come to help fill in the gap left by wired broadband, such as fiber and cable. It utilizes the infrastructure of cellular phones, which is available in most parts of the country.
At this point, Verizon still leads in the coverage of 4G LTE. It's available even in many rural areas, including in the western and Northwest states where carriers like T-Mobile tend to struggle.
However, many carriers are still in the process to deploy 5G technology across the country. A Verizon 5G Home internet availability check, for instance, will show you rural Bend and Central OR are supported. But in reality, the places have 5G Nationwide and LTE internet, whereas Ultrawideband is in metro Oregon (like Portland).
Ps. The data speeds of 5G Nationwide are so similar to the LTE. And the reason for this is that the low-band 5G utilizes the already existing LTE bands to work.
Key Takeaway: Can I Move My Current Verizon Home Internet Service To A New Address?
When dealing with wired broadband connectivity (like fiber or DSL), a technician from the provider usually does the installation. There are applicable installation fees when you join and in most cases when you relocate.
In the case of fixed wireless internet, the installation is usually free since it's an easy process you can do yourself. And this means when you move with your current Verizon Home Internet service to a new address, you won't have to pay relocation fees.
However, I'd recommend checking service availability at your new address before you move. Especially if you want to take advantage of ultra-fast browsing speeds, not all areas have 5G mmWave access. Most places have access to 5G Nationwide or 4G LTE that has speeds around 25 – 50Mbps.
Final Thoughts
In case your area is inaccessible to cabled broadband, that's everything relevant is there to know about Verizon 5G home internet service. The service is also a great option if your home area only has access to the analog DSL, which often has low data speeds of 1.5Mbps to 140Mbps.
In the Verizon 5G Home Internet, we've seen speeds of up to 2,000Mbps if the area and your gateway receiver support mmWave connectivity. But since we're dealing with an asymmetrical connection, the data speed will have upload speeds slower than downloads.
The good thing, though, is that you receive priority data in all these areas where Verizon 5G Home internet is available. So, your connection will always be usable, including when the network is experiencing heavy congestion