What do you consider an ideal internet service? Well, in my opinion, the best internet provider should have at least the perfect balance of cost, data allowance, and browsing speed. And in this post, we're going to compare CenturyLink vs Xfinity on some of these features to see which will be the right one for you.
Of course, it's an unfair comparison when Comcast (Xfinity) has the highest of almost everything. But CenturyLink also does have some exceptional perks, starting with the symmetrical Gigabit fiber at $65/ month.
Unlike many have been saying, CenturyLink has also loosened up on its rule for data caps. Read on for the details on whether your dictated internet plan still has this data limit or not.
CenturyLink vs Xfinity: Features & Perks of the Internet Service Providers
| Feature | Centurylink Internet | Xfinity Internet |
| --- | --- | --- |
| Parent Company | Lumen Technologies | Comcast Communications |
| Service Availability | Residential & Business | Residential & Business |
| Internet Technologies | ADSL, Fiber, & Fixed Wireless | Cable & Fiber |
| Internet Speed Tiers | Many (residential) | Eight (residential) |
| Highest Internet Speeds | 940Mbps (on fiber) | 6000Mbps (on fiber) |
| Data Caps | Varies | YES |
| Cheapest subscription | $50/ month | $25/ month |
| Affordable Connectivity Program Discount | YES | YES |
| Coverage Across the U.S. | About 17% | About 37% |
| Internet Subscribers | About 4.47 Million | Over 32 Million |
| Out-of-home WiFi Access | NO | YES |
| Phone Discount | YES | YES |
| Contract Buyout | NO | NO |
| Other Extra Perks | $100 MasterCard Card, Amazon Fire TV Stick, EPIX NOW, Sling TV, etc. | Free Flex 4K streaming box & Premium Peacock trial plan |
|   |   |   |
The following are the major differences between CenturyLink and Xfinity internet. I've started with a mention of the customer satisfaction rating, which provides an insight into the end-user experience.
Fans Favorite
Xfinity is no doubt the most popular internet when compared to CenturyLink. The majority of its current subscribers also seem happy with its service.
Nonetheless, the 2022 American Customer Satisfaction Index has Xfinity (Comcast) with a score of 66 out of 100 points. And while this figure is higher than the average score (64 points), it's a 1% drop as the provider had 67 points in 2021.
CenturyLink (Lumen Technologies) has also dropped on the 2022 satisfaction index- from 62 to 60 points. But that would mean Xfinity still has a better end-user experience.
Coverage & Availability
The two internet providers have a wide coverage throughout the country: urban, suburban, and rural areas in over 35 states. They even have the connection lines overlap in various locations, including Denver, Portland, Oregon, New Mexico, Arizona, Seattle, Florida, and others.
Then again, the FCC Fixed broadband deployment map shows Xfinity to cover up to 36.5% of the US population. And that leaves a footprint of 44.66 million households, which is over two times larger than CenturyLink with about 17% nationwide coverage.
Ps. FCC is an acronym for the Federal Communications Commission
Internet Technologies
If we're to talk about flexibility, CenturyLink has more fixed internet technologies than its counterpart. The largest footprint is on the ADSL (asymmetrical digital subscriber line), covering up to 97% of the total coverage areas.
You can also go online via symmetrical fiber, but that's only available in 23% of the covered areas. Or else the fixed wireless broadband that had a footprint of less than 1% the last time I've checked.
As for Xfinity, the only wireless connection you can get is for the cellular phones through Verizon towers. The fixed home internet's only available via wired connection, with the largest footprint on the hybrid fiber-coaxial cable (99.98% coverage).
If you'd be interested in the symmetrical fiber internet, Xfinity has a footprint of less than 1% in total. And that's one of the reasons some subscribers have been unhappy with the service recently.
Internet Speeds
In the previous Frontier vs Xfinity review, we concluded you can get the Comcast fiber internet starting from the 2000Mbps speed. But after checking this morning, I've noticed the Gigabit 2x plan is no longer available in my location. So, you'll have to get either the 6000Mbps speed or the cable packages.
Of course, the Xfinity cable internet also brings you decent downstream bandwidth, peaking up to 1200+Mbps. But the upload speeds are a bit lacking (limited to 35-40Mbps), and the reason I've mentioned some subscribers aren't happy.
Meanwhile, CenturyLink has fiber internet for residential customers starting from 100Mbps to 940Mbps (Gigabit plan). The technology is also available in quite many residences that it covers (about 23%).
But, sadly, the provider usually dictates the internet package as per your building address. So, you can find you're only eligible for the 1.5Mbps ADSL plan that has only 0.5Mbps upload speeds.
You might be lucky to access the highest CenturyLink ADSL deal, with up to 140Mbps download speeds. But the uploads will only peak at 25Mbps at best, which, if I'm honest, is less than pleasing.
Internet Plans & Pricing
On the Xfinity vs CenturyLink internet rates, the former is somewhat more flexible on speeds and price rates. See below
 Chart 2.0 Xfinity Cable Internet plans Structure
| Features | Performance Starter | Performance Plan | Performance Pro | Blast Internet | Extreme Pro | Gigabit Plan |
| --- | --- | --- | --- | --- | --- | --- |
| Introductory Price/ month | Not Available | Not Available | $39.99 (24 Months) | $59.99 (24 Months) | $69.99 (24 Months) | $79.99 (24 Months) |
| Regular Rate/ Month | S65.00 | $83.95 | $88.95 | $93.95 | $98.95   | $103.95/ |
| Installation Fee | $0 – $100 (One-Time) | $0 – $100 (One-Time) | $0 – $100 (One-Time) | $0 – $100 (One-Time) | $0 – $100 (One-Time) | $0 – $100 (One-Time) |
| Equipment Fee | $14 – $20/ Month | $14 – $20/ Month | $14 – $20/ Month | $14 – $20/ Month | $14 – $20/ Month | $14 – $20/ Month |
| Data Caps | YES (1.2TB) | YES (1.2TB) | YES (1.2TB) | YES (1.2TB) | YES (1.2TB) | YES (1.2TB) |
| Download Speeds | 50Mbps | 100Mbps | 300Mbps | 600Mbps | 900Mbps | 1200Mbps |
| Upload Speeds | 10Mbps | 10Mbps | 10Mbps | 20Mbps | 20Mbps | 35Mbps |
| Free Flex 4K box | YES | YES | YES | YES | YES | YES |
|   |   |   |   |   |   |   |
 2.1 CenturyLink Residential Internet Plan Structure
| Features | Simply Unlimited (ADSL) | 200Mbps Fiber Plan | 500Mbps Fiber Plan | Gigabit Fiber Plan |
| --- | --- | --- | --- | --- |
| Pricing/ Month | $50 | $50 | $50 | $65 |
| Installation Fee | $0 – $99 (One-Time) | $0 – $99 (One-Time) | $0 – $99 (One-Time) | None |
| Equipment Fee | Up to $15/ mo. (or $200 one-time) | Up to $15/ mo. (or $200 one-time) | Up to $15/ mo. (or $200 one-time) | None |
| Data Caps | N/A (soft cap) | NO | NO | NO |
| Download Speeds | 1.5 – 140Mbps | Up to 200Mbps | 500Mbps | 940Mbps |
| Upload Speeds | 0.5 – 20Mbps | Up to 200Mbps | 500Mbps | 940Mbps |
| Free Sling TV for 6 Months | NO | NO | NO | YES |
| Free EPIX NOW for 12 Months | YES | YES | YES | YES |
| Free Amazon Fire TV Stick | NO | NO | NO | YES |
At this moment, Xfinity internet has up to seven cable plans to choose from, with 50mbps as the lowest option at a regular rate of $65/ month. You could get the plan with an introductory price of $20 for the first year, but that deal's currently unavailable.
The only cable packages you can get a promotional discount right now are 300Mbps, 600Mbps, 900Mbps, or 1200Mbps. And in this case, you get to pay an introductory price between $40 to $80/ mo, then the regular rate of $65 to $104 per month.
If your online activity demands faster, stable upload speeds, the Xfinity Fiber 6000Mbps is at a rate of $299.95/ month. So, you can either pay for that or consider an alternative like CenturyLink.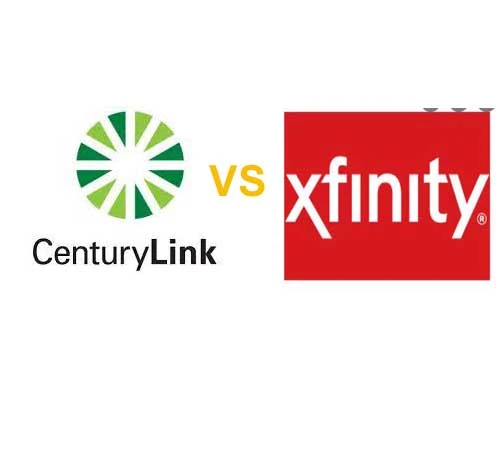 Indeed, the CenturyLink fiber plans are more reasonable as you can get the highest Gigabit Plan at only $65/ month. But your home could be only eligible for the packages within the 100-500Mbps threshold that goes for $50/ month.
As mentioned earlier, though, most homes will have the CenturyLink ADSL connections. And in this case, you'll also get to pay fifty bucks on either of the Simply Unlimited internet plans. The said plans include 1.5Mbps, 3Mbps, 5Mbps, 10Mbps, 15Mbps, 20Mbps, 30Mbps, 100Mbps, 140Mbps, et cetera.
Data Cap & Overage
Technically, the main reason Xfinity has dropped on the satisfaction index this year's the data cap on its Internet. All the plans, either cable or fiber, has a 1.2TB cap that attracts an overage fee of $10/ 50GB block.
The Comcast brand, of course, doesn't charge the overage fees in the first month you exceed the cap. But, it's still breaking when you know providers like Spectrum and Frontier have no cap on their internet.
CenturyLink has also removed the data cap on its fiber internet, thereby no overage charges. But some Simply Unlimited ADSL plans do have a soft cap, where you might experience degraded speeds when the node is too busy.
Frequently Asked Questions
Is CenturyLink as good as Xfinity?
If your address is fiber-capable, your CenturyLink connection will be as good as Xfinity, with symmetrical speeds up to 940Mbps. The problem comes if your apartment only qualifies for the ADSL internet, especially under 50Mbps.
Is CenturyLink more reliable?
Xfinity cable internet no doubt has faster browsing speeds than the ADSL connection. But in the areas with fiber lines, CenturyLink is more reliable as you can get up to 500Mbps symmetrical speeds at $50. You could also get 940Mbps fiber at only $65, with no installation cost, equipment fees, or overage charges.
Is CenturyLink fast enough for Netflix?
Typically, you only need 4Mbps to stream video in SD quality, 5Mbps in HD, and 25Mbps for 4K videos. So, a CenturyLink internet from 5Mbps onward is fast enough for Netflix, YouTube, and other video streaming sites.
Final Thoughts
CenturyLink and Xfinity are both great internet services. CenturyLink is even more convenient in some areas as $65 will give you fiber with unlimited data (no cap) and symmetrical speeds of up to 940Mbps.
However, the said areas with CenturyLink Fiber are about 4 million households. The large population is only accessible to the ADSL internet, which is way slower than the cable internet.
So, Xfinity is my choice internet as the cost's not so bad and the browsing speeds are ideal in most parts. I'd only wish the provider would remove the data caps they have on the plans and also they have more fiber options.