Hearing is one of the senses that tend to wear naturally as we age. In the process, it becomes hard to distinguish or understand the speech tones of the caller over the regular phone. But as you know, today's technology seemingly has a solution to almost everything. And in this article, I've put together some of the best free phones for hard-of-hearing seniors that can help you or a loved one stay connected.
Of course, some regular phones like the Kyocera DuraXV Extreme do have features like Real-Time Text (RTT) and teletypewriter (TTY). But the specialized handsets for people with difficulty hearing have more special features focused on the specific condition. Even better, the providers give them at no cost, just like with Access Wireless or Safelink lifeline program.
That said, though, does this program offer decent mobile phones for the seniors. And if not, what is the best landline phone for the hard of hearing you can grab for your home or friend?
What's The Best Phone for the Hard of Hearing Seniors?
Before all else, the hearing impairment usually affects each one differently. For instance, the complication can affect one or both ears and with partial or complete deafness. So, the kind of phone you get depends on the situation and, of course, preference.
Fortunately, the providers have worked really hard in ensuring there's a specialized phone for every need. If the issue is partial deafness, you can get an amplified phone or one compatible with your wireless hearing aid. And in case the situation is severe, you can get the captioned telephone that you can read captions of what the caller is saying over the phone.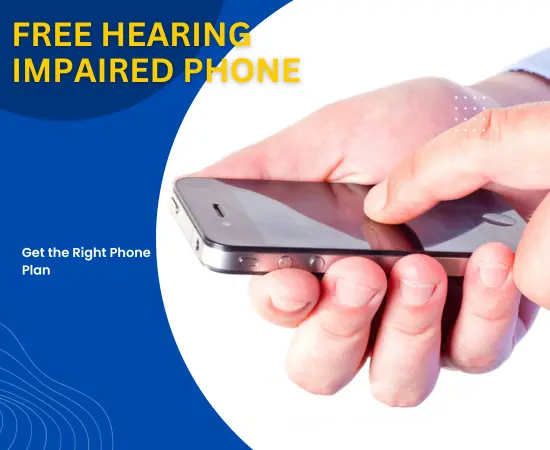 In any case, my overall best phone for the hard hearing seniors is the Hamilton CapTel 2400i. Unlike regular corded telephones, it's compatible with hearing aids and cochlear implants for partial deafness. Then, there's a large display that shows the captions of your caller automatically so you don't miss any word even in complete deafness.
The following are some of the other features of the CapTel phone and other specialized free phone for hearing impaired seniors:
Hamilton CapTel 2400i Touchscreen Corded Caption Phone
Key Features:
Up to 40dB tone and volume control
You can turn the captions on or off
Speakerphone for hands-free convenience
You can connect to your Home internet wirelessly
Has built-in Bluetooth to pair with hearing devices
Callers don't need to call through the relay service
Can keep up to a hundred frequently called numbers
Features a bright ring flasher to alert of incoming calls
Has touchscreen and standard telephone keypad buttons
Shows captions without having to dial through relay service
The built-in answering machine saves messages with captions
Panasonic KX-TGM420W Amplified Cordless Phone
Key Features:
The handset and base unit use batteries
Guarantees walkaway convenience
Has a bright white backlit display
Can Save up to a hundred contacts
Has a loud ringer of up to 100dB
Can amplify the caller voice up to 40dB
Features big numbers with large numbers
Includes a feature to slow down fast talkers
Has up to nine phone numbers on the speed dials
It has a bright red LED ringers and a caller ID announcer
The answering machines take voice messages you can forward
Hamilton CapTel 840i Real-Time Caption Corded telephone
Key Features:
7-inch high-resolution TFT display
Adjustable tone and volume control
Captions can be turned on or off at any time
Can change the caption font sizes and colors
Callers can dial your phone number directly
Features large standard phone keypad buttons
You can see the caller ID of the unsaved contacts
Has multiple speed dial buttons for quick dialing
You can connect with either wireless or wired internet
Offers an automatic connection to the captioning service
The answering machine takes voice messages with captions
Panasonic KX-TGM450S Amplified Cordless Telephone
Key Features:
It includes noise reduction technology
Can boost the caller volume up to 50dB
Ringer volume can boost up to 112dB
You can pick the calls via speakerphone
Has a bright LCD display with large fonts
Features no cord to limit your movements
Has a battery power backup for the base unit
Provides up to 17 minutes of voice messages
Include a button to slow down quick-talking callers
The telephone has audible and visible caller alerts
Clarity Professional XLC3.4 Plus Amplified Cordless Telephone
Key Features:
It amplifies incoming sounds up to 50dB
Has an extra-loud ringer of up to 95dB
Includes a bright red flashing LED ringer
Can be paired with various hearing aids
Offers up to twelve dedicated speed dials
Has a high-contrast display with large fonts
Can announce and display the caller ID
Speaks out the numbers as you dial them
Comes with a belt clip and wall mount bracket
It includes dual-power for when there's a blackout
Future Call FC-0613 Amplified Hearing Impaired Telephone  
Key Features:
It features an easy memory dialing function
Can boost the caller voice volume up to 40dB
Compatible with various hearing aid devices
Includes a flashing indicator for incoming calls
Has big dial buttons with "familiar photo" frames
Support up to ten (lockable) speed dialing numbers
It has a dedicated "911" emergency service button
The stored memories remain even during a power outage
Hamilton CapTel 880i WiFi Compatible Captioned Phone
Key Features:
It has a 10-inch caption display
Adjustable font size and color
Has a built-in answering machine
You can turn the captions on or of
Amplifies the caller voice up to 40dB
Callers can dial your number directly
Utilizes the standard phone dial buttons
Can store 95+ names and favorite numbers
It can connect to the internet via WiFi or Ethernet
Hamilton CapTel 840 Analog(No-Internet) Caption Telephone
Key Features:
It has a large TFT display to show captions
Features the standard phone keypad buttons
You can easily adjust the font sizes and color
Can be paired with most hearing aid devices
Has a phone book for 95+ numbers and names
Requires the caller to first call the relay service
Has caller ID feature to show who's calling you
The built-in answering machine saves voice messages with captions
How can I Get A Free Hearing Impaired Phone
 In the links above, you'll notice most of them redirects you to Amazon catalogs, whereby you can order your desired device at a small fee. However, how can I get a free hearing impaired phone that suites my needs?
Well, basically, all the specialized phones above are usually available in two different ways: at a cost and no cost. The priced option is the most convenient as the providers will prepare your device immediately after you order it. Then, schedule an in-person or at-home delivery for no cost to you. The companies also send over an installer to connect the phone, as well as give hands-on instructions to work it correctly.
Meanwhile, the no-cost option still includes the specialized phone, as well as free set-up and training. However, it might take a little longer to receive the services as you must prove you're eligible for the service.
The Certifying Agents Aren't Free, Though
That's right. Any cost that the approved certifying agent may request is your sole responsibility, not the federal commission. However, you can ask your current doctor or physician (if available) to sign the form for you. Or else use the Online search tool from the Phones (the department that administers CTAP products) to find one.
Meanwhile, the application forms are available online from the Phone's official website. You can easily fill out your section online, but you'll still need to download it so you can sign and have your doctor sign as well. After that, you can then forward the printed form by email, mail, fax, or in person back to the CTAP/ Phones service centers.
Typically, the in-person submission is much better if you have the time as you get to try out the phone before taking it home. The Phones website does have a catalog with the various phones to expect, but most of them are the amplified models. If your condition demands a phone that also shows captions of the spoken words, the company shows only the CapTel 840i captioned telephone.
However, the Relay Service (CRS), Hamilton, does have extra options of the CapTel 880i and 2400i. And the best part, you can get the captioned phone at no cost with a Certificate of Hearing Loss.
CTAP Phones vs Hamilton Relay Free Specialized Phones
Typically, the funds collected in the surcharge I mentioned earlier don't only cover the equipment for the hard of hearing. It also compensates for the interstate telecommunications relay service.
Usually, various states tend to have varying relay service providers. And the FCC has approved Hamilton Relay. Hence, the reason I've also said you can get a specialized captioned telephone through them.
In addition to that, Hamilton also provides relay services, which is what makes phone calls possible for users who have difficulty hearing. Some of these service options include Teletypewriter (TTY), Voice Carry Over (VCO), Hearing Carry Over (HCO), and Visually Assisted Speech-to-Speech (VA STS).
| | | | |
| --- | --- | --- | --- |
| Relay Service | Perfect For Phone Users With | English Relay Toll-Free Number | Spanish Relay Toll-Free Number |
| TTY (Text Telephone) | Difficulty Hearing | 1-800-855-7100 | 1-800-855-7200 |
| Voice | Partial/ Permanent Deaf Or Deaf-Blind | 1-800-855-7100 | 1-800-855-7200 |
| VCO (Voice Carry Over) | Difficulty Hearing And Use Their Voice | 1-800-855-7100 | 1-800-855-7200 |
| HCO (Hearing Carry Over) | Difficulty Speaking | 1-800-855-7100 | 1-800-855-7200 |
| CapTel (Captioned Telephone) | Partial Hearing Loss | 1-866-399-9050 | N/A |
| STS (Speech-to-Speech) | Difficulty Speaking Or Being Understand | 1-800-855-7300 | 1-800-855-7200 |
| DBS (Deaf-Blind Service) | Combined Hearing And Vision Loss | 1-800-854-7784 | N/A |
| VA STS Visually Assisted Speech-to-Speech | Difficulty Speaking During Video Call | 1-800-855-7400 | N/A |
| Overall Customer Care Number | Further Concerns or suggestions | 1-877-632-9095 | 1-877-419-8440 |
|   |   |   |   |
The aforementioned relay number is the number you'll need to dial first when placing/ receiving a call through the CRS. All the numbers are toll-free, plus most are separate for English and Spanish relay calls. In the cases where a relay service number is unavailable in Spanish, you can call customer care and ask to be connected with a Spanish-speaking Assistant.
Important Notes
Communication Assistants (CA) are a vital part in facilitating the calls between the hard of hearing users. If it's the case of Telephone Text (TTY), he/ she is the person who reads aloud what you've typed or rather wants to say. Then, for the captioned telephone (CapTel), the trained assistant generates captions of what the other caller is saying.
However, the telecommunication relay service has to ensure the captions of the CapTel system don't interfere/ interrupt the phone conversation. Thus, incorporates the trained operator and the latest voice-recognition technology to help process the calls faster and more efficiently.
Related post: Free Cell Phone for Seniors and Disabled
How do I get a phone for hearing impaired?
To get a phone for the hearing impaired, you have a few options. First, you can look for phones specifically designed for people with hearing loss. These phones typically have amplified sound, compatibility with hearing aids, and visual indicators for incoming calls and messages. You can check with major phone manufacturers or specialized retailers for such devices. Another option is to explore features available on smartphones that cater to hearing-impaired individuals. Both iOS and Android devices offer accessibility settings like TTY mode, closed captions, and vibration alerts. Additionally, you may qualify for assistance programs or subsidies through government initiatives, so it's worth researching those options as well.
Get the Right Phone Plan
In truth, a specialized phone for hard of hearing seniors is totally worth it. It doesn't matter whether you bought it as a gift or applied for free through Telephone Access Program (CTAP). But in the end, you or your loved one will have a chance to keep in touch with family and friends.
However, it's worth noting that all the specialized phones for hard of hearing seniors don't work about the same. If it's the captioned telephones (CapTel), most of them are internet-based. Thus, you must have fast WiFi or Ethernet speeds to be able to receive the calls with captions.
The basic CapTel 840 is the only one I can say doesn't require internet for now. But then, that means the caller will have to first call the respective relay service number before your number.
More on that, you have to remember that CTAP and CRS only provide the equipment and relay service for free. So, you still need to have your standard home phone connection and an active subscription with your current service provider. That means even services like caller ID, call waiting, voice mail, and call forwarding will only be possible if your current phone plan has them.