In a previous self-help guide, we looked at how you can transfer the Straight Talk service from one phone to another by yourself. Today, I'm going to show you how to deactivate Straight Talk phone online without calling customer care.
Of course, this isn't a question or topic that people often ask. But you might need it someday for yourself or when helping someone else.
When You Might Need to Deactivate a Straight Talk Phone.
Typically, there are various reasons you might want to delete a phone from your Straight Talk account. The most critical situations include when you:
After losing or someone steals your mobile phone, you'll want to deactivate the device ASAP. In doing so, you'll lock out the other person from consuming your remaining data and minutes or using it in fraudulent activities.
Furthermore, deactivating the phone will prevent the thief from illegally cloning your device. Thus, preventing him from intercepting crucial details like your two-factor authentication codes for the bank.
When you're switching from Straight Talk, you'll want to deactivate your device before you try to activate it with the new carrier. If you don't, you'll keep on getting an error that "the MEID provided is already in use" when you try to activate the new service.
Speaking of a new service, TracFone Wireless, the parent company of Straight talk, is now under a new owner. As was mentioned on the T-Mobile vs Verizon Wireless data speed review, Verizon has finally completed the acquisition deal.
So, the customers using Straight Talk on T-Mobile or AT&T will soon have to switch to the Verizon infrastructure.
If you're planning to sell your old or current device, you'll also need to deactivate it from your account. Otherwise, Straight Talk or the other carrier being used will give an invalid serial number message during the activation attempt.
Similarly, you'll need to deactivate your Straight Talk phone when gifting your son or any other person. Otherwise, the new owner won't be able to activate and use his line.
Read More: Compare between TracFone vs Straight Talk
How To Deactivate Straight Talk Phone Online
There are two main ways to delete Straight Talk phones from your account. The online method is the easiest of all as you won't need to involve the customer representative. Thus, you can do it from any location, at any time of the day.
That said, though, you'll first need to have an online Straight Talk account before you can deactivate your phone. It's in this account you'll be able to monitor details of your current rate plan, data usage, and devices that are active.
In your Straight Talk account, you can also manage your linked credit cards, as well as locate an authorized retail store near you.
In our case, though, the problem at hand is on how to deactivate the Straight Talk phone you're no longer using. And assuming you've already created an online account, let's get on with it.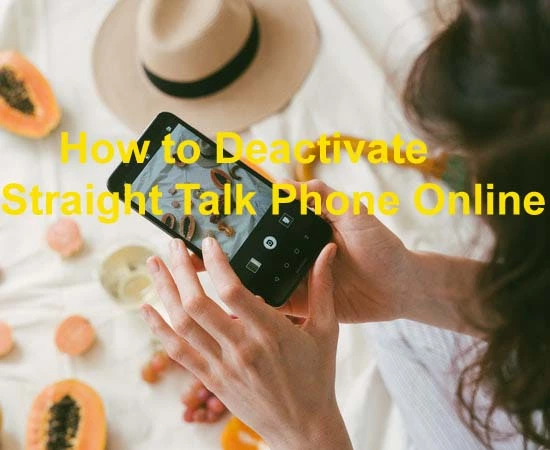 Read More: list of Straight talk Phones that use Verizon towers
1. Deactivate Straight Talk Phone with Deliberate Non-Payment
This is one of the ways you can deactivate a Straight Talk phone online without having to contact customer care. It's pretty simple to do as you just need to log into your online account. Then, under the section to manage your credit cards, you wipe out all your card information.
If you had enrolled your account to autopay, the company won't be able to deduct your payments for the next bill. And when your phone bill becomes due but fails to pay after the reminder, the provider will promptly shut off your account.
Once Straight Talk closes your account for non-payment, your device will no longer be linked to the respective line. Unfortunately, the move could also risk losing your accrued reward points that give you discounts on new devices. Even worse, you could end up losing your phone number permanently after the carrier reassigns it to a new customer.
Therefore, deactivating your Straight Talk phone in this manner should be only when switching to another provider. But even then, the new carrier will still need your old service active to successfully port your number.
2. Deactivate Straight Talk Phone with the "Deactivate" Button
Just as the title says, this technique requires you to log into your account. Then, look for the "deactivate" button under the various options of your current active devices. However, the device won't delete from your Straight Talk account until you confirm the request.
Meanwhile, this method is much better than wiping out your credit card info as your account will remain active. And for that reason, you'll still retain your number even if you're planning to switch to another operator.
Therefore, you can safely deactivate a Straight Talk phone with the "Deactivate" button for either of the four reasons we mentioned earlier. It can also be useful in case you needed to temporarily deactivate your device- perhaps to try out a different latest model.
Important Notes:
To deactivate Straight Talk phone online, you can access your account either through the website page or mobile app. In the case of the mobile app, you can download Straight Talk My Account app into your Android or iOS device. Then, log in with either your email, phone number, or SIM Card ID Number, just as you do on the website page.
After you've gained access to your account, you can now proceed with deactivating the device you wanted to by unlinking the credit card under the "Manage Payment Methods" menu. Or else tap the "Deactivate this phone" button under the image of the phone you wish to deactivate.
Other Ways to Deactivate Straight Talk Phone
Apart from online, you can also deactivate straight Talk phone from your account offline. The method can come in handy when you don't have access to the internet or urgently need to lock out your device- perhaps after it was stolen.
On the contrary, the technique involves using the Straight Talk customer support team. So, you can connect with an agent instantly or not, depending on their availability.
In any case, the main way you can contact Straight Talk to help deactivate a phone from your account is by texting "Help" to 611611. Or else directly call the customer care number 1-877-430-2355 to connect with the available representative. Once connected, the agent will be able to remotely delete or deactivate the device in question from his end.
Note, you can also connect with a support team using the Straight Talk online chat or the automated bot.
Final Thoughts:
Well, that's how you can deactivate Straight Talk phone in case it was stolen, lost, or when you want to sell or give it to someone. As was mentioned, it's not exactly a very common topic, but my goal on this page is to assist every of my audience. Hence, the reason I decided to talk about it.
Regardless, the article has primarily covered how to deactivate Straight Talk phone online as the method doesn't require contacting customer care. So, you won't have to wait on a call hold for hours.  
But again, you'll also need a phone or laptop that can browse to access your Straight Talk account on the website or mobile app.