Did you know Qlink has one of the highest (if not the highest) consumer satisfaction ratings on Trustpilot? Qlink Wireless is a US phone carrier that offers monthly service through Lifeline and ACP programs. The MVNO will even give you a phone when you join for the first time. But can I put my Qlink SIM card in another phone if I don't receive this freebie or replacement?
Overall, Qlink Wireless is a pretty good Lifeline phone provider with free service. I'm sure some people may have a different opinion. However, the company has some lovely perks, better even than some of its competitors.
Qlink Doesn't Have its own Cell Towers
As just mentioned, Qlink Wireless is an MVNO (mobile virtual network operator). What this means is that the company doesn't have cell towers of its own. Instead, it has a deal with a local Major Carrier to use their network infrastructure.
T-Mobile is the network Qlink uses for native coverage. So, your Qlink phone can only get local service in areas where T-Mobile towers are, or at least can reach the signal.
In the SafeLink vs Qlink comparison review, we can see the T-Mobile MVNO has domestic roaming free of charge. But like any other carrier, the quality of service through roaming is not always great or guaranteed everywhere.
Back to the native coverage, you should know your Qlink phone can't work without the necessary network technology of T-Mobile. "Necessary network technology" means frequency bands 2, 4, 5, 12*, 66, & 71* for 4G LTE. Then the 5G connectivity requires band N71 for low-band, N41 for ultra capacity on midband/ C-Band, and N258, N260, & N261 on mmWave.
Important Note:
To make the most of your Qlink free phone service, I'd recommend getting a phone with all the above network bands. Nonetheless, the 5G data speeds are not as fast as with T-Mobile since the Lifeline provider often caps it.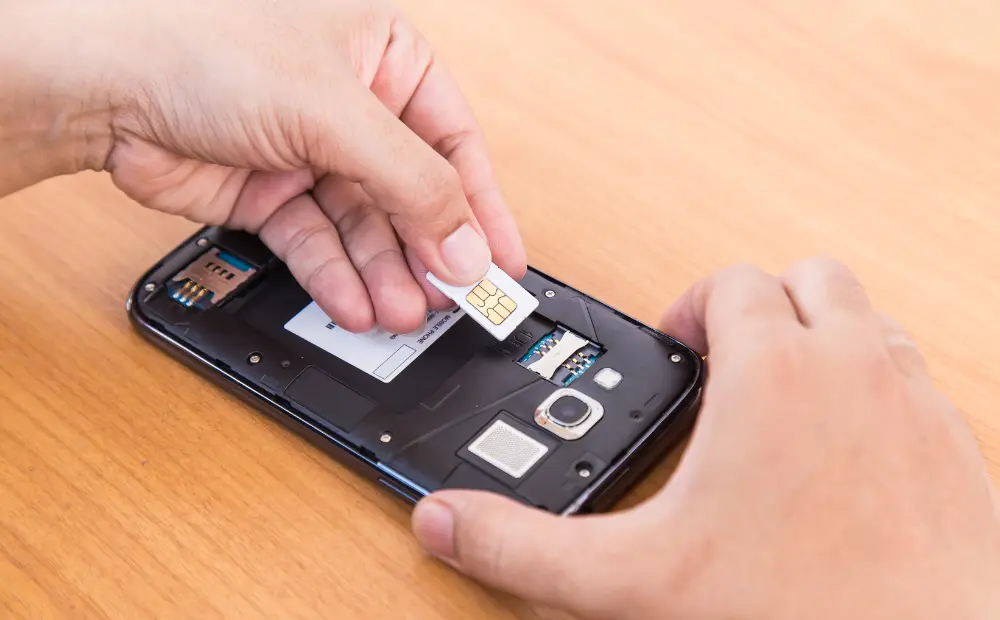 In 4G LTE, bands 12 and 71 consist of the extended-range spectrum, where the signal travels far and penetrates walls. Thus, making it possible to continue using your Qlink service indoors.
On the other hand, bands 2, 4, 5, & 66 comprise a high-capacity spectrum that brings you the fastest data speeds on LTE. However, the high-capacity frequencies don't travel far or through walls as well as the extended-range signals. Hence, the reason you may notice reduced data speeds when indoors.
Can I Put My Qlink SIM Card in Another Phone
Quick answer, YES, you can put your Qlink SIM card in another phone. It must be one of the phones compatible with the Qlink through the network bands I've listed above.
Nevertheless, a phone having the Qlink/ T-Mobile network compatibility necessarily doesn't mean it will work. The device still must satisfy the software compatibility- i.e. carrier-locked or fully unlocked.
As an MVNO, Qlink is compatible with four different types of phones, including:
Qlink branded phones: these are the phones that come locked to the Qlink Wireless service. It can be either the free smartphone the Lifeline provider gives you or purchased from its online catalog. You could also get a Qlink phone from third-party retailers like eBay or consumer-consumer marketplaces (like Facebook marketplace).
Factory-unlocked phones: these are the phones that usually come from the manufacturer when fully unlocked and without any network restrictions. Thus, will be naturally compatible with Qlink service if the necessary network bands are available.
Carrier-unlocked phones: these are fully unlocked phones from the various carriers compatible with Qlink. A perfect example is fully unlocked phones from Metro by T-Mobile and Mint Mobile.
T-Mobile branded phones: these are phones locked to T-Mobile, as mobile devices from Major Carriers are usually compatible with their MVNOs.
Qlink Phone Compatibility Check & BYOP program
Once with the phone you want to use with Qlink, you just need to set it up for use. But before setting up, you should perform a compatibility check to confirm it will indeed work.
As the name suggests, Qlink phone compatibility check is a tool under the BYOP (bring your own phone) to test if your device will be compatible. It analyzes the network technology onboard the device, and only passes the check with the necessary network bands.
Furthermore, the compatibility check tends to confirm if your phone has any red flag. "Red flag" is where the IMEI of your device may be blacklisted if reported stolen, lost, or involved in fraud.
So, even with the Qlink branded phones, which are naturally compatible with the service, you should run the compatibility check.
Swap and Activate Your Qlink SIM Card for Service
The process to activate a Qlink SIM card for use is super-easy, whether a new or existing customer. In fact, for existing customers, you only need to swap the service SIM card and it's ready for use. The phone carrier doesn't require authenticating your SIM card and the device you'll be using, as with SafeLink.
As for a new customer, you will need to activate your Qlink phone for the first use. Just wait for your order to arrive, and once you have everything at hand:
Pop the Qlink SIM card from its plate and insert it into the phone
Turn on the phone. Then, go to the menu, open the settings tab, and reset the network to default. The reset helps erase the previous network profile (like VPN and APN settings) so that Qlink can send you a compatible one.
After resetting the network settings, it will delete even the previous WiFi settings. So, reconnect your phone to the WiFi, then go to the App Store or Play Store and download the My Mobile Account app.
Once you've downloaded the My Mobile Account app, use the onscreen instructions to create an account and sign in
Next, dial the Qlink customer service number 305-260-6232. The idea here is to make a call test, which is the final activation stage to make sure your phone works.
If the call to customer care goes through, your Qlink phone service activation has been successful. The signal bars will also be loaded at the time.
In case the phone doesn't have a signal, yet shows no "invalid SIM" error, try restarting and it should solve the issue. The "invalid SIM" error appears if the phone you're trying to use is locked to a carrier other than Qlink or T-Mobile.
Final Thoughts:
Be it joining, replacing, or upgrading, you can put a Qlink SIM card in another phone. However, the phone should be compatible with Qlink service, both network and software level.
On the network compatibility, I'd recommend this other phone to have both LTE and 5G bands to make the most of your service. Even when Qlink puts a cap, 5G data speeds are still far faster than the 4G LTE.
If the reason you wanted to know whether you can use the Qlink SIM card in another phone is so you can buy one, I'd recommend fully unlocked options.
Of course, the low pricing of Qlink branded phones may be attractive. But Qlink seems to be locking its devices for life, which means you may never be able to use it with other carriers.