Which network has the best coverage in your area? With Red Pocket, this is something you never have to worry about. The MVNO has partnered with all three Major Carriers, including Verizon (CDMA), AT&T (GSMA), and T-Mobile (GSMT). But as you shall see in my Red Pocket Mobile review here, one network has better perks than the others.
Of course, the overall perks Red Pocket offers are still far from what you would get with either of the Major Carriers. Then again, the MVNO is super-cheap, with the lowest cell plan at only ten bucks a month or sixty annually. There's even a special plan of only $2.50 per month!
In the review, I've made efforts to include the QCI level, plus the data speeds you can expect with Red Pocket. And if I'm to be very honest, the service is more than enough for the majority of tasks.
Red Pocket Mobile Review: A Summary of the Prepaid Cell Phone
| Feature | Red Pocket |
| --- | --- |
| Founded | 2006 |
| Carrier Network | AT&T/ T-Mobile/ Verizon |
| eSIM support | YES |
| Free 5G | YES |
| 5G Download Speeds | 200+Mbps |
| LTE Data Speeds | 75Mbps |
| Lowest Phone Plan | $10 |
| Unlimited Minutes | YES |
| Unlimited data | YES (with cap) |
| Family Discount | YES |
| Free Mexico/ Canada Call | YES (and to 80+ destinations) |
| Mobile Hotspot | YES |
| WiFi Calling | YES |
| Phone Unlock Period | Varies (After 6 or 12 Months) |
|   |   |
Prepaid Cell Phone
As you can see here, Red Pocket has been in the cellular business relatively long, nearly two decades old now in the field. The Red Pocket reviews on customer satisfaction forums like Trustpilot are also impressive, something many of its competitors struggles to achieve.
Affordability is what people seem to love most about Red Pocket, especially considering the service is available on all three networks. When comparing Red Pocket vs Mint, I actually hinted our MVNO had partnered with all four major carriers. The fourth partner was Sprint (CDMAS). But Sprint and T-Mobile merged in 2020, then the new owner retired the CDMA technology, leaving only the GSM.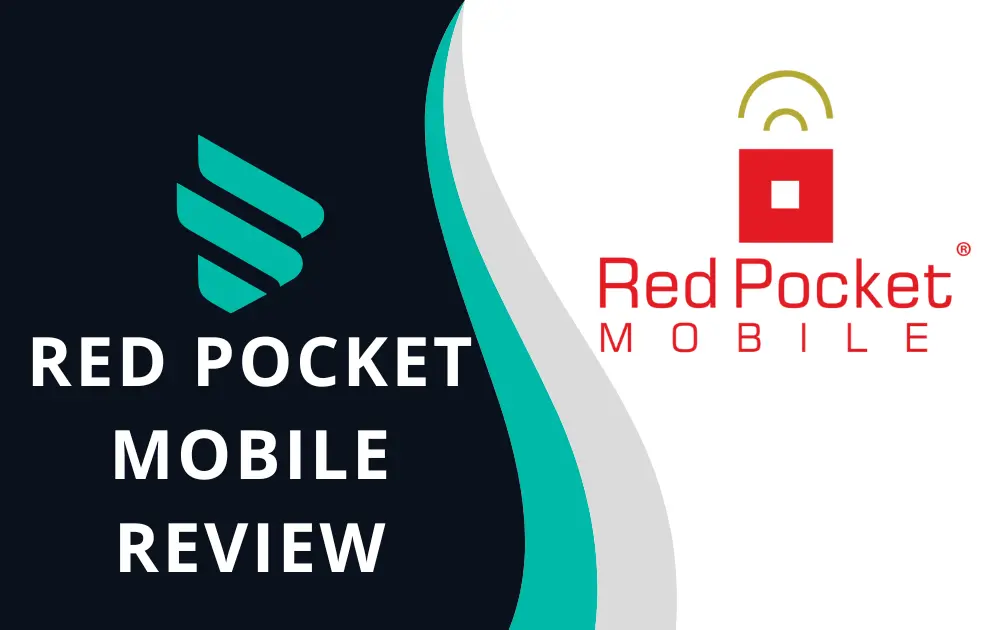 Nonetheless, Red Pocket doesn't switch between its three underlying networks as Google Fi does with T-Mobile and US Cellular. You will need to have a Red Pocket SIM card compatible with the network you'd prefer between AT&T, T-Mobile, and Verizon.
Other Pros and cons of Red Pocket you should know include:
Pros:
It has multi-line discounts
Features lovely deals on phones
Has decent data speeds on LTE & 5G
Offers free international calling & texting
You can get a free monthly service with ACP
Cons:
It now offers deprioritized data
Throttles data on all phone plans
There's no domestic/ international roaming
Red Pocket Mobile Review: Features & Perks of the Prepaid Cell Phone
Below is a collection of the nine crucial things to expect when you decide to join Red Pocket today:
As a prepaid service, Red Pocket mobile phone service is so easy to get. First, it's a no-contract phone, meaning you can join and leave any time you like.
Secondly, Red Pocket doesn't perform credit checks, whereby you can qualify with even poor or bad credit. And the best part is you won't have to pay the expensive deposit that the Big Carriers may require on their postpaid service.
When ready to join, Red Pocket has partnered with various retail stores, such as Walmart, Target, and Best Buy. You can visit these stores in person or on their respective websites to shop for your desired service plan and SIM card.
Alternatively, you can purchase the desired item (phone, service plan, SIM card) directly at https://www.redpocket.com/. The whole process is effortless, as you just input your details in the online form and checkout.
Speaking of online, Red Pocket finally supports eSIM if you want to activate your service online without waiting for a SIM card. You can also get free eSIM service for iPhone if you have a low income.
Network Coverage is Great!
Red Pocket is a mobile virtual network operator (MVNO): a carrier that doesn't have its own cell towers. It offers cellular service through the network infrastructure of a Major Carrier. And as seen earlier, the MVNO has partnered with not one but all three BIG Three Carriers, including AT&T, T-Mobile, and Verizon.
What this means is that you get to enjoy the Red Pocket service with the network that works best in your area. If you also travel a lot, the carrier will also be perfect for your lifestyle.
Even though Red Pocket has a network deal with the Big Three, you can only connect to one at a time. The SIM you get after applying can be either GSMA (on AT&T), GSMT (on T-Mobile), or CDMA (on Verizon). Thus, there are areas where you will have no service unless you've got SIMs from all three networks.
Even worse, Red Pocket is yet to support roaming, either domestically or internationally. The only thing you can take advantage of is WiFi calling, assuming you've got access to fixed internet or mobile hotspot.
Take note, Red Pocket doesn't update WiFi Calling in all supported phones automatically as other carriers do it. Here, you'll have to first contact customer support to enable WiFi calling for your account. Then go to your phone call settings and check if your device supports the feature or not.
Even though not the best, Red Pocket's data speeds are decently good. The operator seems to cap the speeds, as many times they never go beyond 75Mbps on LTE. But I've seen some users post on community forums a little over 100Mbps.
If lucky to have a Red Pocket phone compatible with 5G, it's possible to hit data speeds up to 230+Mbps. Likely, the carrier has also capped the 5G data speeds at 200Mbps. Then again, it may be possible to reach 300Mbps when you have a device with a powerful antenna.
Service Pricing is the Best!
Red Pocket has one of the best phone plan structures out there. It's remarkably cheap, with the lowest regular monthly plan at only $10.
However, when you check the monthly allowances you get today, they are not the same as last year's.
| | | | | |
| --- | --- | --- | --- | --- |
| Features | 1GB Plan | 5GB Plan   | 10GB Plan   | 25GB Plan   |
| Single Line Price | $10/ mo. | $20/ mo. | $30/ mo. | $40/ mo. |
| 12-Month Subscription | N/A | $180 ($15/ mo.) | $240 ($20/ mo.) | $360 ($30/ mo.) |
| 2+ Lines Discount | N/A | N/A | $10/ mo. (per extra line) | N/A |
| Talk Minutes |  Unlimited | Unlimited | Unlimited | Unlimited |
| Text Messages |  Unlimited | Unlimited | Unlimited | Unlimited |
| High-Speed Data |  1GB | 5GB | 10GB |  25GB |
| 128kbps Data | Unlimited   | Unlimited | Unlimited | Unlimited |
| Mobile Hotspot | YES | YES | YES | YES |
| Video Streaming | HD Quality | HD Quality | HD Quality | HD Quality |
|   |   |   |   |   |
In the latest Red Pocket cell phone plans, the monthly package now has only four selections. The carrier used to have five options, including the Unlimited tier with 100GB of high-speed data (on GSMT). But in 2022, Red Pocket reduced the 100GB to 50GB. Then recently, in early 2023, it completely removed the supposedly unlimited plan.
So, you now have up to a 25GB plan on either of the three networks (AT&T, T-Mobile, or Verizon). The 1GB phone plan is only available for customers on GSMA and GSMT networks. All users of Red Pocket CDMA (on Verizon) can only subscribe from the 5GB plan at $20 going onwards.
If you'd like to save a few bucks, Red Pocket offers annual/ 360-day service plans where you can save $5 to $10. The category even includes a $60/ year plan, which means you only get to like $5 per month.
Furthermore, Red offers a family discount, albeit only limited to the 10GB Plan. You only pay $30 for the first line, then $20 for every additional line (up to 4 maximum).
If you have more people to add to your account, Red Pocket also has a special Business Unlimited (25GB) plan. The category is available at a minimum of five lines and a maximum of fifty, with each line at $30.
 Tip: Red Pocket has eBay Exclusive cell phone plans you can get from as low as $2.50 (on GSMA) to $8.25 per month. The plans can only be bought on eBay.
Data Throttling & Deprioritization
Unfortunately, Red Pocket isn't an ideal choice if you're a heavy data user. It throttles data on all the plans, whereby your service starts with high-speed browsing before dropping to the low (2G) speeds.
2G data can be handy for light tasks like opening maps, emails, text-based apps, and some websites. But it's not exactly enough for gaming, video streaming, and other high-graphic/ heavy-data tasks.
Another thing you should know is that Red Pocket is on the higher QCI (low priority level) on all its Carrier Networks. And this means your data speed will drop lower than for other customers using the same network towers on lower QCI (high priority level) during tower congestion.
Free Phone Service with ACP
Red Pocket is one of the prepaid companies you can get free cell phone service. The free service is available through the affordable connectivity program (ACP), which the government created to support undervalued communities. You can qualify with either proof of low income or participation in a government assistance program
 If eligible, the Red Pocket free phone service is only available on the 10GB plan at $30. The reason for this is that ACP only offers a $30 subsidy ($75 for people on tribal lands).
Free Phones Deals Still Non-existent
Indeed, yes, Red Pocket is not one of the companies that give a free phone when you switch or add a line. It's no biggie, considering not many MVNOs offer these deals, anyways. But the carrier does hand out pretty nice partial discounts, whereby you can save up to $500+ on the flagship Apple brands.
You can redeem the savings instantly (when you buy), as rebates after three months, or monthly bill credits over 24 months (about two years).
Regardless, the Red Pocket phone deals are only available to customers on the GSMA SIM (through AT&T). And the higher tier of the phone plan you're using, the more savings you get.
Tip: Red Pocket supports device financing if you can't afford to pay the entire amount upfront. However, the carrier doesn't finance devices directly. It uses a third-party lease-to-own service, SmartPay.
Customer Service Support is Good
Red Pocket has pretty good customer support. It's one of the most praised points on the online review communities, in particular Trustpilot, which companies often struggle to get out of the red zone.
Remember, though, Red Pocket doesn't have its own local store where you can get services in person. So, you can only get assistance virtually, which can be either by calling 1-712-775-8777 (or Toll-Free 1-888-993-3888) or texting 1-305-842-3314.
Alternatively, you can open a Red Pocket ticket online, use live chat, or report on social media platforms (Facebook/Twitter/ Instagram).
Red Pocket Mobile APN Settings
(AT&T, Sprint, T-Mobile, and Verizon), so the APN settings may vary depending on which network your device uses.
Red Pocket Mobile (GSMA / AT&T network):

Name: Red Pocket Mobile
APN: RESELLER
MMS Proxy: proxy.mobile.att.net
MMS Port: 80
MCC: 310
MNC: 410
APN type: default,mms,supl
APN Protocol: IPv4
APN Roaming Protocol: IPv4

Red Pocket Mobile (GSMT / T-Mobile network):

Name: Red Pocket Mobile
APN: wholesale
MCC: 310
MNC: 260
APN type: default,mms,supl
APN Protocol: IPv4/IPv6
APN Roaming Protocol: IPv4/IPv6

Red Pocket Mobile (CDMAS / Sprint network):Since Sprint uses CDMA technology, APN settings are typically not required. Your phone should automatically pick up the necessary settings if it's compatible with Sprint's network.
Red Pocket Mobile (CDMA / Verizon network):Same as Sprint, Verizon uses CDMA technology and does not require manual APN settings. Your phone should automatically pick up the necessary settings if it's compatible with Verizon's network.
If the above settings do not work, I recommend reaching out to Red Pocket Mobile customer service for updated settings.
Here's how to generally set up APN settings:
Open your phone's settings.
Look for "Wireless and Networks," "Cellular Networks," "Mobile Networks," or something similar (this varies by device).
You should see something that says "APN" or "Access Point Names". Go there.
You may see a list of already-set APNs. Ignore them and go to the menu (usually three dots in the top right corner).
Tap "New APN" or "+". Then enter the APN details provided above.
After you've entered all the information, save the new APN.
You should now see the new APN in your list of APNs. Tap on it to make it active (a radio button or checkmark will indicate the active APN).
Restart your phone.
If these steps don't match what you see on your phone, please provide your phone's make and model, and I'll try to give more specific steps.
Red Pocket Favors AT&T Customers
Like any other good service, the Red Pocket mobile phone is a topic we can't cover all in a single blog. There are still things like video streaming, phone unlock policy, phone warranty/ replacement, occasional service deals, et cetera.
However, the nine points I've covered in the review are the most relevant for now. And out of the nine, the top three areas you should focus most on are coverage, data speeds, plus data deprioritization and throttling.
We've seen you can get Red Pocket service on either Verizon, T-Mobile, or AT&T. But since the carrier isn't able to switch between the carriers like Fi, you'll have to choose a single SIM card/ eSIM of the three. Or else you can pay for a service from all three networks separately.
Even so, you'll come to notice Red Pocket had better deals for the customers on AT&T than the others. For instance, it's the only one with device offers, which we've seen you can save up to $500+ on the latest Apple brands. The customers on this network also used to enjoy a premium subscription of up to 100GB of high-speed and priority data. But the recent changes have ended the two, leaving you now with up to 25GB of data on the QCI 9 standard that offers lower priory during tower congestion.