When using the ideal Phones compatible with Google Fi, they usually switch automatically between their host networks. You don't need different SIM cards as most subcarriers with multiple carrier networks. But then, what network does Google fi use the most? Does the cellular provider still switch during domestic roaming? If yes, who are the roaming partners?
Well, these are the main questions we'll focus on in this short guide. The idea's to provide an insight into the level of coverage to expect on the Fi network. So, you'll be able to make a more informed switching decision.
From "Project Fi" to Google Fi
Google Fi is a nice network provider if you don't want to pay the high rates on Verizon or AT&T and T Mobile postpaid. It currently has the lowest phone plan at only $20 per month on a single line or $16 with 5+ lines.
When comparing Google Fi vs AT&T, we saw the twenty bucks still gets some amazing features. Unlimited calls + texts, 900+Mbps 5G speeds, international texting, plus calls to Canada and Mexico are some of the perks.
Google Fi has introduced many of these features gradually over the years. The brand is still not very old on the field. It launched in 2015 as Project Fi, which was only available to Nexus 6 smartphones and invited users.
The launch was pretty successful, thanks to its approach of pay-only-for-what-you-use. Different from the other carriers at the time, Google would rebate the unused monthly data as credits in dollars and cents.
One year after launch, the company updated the list of phones compatible with Project Fi to include Pixel smartphones. In the same year, they also introduced a group plan where active users can add up to five loved ones to their accounts.
Six years later, the Fi group plan is still limited to a total of six people. But now the service is available to anyone interested- and at least aged 18.
Moreover, the service is compatible with most unlocked cell phones, both Android and Apple iPhone.
Google Fi is Still Limiting Apple iPhones
While you can use Google Fi with iPhones, the support for the Apple brand isn't as good as with android phones. And considering the many people who own an iPhone in the country, we can agree the situation is a little too inconvenient.
The first function to lose when you join Google Fi with an iPhone is the 5G coverage. Until now, the Apple device only supports 4G LTE on the network. And that means you'll mostly hang on the 100+Mbps data speed or less instead of the 900+Mbps mmWave.
The second feature you might miss with an iPhone on Google Fi is WiFi calling option. In a nutshell, the feature usually extends your coverage in areas where the cellular network isn't very good. So, it's worse than missing 5G since your device will be completely inoperable when needed- can't make calls or text.
UPDATE: I've recently confirmed the iPhone 13 Pro on iOS 16 has the option to enable the WiFi calling function. You may get an error when you try to proceed with the setup. But the trick is to update the service address field in the Google Fi App with full names. For instance, use Road, Lane, or Street instead of "Rd", "Ln", or "St".
Most older iPhones still don't support WiFi calling. However, you can update the operating system to at least iOS 15.6.1 (if possible) and try the configuration again.
What Network Does Google Fi Use Here In The US?
Google Fi is a subcarrier or mobile virtual network operator. It doesn't have its own cell towers, which means it resells the network of other (hosting) carriers.
The main (hosting) carrier networks that Google Fi uses to serve its subscribers are T-Mobile and the regional US Cellular. It also used to rely on Sprint towers, but these are now off after the merger with T-Mobile.
As mentioned earlier, though, Fi uses smart network technology to seamlessly switch your phone to the strongest signal in your area.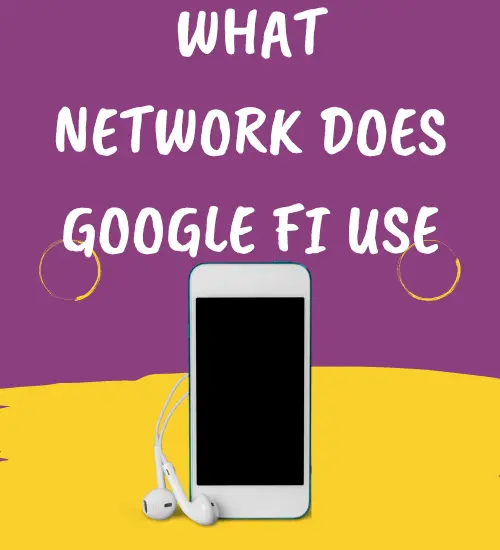 In other words, this means you won't be needing multiple SIM cards as with Red Pocket or Consumer Cellular. And best of all, you can now get signal in a wider area from the combination of T-Mobile and US Cellular coverage maps.
If you can remember our recent talk on US Cellular and Verizon, we mentioned the Telephone & Data Systems brand is regional-based. It operates in the Midwestern and North-Western states, including remote areas like Iowa, Oregon, Wisconsin, Oklahoma, et cetera.
On the other hand, T-Mobile usually has the best coverage in the metropolises but is weakest in the rural areas, especially the Midwestern and North-Western regions.
So, the seamless switching of Google Fi phones between the two networks can be very handy if you travel a lot. It's even better in areas where Google has secure (VPN-protected) public WiFi hotspots to boost the cellular data connection.
The Google Fi Public Hotspots Only Boost Speeds
When your device is connected to the Fi WiFi, the connection bar on the top of the screen will have a "W+". But the device will still be using the data from your monthly allowance (the feature only boosts the browsing speeds).
Similar to the cellular signal (with T-Mobile and US Cellular), your Fi phone will seamlessly switch between the millions of WiFi hotspots. And in case weary of them being "public" WiFi, you can enable the enhanced network setting to activate the Fi's virtual private network (VPN).
The VPN encrypts the connection such that not even T-Mobile, US Cellular, or even Google itself can track your online activity. But when enabled, it also increases your data consumption by about 10%- VPN is an online feature on its own anyway.
Important Notes:
Google Fi W+ feature is only available to users with a pixel phone on the latest Android 12 or up. (No luck if you're on iPhone or other Android devices).
Nonetheless, the W+ feature utilizes the built-in WiFi protocol to function. And for that, your Pixel device won't automatically connect to it (W+) when nearby any of your saved local WiFi networks.
Does Google Fi Support Domestic Roaming?
Unfortunately, Google Fi has not partnered with any local carriers for domestic roaming. I'd assume it has to do with their over-reliance on its switching between the cellular and WiFi connections. Then again, not everywhere down the road will have access to dedicated networks.
In various areas, your device can automatically start roaming on AT&T and sometimes on Verizon. But the domestic roaming perks are from the agreement US Cellular has made with the two carriers. Why do I say so?
If your phone was previously on T-Mobile before losing the signal, the AT&T/ Verizon roaming rarely activates. It's only after you force the device to US Cellular it gets to connect to AT&T or Verizon.
The best way to force Google Fi phones to US Cellular is to use dialer codes. It will be easier when using mobile apps with pre-loaded dialer codes as you just need to copy and paste them.
A perfect example of these apps is Signal Spy and Fi Switch. And besides changing the connectivity of your device, they (apps) also show details of the signal strength, band frequency, and bandwidth.
Note:
Changing your Fi connectivity with dialer codes is usually temporary. It lasts about two hours before reverting to the automatic signal search mode- goes for T-Mobile or US Cellular.
Also, roaming with Google Fi through the US Cellular partners (AT&T/ Verizon) is usually free for calls and texting. But the mobile data might cost you $10 per GB.
Google Fi International Roaming Features & Rates
Google Fi is certainly the best carrier for frequent travelers outside the country. It has the friendliest international roaming rates in over 200 destinations, including free texting in all the service plans and free browsing data on some. See below.
| Features | Flexible Phone Plan | Simply Unlimited Phone Plan | Unlimited Plus Phone Plan |
| --- | --- | --- | --- |
| Calls & Texts in US/ Canada/ Mexico | YES (on monthly Plan) | YES (on monthly Plan) | YES (on monthly Plan) |
| Browsing Data in US/ Canada/ Mexico | $10 per GB | YES (on monthly Plan) | YES (on monthly Plan) |
| Calling Outside US/ Canada/ Mexico | $0.20 per Minute | Not Available | $0.20 per Minute |
| Texting Outside US/ Canada/ Mexico | Free (on monthly Plan) | Not Available | Free (on monthly Plan) |
| Browsing Data Outside US/ Canada/ Mexico | $10 per GB | Not Available | Free (on monthly Plan) |
| WiFi Calling in US/ Canada/ Mexico | Free (on monthly Plan) | Free (on monthly Plan) | Free (on monthly Plan) |
| WiFi Calling Outside US/ Canada/ Mexico | $0.00 – $2.40 | $0.00 – $2.40 | $0.00 – $2.40 |
|   |   |   |   |
Frequently Asked Questions
Is Google Fi using Verizon?
Google Fi only has direct network deals with T-Mobile and US Cellular. It only uses Verizon towers while roaming domestically, specifically through the partnership with US Cellular. So, you might have to manually change the connectivity of your phone.
Does Google Fi use AT&T towers?
Similarly, Google Fi uses AT&T towers when outside the coverage map and your phone is roaming domestically. But the feature is only available through the roaming agreements between US Cellular and AT&T. Thus, you might have to force your device to US cellular mode with dialer codes.
How good is Google Fi coverage?
Basically, the Google Fi coverage is pretty great from the network deals with T-Mobile and US Cellular. It even gets better with the intelligent switching between the different cellular and WiFi (W+) connections in your area.
What is the difference between Google Fi and Verizon?
The main difference between Google Fi and Verizon is the fact that the latter has its own towers. Thus, the subscribers (postpaid) get to enjoy priority data with superfast browsing speeds of up to 4,000+Mbps. The carrier also has free streaming services on various service plans, plus 5G support on both Android and Apple devices.
On the other hand, Google Fi is relatively cheaper than Verizon on the standard phone plans and international roaming rates.
The Switch Might Drop the Speed
In conclusion, that's everything you should know about the network that Google Fi uses here in the country and while roaming. A lot of people usually don't pay much attention to the aspect while joining or planning to make a switch. But it's very crucial in making sure you always have a phone you count on when it matters.
Speaking of the phone, you can expect a drop in data speed when your phone is switching between the two networks. The drop is most significant while operating on 4G connectivity, thereby might be handy to get a 5G phone.