When comparing Frontier vs Xfinity the other day, I mentioned you can get a phone discount with your broadband connection. The Comcast brand offers this cellular phone service under the brand Xfinity Mobile. But now, does the company has its own cellular infrastructure as they do for the cabled internet? If not, which network does Xfinity Mobile use to deliver the service?
Well, first things first, Xfinity Mobile is a mobile virtual network operator (or MVNO). And this means it doesn't have its own cellular towers. Instead, the prepaid provider has made a deal with a Major Carrier to run off its network infrastructure at a certain fee. You can think of it like reselling of the Main Carrier network, which you'll come to notice is often at a cheaper rate than the host.
In this short guide, we'll be looking at who this "Carrier Network " or Networks Xfinity Mobile pingbacks to for a connection. The article has covered:
The network Xfinity Mobile use for native coverage
The network Xfinity Mobile use for domestic roaming
The network Xfinity Mobile use for international roaming
Knowing the Network Your Phone Service Use Really Matters
Indeed, knowing who is the Carrier Network of your phone service matters more than you think. We still have many people who don't give much thought to it. But the truth is that the network your phone operator use determines how great the service experience will be.
Strangely, most MVNOs don't put on the front page whose network they use. Xfinity Mobile is a perfect example, where they use terms like "Xfinity Mobile utilizes the highest ranked network from RootMetrics….". Then, you'll have to use your research skills to figure out who this "highest-ranked network" is.
In any case, the three main reasons why it's important to know which network Xfinity Mobile use is:
Make sure you have strong phone coverage in your home area and or workplace
Help you find the right phones compatible with Xfinity Mobile
Asses the kind of perks to expect. For instance, a main carrier like T-Mobile doesn't share its "carrier settings bundle" for Apple with the MVNOs on its network. It's the reason there was a delay in 5G support on Apple phones from small carriers like Tello and US Mobile.
What Network Does Xfinity Mobile Use?
As I've just mentioned, most small carriers without their towers leave you to figure out on your own whose network they use. But luckily for you, I've done the heavy lifting here.
And, well, Verizon is the network Xfinity Mobile use for native coverage since the start. You possibly know the Main Carrier utilizes (or at least used to utilize) CDMA protocol for the legacy 3G. And this is when you didn't need a SIM card since your service would get linked to your phone.
Xfinity Mobile just came recently (in 2017) when carriers had already adopted 4G LTE heavily, and smartphones had flooded the market. You would need a SIM to activate your cellular service. But unlike the carriers on GSM protocol, here you would need to authenticate your SIM with the phone you'll be using.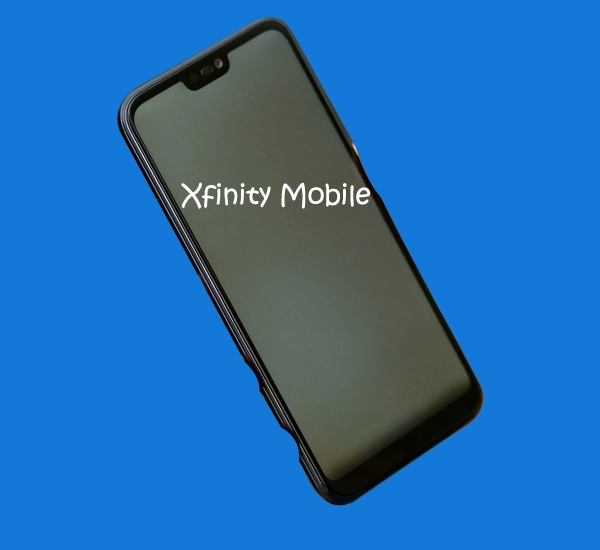 Now, this phone you intend to use with Xfinity Mobile should be able to tap into the Verizon network frequencies to work. The frequencies usually include bands 2, 4, 5*, 13*, and 66 to connect to the LTE spectrum. Then bands N2/ N5/ N6/ for 5G-lowband, N77 (C-band) for 5G-midrange, and N260/ N261 for 5G mmWave.
Both the C-band and mmWave frequencies fall under the category of the 5G Ultra-wideband, which brings you the fastest data speeds. And in the Xfinity Mobile vs Verizon review, we concluded the two have about the same data speed of up to 4Gbps.
Xfinity Mobile has a "Priority Data" Deal with Verizon
Unlike competitors like TracFone or Straight Talk, who also run off Verizon towers, Xfinity Mobile has priority data. It should explain why the MVNO delivers as high data speed as Verizon Wireless on the 5G Ultra-wideband.
Also, the priority data deal means you'll have a "higher priority cellular service in times with high network traffic," says Xfinity Mobile. And this is where you will have higher data speeds than the deprioritized competitors even when the Verizon towers are too busy.
Nonetheless, Xfinity Mobile only offers high-priority service on the By the Gig, plus the recently-released Unlimited Plus and Unlimited Premium plans. The priority service is on all phones (LTE & 5G) with By the Gig plan, but only 5G-capable devices for Unlimited Plus and Premium plans.
If interested, Xfinity mobile has a $20 add-on HD Pass you can use to bypass various restrictions on its service. Part of these restrictions includes access to priority service with Unlimited Plus or Premium plan on 4G phones.
Verizon Has Always Been Generous to its MVNOs
As you probably know, Verizon is the most expensive cell phone service in the country. Small providers (or MVNOs) are how you can enjoy quality service from the main carrier at less.
Meanwhile, Verizon seems to always have a close relationship with these small carriers using its infrastructure. Let's say coverage, the MVNOs, such as our Xfinity Mobile, do have access to the Verizon LTEIRA (LTE in Rural America) partners. Thus, you will have a working phone even in those spots T-Mobile and its MVNOs tend to struggle.
Also, Verizon does give its MVNOs access to the carrier settings bundle it pays to Apple (for iPhones, tablets, and smartwatch service). But Xfinity Mobile already pays for its own Apple carrier settings bundle, covering 5G, LTE, VoLTE, Personal Hotspot, Wi-Fi Calling, et cetera.
Verizon-Xfinity Mobile a Bit Behind on 5G Infrastructure
Verizon, the carrier network of Xfinity Mobile, has the leading LTE coverage across the country. It was also the first to release 5G cellular technology. But the deployment of the 5G Ultra-wideband cell nodes has not been fast enough.
At the time of writing, Verizon has confirmed to have Ultrawideband coverage in 1,700 cities. Most areas only support 5G Nationwide (on the low-band spectrum), which currently covers 2,700+ cities. But the speeds on the 5G Nationwide are usually about the same as 4G LTE.
Sadly, when using Xfinity Mobile on 5G, there's no way to know if you're connecting to the low-band or Ultra-wideband. I mean, Verizon will have a "UW" beside the 5G, whereas Xfinity has just a plain "5G". So, a speed test will be the only way to tell if you're tapping into Ultra-wideband or low-band frequencies.
Which Network Does Xfinity Mobile Use when Outside Native Coverage
While Xfinity Mobile (through Verizon) has the best LTE coverage in the country, there are still locations with poor or no access. If you reside in such areas, it's advisable to look for another cellular provider that works best there.
However, during a temporary visit outside your native coverage, you can look for other ways to make your phone usable. One of these ways is to toggle on the roaming function under network settings.
Xfinity Mobile offers domestic roaming on its service plans at no additional cost. The carrier has not listed on its site the roaming partners it has made a deal with at the moment. But as I've mentioned above, you do have access to the 21 LTEiRA partners of Verizon. Some of these partners include Cross Telephone, Bluegrass Cellular, Pioneer Cellular, Thumb Cellular; Strata Networks, Chariton Valley Communication Corporation, Appalachian Wireless, et cetera.
Note:
In an area without Xfinity Mobile native coverage or roaming partners, you could still use your phone for communications. And the idea here is to take advantage of the WiFi calling function, which enables you to call and text via VoIP (Voice over Internet Protocol).
The good thing with WiFi calling is that you don't need to use any special apps (FaceTime, Skype, Whatsapp, Viper, etc). When you make a WiFi call or text, it usually routes over a cellular network. Thus, the person on the other end will see your number on his/ her phone as if you made a regular call.
 But again, you must have a phone that supports WiFi calling to make calls and texts via VoIP. Apple devices are no problem here as all the models from iPhone 6 support the feature. But when dealing with Androids, availability varies with brands.
Does Xfinity Mobile Support International Roaming?
If traveling abroad, you can still call, text, and use data services from some carrier phones. Xfinity Mobile is one of the few MVNOs that support international roaming in up to 200+ countries. But unlike its carrier network, Verizon, which offers free international roaming in various countries, here you must pay.
The Xfinity Mobile Go Global is where you can find the rates of roaming abroad with your phone. You can opt for the Global Travel Pass at a flat rate of $10/ day in most countries (and $5/ day in Canada/ Mexico). Or else pay as you go, starting from $0.10 per talk minute/ text and $0.05 per MB of data.
Take note, you can only add the international roaming benefit to your Xfinity Mobile phone while still here in the States. It can take up to 72 hours for Xfinity Mobile to add the add-on feature to your service account. But you can always reach out to Customer Care support in case of an abrupt trip and need to add the feature soon.
Hooray! Xfinity Mobile Now Supports eSIM
 In conclusion, that's everything relevant you should know about the network Xfinity Mobile use for coverage. I've not been so lucky on identifying who the Comcast brand personally pays for domestic roaming. But its carrier network, Verizon, does give access to the LTEiRA partners, which offers coverage in rural areas.
Similarly, details on the networks Xfinity Mobile use for international roaming are also unavailable. The only thing the phone operator has been open with is the roaming rates, which will vary on the country you're in.
If your trip abroad is longer than a couple of days, Xfinity Mobile now supports eSIM activations. Thus, you could move your home service on eSIM, then leave the slot for physical SIM for the local service in your destination.