Have you recently lost your job? Are you struggling to work or study at home without the internet? If the answer to either of these questions is a yes, this article covers the affordable connectivity program Verizon has to help pay your internet bill.
What's Affordable Connectivity Program?
When looking at how to get a free Sky Devices government tablet the other day, we said ACP is a replacement for the EBB coronavirus relief. Congress disbanded the EBB (or Emergency Broadband Benefit) program at the end of 2021 so they can create a more long-term program.
The new long-term service is the Affordable Connectivity Program (or ACP), which now gives a $30-$75 month discount on internet service. And not just with the free government phone provider like Access Wireless or Safelink, but also with paid carriers.
Affordable Connectivity Program with Verizon
Various prepaid and postpaid carriers are receiving the ACP boost from the federal government. Red Pocket and Cricket are some examples in the MVNO category, then all the major providers (T-Mobile, AT&T, and Verizon).
But unlike most carriers, Verizon has both the wireless mobile and Fiber-optic (Fios) internet plans. So, you could get your monthly subsidy on either of the two, provided you meet the requirements.
As for the said subsidy, the program provides a $30 discount on most households or up to $75 if on Tribal lands.
But again, the Universal Service Administrative Company (USAC), the agency administering the ACP benefits, don't pay the subsidy directly to you.
Instead, Verizon, and the other participating carriers, will apply the ACP subsidy as a credit to your bill account. Then, whatever balance remains on your monthly bill you'll have to clear it on the usual means- via phone, online, mobile app, in-store, or at Verizon retail kiosks.
How to Qualify for the Affordable Connectivity Program with Verizon
The requirements for the ACP benefits with Verizon are pretty much similar to the lifeline providers with free government phones. And that means you have to be either participating in any of the federal assistance programs or have a low income to qualify.
If it's low income option, the total amount has to be 200% less than the federal poverty guidelines. But again, the federal poverty guidelines usually vary across the various states and household sizes (number of individuals living together).
See the chart below.
| Household Size | Alaska | Hawaii | Others (48 contiguous states & D.C.) |
| --- | --- | --- | --- |
| 1 | $32,180 | $29,640 | $25,760 |
| 2 | $43,540 | $40,080 | $34,840 |
| 3 | $54,900 | $50,520 | $43,920 |
| 4 | $66,260 | $60, 960 | $53,000 |
| 5 | $77,620 | $71,400 | $62,080 |
| 6 | $88,980 | $81, 840 | $71,160 |
| 7 | $100,340 | $92, 280 | $80,240 |
| 8 | $111,700 | $102, 720 | $89,320 |
| For every extra person, add: | $11,360 | $10,440 | $9,080 |
Meanwhile, federal assistance programs are usually available to the underprivileged, including the needy, disabled, and veterans. So, you'll automatically qualify for the monthly ACP subsidy with Verizon if you participate in either of these programs.
The said assistance programs include:
Medicaid
Supplemental Security Income (SSI)
Veterans Pension & Survivors Benefit
Federal Public Housing Assistance (FPHA)
Head Start and other Tribal Assistance programs
Supplemental Nutritional Assistance Program (SNAP) or Food Stamps
In addition to that, the FCC has also made the affordable connectivity program available to the students who received a federal Pell grant. Also, those on the special school lunch or Breakfast programs will benefit.
Note: the affordable connectivity program is different from the lifeline phone service. In fact, you can even apply for the Verizon ACP benefit if you're an active customer with a lifeline provider.
How to Enroll in the Affordable Connectivity Program with Verizon
If you fall in either of the categories above, you can now proceed to enroll in the affordable connectivity program with Verizon. However, the provider, unlike the lifeline carriers, doesn't handle the qualification entries to the broadband assist directly.
So, to get the affordable connectivity benefit:
Visit ACPBenefit.org and apply to see if you qualify. The site is primarily for the ACP, but it's still under the USAC.
Once you receive your ACP eligibility e-letter, you can go back to Verizon and apply for a home internet or mobile plan with data access. If you're an existing Verizon customer with the talk and text only plan, you'll also have to switch to a package with internet access.
Once you have active internet service, visit Verizon.com/acpconsent  to complete the ACP application with Verizon
Important Notes:
1. Lifeline Customers
If already receiving lifeline phone service, you can get the ACP benefit without applying again with USAC in Step (1) above. However, you can't apply for the Verizon ACP if you already have a lifeline+ACP combo with your lifeline provider.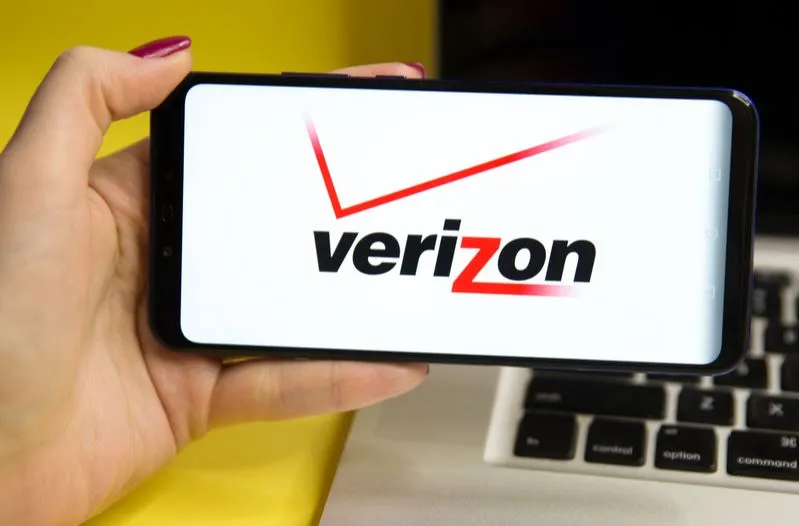 Similar to the free lifeline phones, every household is only eligible for one affordable connectivity program.
A household can consist of a married couple, or parent/ guarding and child, or an adult living together with friends/ relatives that provide financial support. And that means no other member of your family should apply for the service if you're already receiving it.
However, a student living alone can receive his own broadband benefit (with the Federal Pell Grant), separate from his/ her parent.
Roommates can also qualify as multiple households with separate ACP accounts if they live together but don't share money.
On the affordable connectivity program page, FCC has provided that eligible households can also receive a one-time discount of up to $100 to purchase an ACP device. The said device can be either a tablet, laptop, or desktop computer.
Sadly, however, Verizon hasn't mentioned anywhere about getting a free tablet or laptop discount.
In Step (1) above, USAC may ask for additional information or documentation to show you Qualify. And that includes the documents to prove your identity, address, household income, and participation in a federal assistance program.
Order Verizon Internet Service
If you're a new customer, you can visit Verizon.com  to purchase a home internet or mobile data access plan with an ACP subsidy. Alternatively, you can purchase offline by calling telephone at 1.800.225.5499 (prepaid mobile), 1.800.922.0204 (postpaid mobile), or 1.800.Verizon (Home internet).
Usually, lifeline companies say you'll lose your free government phone if you fail to use the given monthly allowances. The same rule applies here, whereby you'll lose the ACP enrollment if you don't use your Verizon internet service.
The ACP Credit isn't Transferable
Sadly, you can't transfer your ACP credit to another person. Even if you're relocating, the person left behind will have to apply and qualify for the program.
 The only ACP transfer you can do at any time's when you decided to leave Verizon for another provider.
Note: you also lose the current monthly subsidy when you move to a new address. So, you'll have to reapply.
Discontinuance of the ACP Benefit
Even though Congress created the ACP as a long-term thing, there are still a lot of conflicting opinions on its expiration. In the previous broadband benefit (EBB), rumors were that the program would end when COVID-19 was no longer a pandemic or if the allotted funds finishes.
As for the ACP, there's no mention of when it should end. But when it's about to, the FCC will notify the carriers and the subscribers beforehand.
FYI: Federal Communications Commission (FCC) is the agency that oversees USAC in the administering of the ACP benefits.
Have any Complaints about Your ACP Benefit?
If you have any issues with your ACP subsidy, you can always file a complaint with the FCC by calling 888-225-5322 or writing at ACP Complaint Center. But before that, you can try solving your issues (perhaps the ACP credit didn't reflect in your bill) with Verizon.
The Verizon Mobile and Home Internet Plans with ACP Discount
As mentioned earlier, Verizon has two different ways you can redeem your monthly internet subsidy: with home internet and mobile plans.
Verizon Mobile Internet Plans with ACP Discount
| Verizon Mix & Match (postpaid)   | Mobile Hotspot (postpaid) | Verizon Prepaid Phone | Verizon Data-Only (Prepaid) |
| --- | --- | --- | --- |
| $70 Start Unlimited: Has high-speed data with no cap | $20 Essential Hotspot: Has 15GB of premium data | $35 5GB prepaid: Has 5GB of high-speed data | $40 Data-Only: Has 5GB of high-speed data |
| $80 Do More Unlimited: starts with 50GB of premium data | $40 Plus Hotspot: Has 50GB of premium data | $45 15GB Prepaid: Has 15GB of high-speed data | $60 Data-Only Plan: Has 25GB of high-speed data |
| $80 Play More Unlimited: Starts with 50GB of premium data | $60 Pro Hotspot: Has 100GB of premium data | $60 Unlimited Prepaid: Has high-speed data with no caps | $80 Data-Only Plan: Has 100GB of high-speed data |
| $90 Get More Unlimited: Has unlimited premium data | $80 Premium Hotspot: Has 150GB of premium data | Unlimited Plus Prepaid: Has high-speed data with no cap | $100 Data-Only Plan: Has 150GB of high-speed data |
|   |   |   |   |
When enrolling for the affordable connectivity program with Verizon mobile internet, you can opt for either of the sixteen plans above.
However, Verizon usually provides postpaid customers with prioritized data that don't slow speed when the towers are busy. And that means the Verizon Mix & Match Unlimited, plus the Verizon Mobile Hotspots plans will always have usable service no matter how heavy is the traffic.
Meanwhile, the customers on the Verizon prepaid usually get deprioritized data. So, your browsing speed will be temporarily slower than other traffic in times of congestion.
Also, the Verizon prepaid phone plans with capped high-speed data (5GB & 15GB) undergo throttling- drops to 2G speeds after reaching the monthly limit.
Verizon Home Internet Plans with ACP Discount
| | | | |
| --- | --- | --- | --- |
| Fios Mix & Match (postpaid) | Verizon 5G (postpaid) | Verizon LTE | Fios Prepaid   |
| 300Mbps at $39.99   | 5G Home at $50 or $25 with a mobile plan | LTE Home at $50 or $25 with a mobile plan | 100Mbps at $39.99   |
| 500Mbps at $64.99 | 5G Home Plus at $70 or $35 with a mobile plan | – | 300Mbps at $59.99 |
| Gigabit Connection at $89.99   | – | – | Gigabit Connection at $79.99   |
|   |   |   |   |
First up, the Verizon home internet is the best choice if you're applying for the ACP benefit as a family household. It's not only "Truly" unlimited but also operates via a wired router (for Fios Mox & Match/ Prepaid). Thus, provides a more stable connection that you can share with multiple devices without lagging speeds.
As for the question of the ACP monthly subsidy, Verizon allows you to apply with either of the nine internet plans above. The customers who qualify for both the Fios Forward and ACP discount even get a $39.99 discount on the 300Mbps Mix & Match plan. Thus, getting their wired internet service for absolutely FREE!
Note: Verizon also gives ACP discounts to customers on the traditional Fios bundles with internet or those who prefer Verizon HSI through the DSL service.
In Conclusion:
The Affordable Connectivity Program is no doubt worth it if you have been struggling to work or study at home from not having internet. Of course, not everyone will qualify, but those who do have a chance to even get the Fios 300Mbps plan at $0.00.
As you enjoy your discounted internet with Verizon or any other internet provider, do remember you must remain eligible for ACP throughout the year. Otherwise, you'll lose the subsidy and will have to lose or pay the undiscounted rates of your plan.