A smartphone is a gadget we now use in almost everything- make calls, text, read, learn, stream, shop, and so on. But the experience on many of these functions is best when done on a wider display. And in this guide, I'll show you how to apply for a free tablet from the government for that large display.                   
I'm sure you have seen ads of these free government tablets on Google, YouTube, Facebook, and other social networks. What happens is that you just need to go to either of the companies that have partnered with the government to give this offer. Then when approved, you'll receive the device at the home address used during enrollment.
Is the Free Tablet from Government Worth it?
Well, it all depends. For those people who don't overthink the expectations, the free tablet from the government is worth it.
The reason not to "overthink" what to expect is for most companies of the free tablet from the government hands out entry-level brands. In fact, from the dozen selections I've gone through, only one has high-end brands like Apple iPad, Samsung Galaxy, et cetera.
The iPad or Galaxy Tab you receive is a refurbished model, for sure. But their performance is way better than these low-end tablet brands from most companies.
A perfect example of the low-end tab is the famous Q Link Scepter, which many users have complained about overheating and freezing. But if I'm to guess, the two issues are from the inferior processor,  RAM, and internal storage.  
No, I'm not saying the entry-level tablets are totally bad- some nowadays have decent features, including a 10-inch display and 3GB RAM. However, the devices with poor specs tend to be sluggish or completely incompatible with heavy-data/ high-graphic apps and games.
If you agree to avoid the heavy-data tasks, either of the free tablets from the government could work for you. You can use for basic tasks, such as calling, texting, video streaming, browsing, or typing documents without any issues.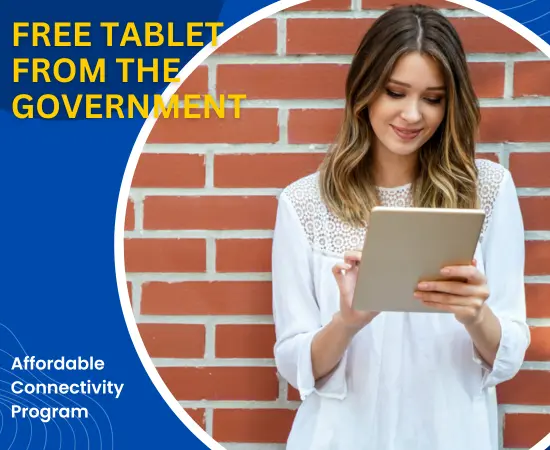 Speaking of typing, you could pair your tablet with a wireless keyboard to type better. It's only an iPad and Samsung tablet I've been able to use this way. But there are third-party wireless keyboards in the market you can pair with any tablet (or even TV).
Tip for later: I'd remind you to be careful with third-party wireless keyboards, as many don't have the best network security protocols.
 The Free Tablet from Government with Affordable Connectivity Program
Do you remember when EBB came out? It was back in May 2021 when the government created the emergency broadband benefit (EBB) to help families COVID-19 has affected financially afford internet.
EBB is what brought the free cell phone service for life unlimited everything. Instead of the capped talk minutes, text, and data the Lifeline service offers, you'd now get an unlimited allowance bucket.
In addition to the free service, the EBB also offered a free tablet. The offer was under the section of a one-time discount of $100 on a connected device.
Long story short, though, the EBB was more of a temporary program. The FCC has even stated on its website the program would end when COVID-19 was no longer a health emergency or after depleting the budget (of $3.1 billion).
As it turns out, there were no clear indications whether lives and economies after COVID would get back to normal soon. So, the government decided to create a longer-term replacement for EBB, which we now call the affordable connectivity program (ACP).
The ACP program launched around the end of December 2021, about seven months after the debut of EBB. But unlike the EBB, the ACP had a budget of $14.1 billion.
Even though the allotted budget is over 400% more than that of EBB, the free tablet from the government with ACP is still under the $100 discount.
So, many companies participating in the program still hand out entry-level devices. The only slight difference is that what you get under ACP is a little better in specs than the time of EBB.
The Free Tablet From Government is only for Low-Income Individuals
Weirdly, any US citizen is free to apply for free tablet from government with ACP. However, only individuals from low-income families get to qualify, just like with the Lifeline free phone program.
As a matter of fact, the trick to qualify for a free tablet from the government is the same as with Lifeline. And what's the trick? You'll need to have either a low income from your current employment or participate in a government-funded assistance benefit.
If applying with "low income" from your employment, you can only get the free government tablet with an amount or below 200% of the federal poverty guidelines. The income amount is the total for all the working adults in your household.
In the case of government-funded assistance programs, you can only apply with either of the accepted selections, such as:
Medicaid
Supplemental Security Income (SSI)
Veterans Pensions & Survivors Benefit
Federal Public Housing Assistance Program (FPHA)
Federal Pell Grant for students in the current award year
Low Income Home Energy Assistance Program (LIHEAP)
Supplemental Nutrition Assistance Program (SNAP) or Food Stamps
Special Supplemental Nutrition Program for Women, Infants, and Children (WIC)
School Breakfast or School Lunch Programs, including even from the USDA Community Eligibility Provision
Federally approved tribal programs, such as Head Start, Food Distribution Program on Indian Reservations, etc.
Note: Not every company with a free tablet from the government will allow you to directly apply using all these programs. For instance, the California-based Excess Telecom currently doesn't have the option to apply with LIHEAP, Head Start, TANF, and other tribal programs. Thus, you'll need to apply based on low income.
How to Apply for a Free Tablet From Government
Overall, the process how to apply for a free tablet from government is so easy. Once sure you're on either of the eligibility categories above, the next step is to get proof to prove you qualify. "Proof" is any official document that shows you have a low income or a qualifying assistance benefit.
Proof you qualify on low-income requirement: some of the documents you can use include a most recent paycheck stub and tax return or statement of workers' compensation, retirement/ pension benefit, or social security benefit.
Proof you participate in a qualifying government assistance benefit: The best document you can use here is the most current statement of the benefit you're using. But the letter of approval/ verification will also work fine.
Besides the official proof of qualification (like either of the selections above), you'll also need to prove your identity and residence. Some of the documents you can use as:
Proof of identity includes any document with your full name and date of birth. An excellent example is a valid driver's license, birth certificate, ID card, passport, Green Card, and others.
Proof of physical address is any document that shows your full name and the place you currently live. A perfect example is the most recent utility bill, lease/ mortgage statement, valid driver's license, et cetera.
Note: In the list of assistance programs accepted in ACP, we've seen students can apply with Pell Grant or school food programs. But since some of them may not have a valid ID card or driver's license, proof of emancipation status is acceptable. Such proof is a certificate or an official court document of emancipation.
Do I Apply First on National Verifier or Directly with a Participating Company?
Again, the affordable connectivity program (ACP) with the free government tablets is a lot like Lifeline program. Another reason for this is that only the companies the FCC has approved to participate can offer the device (and broadband) discount.
Now, to apply for the free tablet with the ACP program, you can do it directly with one of the participating companies. But these companies don't verify your qualifications. Instead, they forward your application and documents (uploaded as proof) to the National Verifier, which then determines your eligibility.
In short, the National Verifier (NV) is a database system (by USAC) that verifies your information for authenticity. "Authenticity" in this part entails whether the information you've provided is true.
The National Verifier completes the crosscheck from Third-Party Identity Verification (TPIV), USPS Address Matching Service (AMS). It does this through Computer Matching Agreements (CMA) with local/ state and federal government organizations. Hence, how you get declined if the data shows you or someone else from your address has already enrolled.
If your information came back as a fresh enrollment and NV approves it, the ACP company will start processing your order immediately. How soon the tablet will arrive at your door will vary with the company used and your location.
Don't be Surprised When Asked to first Register with National Verifier
Lifeline phone carriers are among the companies you can get a free tablet from the government. They're also the easiest to apply with, as you get to do everything directly with them, then they forward your details to the National Verifier for verification.
Nevertheless, when you apply with some companies, the first step will be to fill in the basic personal information. In the second stage, you'll be asked to choose your eligibility requirement (with income or government assistance program). But for the next part of verification, these companies will redirect you to the National Verifier page. Then on the NV page, you'll have to upload copies of the documents to prove your eligibility, identity, and physical address. (You'll not be able to proceed to the next stage of enrollment until the NV approves your information and issues an ACP application ID).
There's another group of ACP companies, where to get the free tablet, you must first register with the National Verifier. Then once NV approves your information and has an ACP application ID, you'll come back to the company enrollment page and start applying.
10+ Best Companies To Apply for Free Tablet from Government
We've already seen to get the free tablet from the government you need to apply for the ACP program. And as of right now, there are over 1,300 companies registered with FCC to offer the broadband program.
However, out of these companies, I've found only a dozen of them with a tablet discount. They include:
| | | |
| --- | --- | --- |
|   | Carrier Network | Free Tablets Available |
| AirTalk Wireless | T-Mobile | Apple iPad, Samsung Galaxy Tab, Sky Elite, etc. |
| Cintex Wireless | T-Mobile | Cintex Tablet |
| Easy Wireless | T-Mobile | Sky Devices Elite T8 |
| Sarver Wireless | T-Mobile | HP Puya Tab or Sky Devices Elite |
| StandUp Wireless | T-Mobile | Sky Devices Elite, Vortex Tab 8, & NUU Tab |
| Unity Wireless | T-Mobile & AT&T | Benton OXTAB 10 Tablet PC |
| Q Link Wireless | T-Mobile | Q Link Scepter 8 Tab |
| TruConnect Wireless | T-Mobile | Cloud Mobile Sunshine Elite |
| MOOLAH Wireless | AT&T | MOOLAH Mobile Tab |
| EnTouch Wireless   | T-Mobile | Sky Devices |
| Maxsip Telecom   | AT&T | BLU M8L |
| Excess Telecom | T-Mobile | BLU M10L PRO |
| Torch Wireless | AT&T | BLU M8L, FOXXD T8, Maxwest, etc. |
|   |   |   |
AirTalk Wireless
 AirTalk Wireless is one of the Lifeline providers HTH Communications, a leading phone refurbishment company, owns. The company (AirTalk) is participating in the ACP program. It actually has some of the best free tablets from the government, including high-end brands likes:
 Apple iPad 3, iPad 4, iPad Mini
Samsung Galaxy Tab S2, Tab S3, Tab A, Tab 4 Tab E
Alcatel Joy Tab, Tab 2
Sky Devices Elite T8 Plus, Pad 8,
KonnectONE Moxee Tablet
Cintex Wireless
Cintex Wireless is a second Lifeline provider HTH Communications owns. It used to have a wide catalog of free tablets to choose from, like its stepsister AirTalk. But the company has recently disbanded the tablet catalog, and left a single option of "Cintex Tablet".
The thing here is that Cintex isn't a manufacturer of phones or tablets. So, when you apply for the "Cintex Tablet", the company will now send any brand available.
Sarver Wireless
Sarver Wireless is the third company you can get a free tablet from the government with ACP. And while based in California, the company offers service to all fifty states. The kind of tablet you get can be either:
HP Puya 10.1" Tab
Sky Devices Elite T10
Easy Wireless
Easy Wireless is the fourth company participating in ACP you can get a free tablet. The company website is not clear on the kind of tablet they give you once approved. But after a short follow-up, I've come to learn they have been sending out the Sky Devices Elite T8 tablet.
Regardless, there's no guarantee the Sky Devices tablet will always be in stock. And for that, I'd advise you to be ready for anything.
StandUp Wireless
StandUp Wireless is a decent option you can also apply for the affordable connectivity program (ACP). The free monthly broadband service isn't the best- they only give you unlimited data with 10GB of high speed (then 2G speeds). But you do get a one-time discount on a tablet, which can be either:
Vortex Tab 8
Sky Devices Elite T8
NUU Tab 8 4G LTE
Excess Telecom
Similarly, Excess Telecom doesn't offer the best broadband allowance with ACP. It only gives 6GB of high-speed data per month. But there's a one-time discount on tablets, which I've come to learn you'll most likely get BLU M10l Pro.
Similar to other ACP providers, though, Excess Telecom may send a different brand of government tablet if the BLU model isn't available.
TruConnect Wireless
TruConnect is a provider of lifeline phones, which means it automatically qualifies to participate in ACP. And once approved eligible for ACP, you also do get a one-time discount on the government tablet.
When I checked a while back (in 2022), the kind of tablet TruConnect give you with ACP was a Cloud Mobile Sunshine Elite. I'm not so sure if this is what they still send out today. So, there's a chance to get something better.
EnTouch Wireless
EnTouch Wireless was once one of the best lifeline carriers for those who travel a lot. It used to run off the Verizon towers. But for reasons I couldn't find, the company now uses T-Mobile towers.
Sadly, I also couldn't find the exact brand of tablet EnTouch offer in the ongoing "connected device discount" with the ACP program. However, my best guess is that you'll get a Sky Devices model since the brand is what they use for the free touchscreen phones with Lifeline.
Q Link Wireless
Q Link Wireless was amongst the first you could get a free tablet with the EBB program back in 2021. It's also one of the few you could get up to 30GB of high-speed data with ACP, which is pretty good.
Furthermore, Q Link has a tablet discount when you join for the first time. The company homepage doesn't exactly state what they'll send you. But when you dig through their website well enough, they send a branded Q Link Scepter 8 tab.
Unity Wireless
Unity Wireless is one of the few service providers that bring you ACP service through T-Mobile and AT&T. Thus, you get to enjoy the broadband benefit with the best network in your area.
When applying for the first time, Unity Wireless will also send you a bonus tablet to enjoy with your data service. And the kind of tablet Unity Wireless gives you at the moment is a branded OXTAB 10.
MOOLAH Wireless
MOOLAH Wireless is another one of the few ACP providers you get service through the AT&T network. The company, unfortunately, has the lowest monthly service allowance on the list- you get 3GB of high-speed data. However, it does give you a free tablet when joining as a new member.
The tablet MOOLAH Wireless gives you is the MOOLAH Mobile Tab. And while the device is an entry-level brand, the specs are better than most: 10-inch display, plus 32/ 3GB built-in memory.
Maxsip Telecom
If AT&T is great in your area, Maxsip Telecom offers more high-speed data than MOOLAH Wireless on ACP. The monthly allowance has up to 15GB of high-speed data.
Even better, you do get the one-time offer of a tablet. And after thorough research, I've come to learn the company gives you the BLU M8L Tab.
Torch Wireless
 Torch Wireless is the last of the companies you can apply for a free tablet from the government. It's not quite a synonymous name in the industry. But after an extensive chat with the customer rep, he confirmed with me they usually give the:
BLU M8L
FOXXD T8
XMOBILE X8
Maxwest Nitro 8
Maxwest Astro 8q
Hyundai HYTAB PLUS 8LB1
Important Note:
Although I've been saying you get a free tablet from government, the device isn't exactly a freebie. There's a small fee for all those who apply for the connected device. And as per the Federal Communication Commission, the fee you'll need to pay should be less than $50 but more than $10.
 Most of the ACP companies have the FCC fee as $10.01. But others like Torch Wireless will charge $11 for the free tablet from the government, and a few like Maxsip Telecom $20.
As for Moolah Wireless, they assert the ACP tablet is FREE- no cost at all. And what happens is that MOOLAH Mobile, a partner of the broadband provider, pays the $10.01 fee for you.
Related post: Providers with ACP Free Tablet from Government
Final Thoughts
If you want a bigger display, that's everything relevant you need to know on how to apply for a free tablet from the government. It's all straightforward, albeit the process can be a bit boring for the companies that redirect you to National Verifier, then require you to come back to finish enrollment.
Anyway, after qualifying for the free tablet with the ACP program on either of the companies, do know the ticket for the monthly broadband service is only valid for 12 months. After one year, you'll have to reapply afresh using the most current documents.