Lifeline is usually the easiest way to get a free cell phone service for life unlimited everything. But are the providers still offering a full ACP broadband benefit? If Yes, does Q Link give free tablets to the subscribers?
Well, Q Link is one of the few providers of lifeline service in the country with unlimited everything. The "unlimited everything" consists of unlimited talk, text, and data provided you qualify for the ACP and lifeline service. So, you get to browse as much as you want without having to worry about overage fees.
Even better, the ACP benefit comes with a discount on an internet-enabled device, which lifeline companies offer as a tablet.
FYI: ACP is an acronym for Affordable Connectivity Program, the replacement of the previous Emergency Broadband Benefit (EBB).
Should I Get the Free Government Tablet?
Do you like to stream on the go? A tablet usually has a relatively wider screen than a smartphone. And for that, you'll get to watch your favorite movies, news, and game or do school assignments with ease.
As I've mentioned, the free government tablets are part of the Affordable Connectivity Program that lifeline providers have been offering. The deals are pretty nice as those unable to afford a tablet get to have one with their service.
But similar to the free touchscreen government phones with lifeline service, the discounted tablets are entry-level models in most cases. Cintex Wireless is literally the only company I've seen with decent brands like Samsung Galaxy when you apply for the free tablet with EBT card/ food stamps.
The other lifeline companies offer some tablet brands I'm sure many of us have never heard of before. A perfect example is the free Sky Devices Government tablet from StandUp Wireless or Cloud Mobile Sunshine Elite with TruConnect.
Q Link does give free tablets to its subscribers as well. But the lifeline provider has been handing out its branded Q Link Scepter 8 tablet, with 16GB of storage and 1GB RAM. And considering the  high load of current apps, this memory status is extremely low. It will be enough for basic communication and possibly streaming.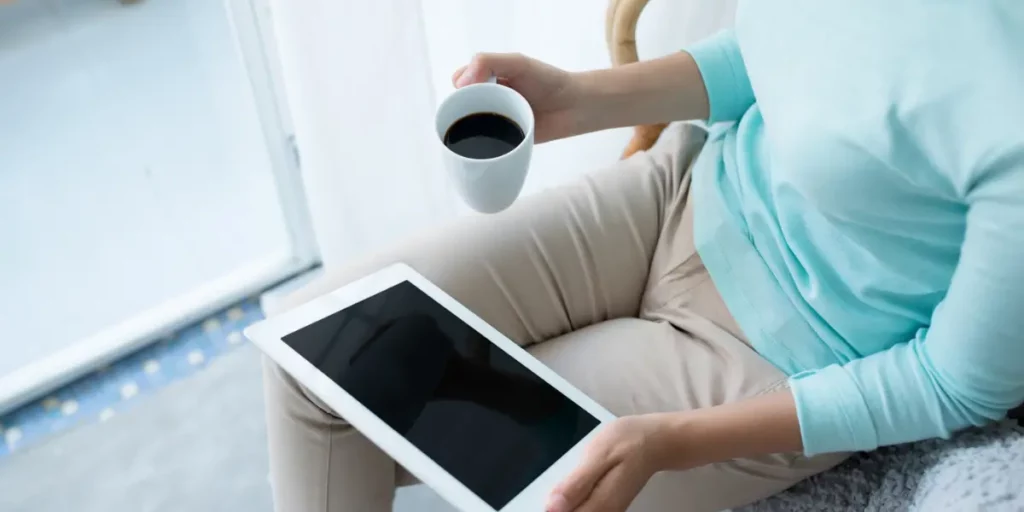 Things You Should Know Before Applying for the Q Link Free Tablets
Before you decide to apply for the Q Link free tablets, you should know that:
Q Link is an MVNO of T-Mobile
Even though a government-funded service, Q Link is still a mobile virtual network operator (or MVNO). It has made a network deal with T-Mobile.
Q Link Has Capped Speeds on 5G Network
When you insert your SIM card to 5G phones that are compatible with Q Link, you'll notice a high data speed of up to 500Mbps. But, unfortunately, this seems like a short-time thing as the speed will then drop to 100+Mbps and later 25Mbps.
Q Link Offers Unlimited Data with Cap
On the site, Q Link advertises unlimited data without a mention of the maximum threshold. The support also never replied after I asked them on the chat. But when you start using the service, you'll notice the browsing speed drops after hitting 30GB (sometimes 25GB).
Q Link Only Offers "Unlimited Everything" with a "Tablet" Plan
In the Lifeline-only plan, Q Link gives you up to 1000 Minutes of Talk and 4.5GB of data in most states. It's only after you combine the lifeline and ACP benefits you get the "Unlimited Everything" (data, talk, & text) plan.
Your free Q Link tablet or phone will also have access to millions of public WiFi hotspots across the country.
Q Link Free Tablets Aren't Exactly FREE
While lifeline companies advertise government tablets through ACP as FREE, this isn't exactly true. The Federal Communications Commission (FCC) require the providers to charge their eligible subscribers a one-time fee of $10.01.
But, of course, the invoice for this payment comes with the device, and you have to pay within the next thirty days.
Q Link Doesn't Let You Choose Your Free Tablet
Sadly, Q Link, as with most lifeline carriers, doesn't let you choose the free tablet or even phone to choose after joining. You'll have to just sit and wait for whatever comes to your mail.
As I've said earlier, Q Link usually sends out the branded Scepter 8 tablet when you qualify for the ACP benefit. The tablet has 16GB internal storage, but the system receives about 7GB to operate. Thus, 9GB is all you'll have to install your favorite apps and keep your files.
In truth, 9GB is too little in a smart device nowadays- not even in a smartphone. We have mobile apps and games of up to 3GB in size when you download but later take up more space as you use them.
So, the free government tablet isn't ideal if you're planning to use it on high-graphic operations. It will just keep freezing on you, which is inconvenient and vexing at the same time.
Other features you should know about the Q Link free government tablet include:
An 8-inch, 800 x 1280p LCD display
A built-in MicroSD slot for expandable memory
Up to Wi-Fi 4 (802.11n) & Bluetooth v4.0 connectivity
A preinstalled Android 11 (Go Edition) operating system
Note: The company (Hot Pepper) that makes the Scepter 8 Tablet that Q Link offers has recently released a second-generation model. It's slightly faster as it has 2GB of RAM and preinstalled Android 12 (Go Edition). But the company was still sending out the 1GB version last month- perhaps until they clear out the old stock.
Does Q Link Give Free Tablets to Existing Lifeline Customers?
In a nutshell, the easiest way how to get Q Link free tablet is if you're already receiving a lifeline service. However, the provider doesn't send out the smart device to all of its customers automatically. You must apply for the Affordable Connectivity Program (ACP), which, of course, is a guaranteed qualification as a participant of the lifeline.
Meanwhile, you usually require to be on a government benefit program or have a low income to qualify for a lifeline. The requirements are pretty much the same when it comes to the ACP broadband benefit, though there are a few improvements. Why so?
When you apply for the ACP and Q Link free tablet, you should either:
Be on the National School Lunch Program or School Breakfast Program
Be on the Nutrition Program for Women, Infants, and Children (shortened to WIC)
Have a low income at or below 200% of the current federal poverty guideline
Be participating in a federal assistance program like Medicaid, SNAP, Head Start, SSI, Veterans Pension or Survivor Benefits, et cetera.
Well, you should know neither nutrition programs for WIC nor School Breakfast/ Lunch programs are usually eligible for a lifeline. Then the requirement for a free tablet with a low income is at or below 200% of poverty guidelines (versus 135% for a lifeline).
In this aspect, you can see why it's possible to qualify for free government tablets automatically when you have a lifeline phone. But it doesn't necessarily work the other way- say qualify for a lifeline phone just because you qualified for ACP benefits.
Note: you can get the affordable connectivity program with Verizon and various other paid mobile services. The cable broadband services also have the offer, with either partial or full discounts, as with Frontier.
Does Q Link Give Free Tablets that Are Already Activated?
The Q Link wireless free tablet activation is pretty straightforward to do even without any technical skills. Unlike the free phone (Hot Pepper Serrano 3) the company mails to you, the tablet doesn't have a slot to insert a SIM card. Thus, you can only use it via a WiFi connection from a router or mobile hotspot.
As for the tablet activation, you just need to unbox and plug it into a charger until full charge. Then:
Press the power button to turn it on.
Choose your preferred language, then tap the bold "Start" tab
Connect to the WiFi network of your home (or whichever is available)
Next, sign in to your Google account (tap skip to jump to the next stage)
Now, enable the functions and notifications you'd like to have on your device
Finally, set your preferred screen lock PIN, Password, or Pattern (or skip and set it up later)
After you have set the PIN (or pressed the "Skip") button, the Q Link tablet will take you to the home screen. You can now download the apps you'd like to have or start browsing and streaming right away.
Still No Mobile Hotspot with Q Link!
If interested, that's everything you should know on how Q Link gives free tablets. It's not exactly a great deal considering the kind of tablet brand the company gives you. But you could make it work if you plan on using it only to stream, browse, or connect with friends on social media.
However, do remember the Q Link free government tablets (scepter 8) don't have a slot to insert a SIM card. The provider is also yet to introduce mobile hotspots and tethering with the lifeline service.
So, you can only use the tablet with either your home WiFi (if available) or connect to the FREE public WiFi hotspots distributed across the country.