When looking for a phone service, it's usually good to research the options available and compare what they offer. Unfortunately, there are not many Gen Mobile reviews to cross-check online. Then for the few websites that talk about it, I've come to notice some inconsistency.
Gen Mobile certainly isn't a well-known cell phone provider. I personally stumbled on it when trying to check the progress news of DISH 5G deployment. DISH Network is the new owner of Gen Mobile, making it a sister of Boost Mobile, which the telecommunication giant also acquired recently.
Despite everything, Gen Mobile is a decent phone service if you want to cut down on your monthly bills. It has the lowest prepaid service with 1GB of high-speed at only $9/ month. Then you can also get a free cell phone, as we shall see shortly.
Gen Mobile Reviews: An Overview of the Cell Phone Service
| | |
| --- | --- |
| Feature | Gen Mobile |
| Founded | 2018 |
| Carrier Network | AT&T/ T-Mobile |
| eSIM support | NO |
| Lowest Phone Plan | $9 ($0 Lifeline) |
| Unlimited Minutes | YES |
| Unlimited data | YES (with cap) |
| Family Discount | NO (3-month savings) |
| Free Mexico/ Canada Call | YES (and to 100+ destinations) |
| Mobile Hotspot | YES |
| WiFi Calling | YES |
|   |   |
Table
Gen Mobile is a good phone service, albeit not the best. It officially launched in 2018 and made a deal with Sprint (CDMA) to use its network infrastructure. But as you may know, Sprint and T-Mobile merged in 2020. Then last year, in 2022, T-Mobile decommissioned the remaining 4G LTE spectrum of Sprint Network.
When Sprint network was still active, Robert Yap and his brother, Michael Yap, had already sold Gen Mobile to DISH Network. The deal happened in 2021, which means the DISH brand would have its customers switch to T-Mobile towers.
When looking at the phones compatible with Boost Mobile a while back, I happened to mention the bad blood between DISH and T-Mobile. The fallout came after a disagreement about the decommissioning of Sprint's CDMA network. And what followed was the new owner making another deal with AT&T to use their towers.
DISH being DISH, the company also made an AT&T network deal for Gen Mobile. But more on that, let's jump to the complete Gen Mobile review and see what you can expect to get or miss.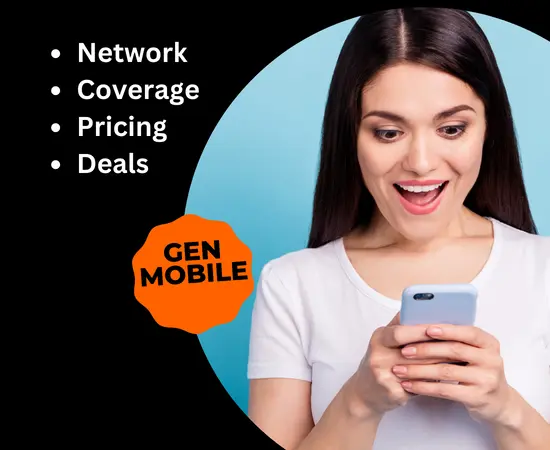 Gen Mobile Reviews: Features & Perks you can Get/ Miss on the Cell Phone Service
· Easy to Join!
Gen Mobile operates largely as a prepaid phone service. And similar to other prepaid services, you can apply with no annual contracts to tie you to the service. No annual contracts mean no security deposits to worry about. Then the carrier also doesn't perform credit checks, whereby you can join with poor or bad credit.
Once ready to join, Gen Mobile has partnered with various local dealers where you can purchase service. You can use the online Store Locator to find the shop nearest to you.
Alternatively, you can purchase the service online at https://www.genmobile.com. But since the carrier is yet to launch eSIM activation, you'll have to wait for the physical SIM card to arrive.
· Network could Change
Gen Mobile is a mobile virtual network operator (MVNO). It doesn't have its own network infrastructure, thereby using the cell towers of a Major Carrier.
Again, the Major Carrier Gen Mobile used to use was Sprint. But after the 2020 merger, T-Mobile continued to offer service to new and existing customers.
However, Gen Mobile currently has a network deal with AT&T as well. And for that, you can get service on the network that works best in your area. (AT&T is a much better option if you travel, as the coverage extends to various rural areas).
Do you remember the fallout of T-Mobile and DISH Network I mentioned? I guess that Gen Mobile may end up dropping T-Mobile completely for AT&T.
On the guide of the towers Boost Mobile use, we saw this other DISH brand has already been forcing people to the AT&T-compatible SIM. One way the MVNO has done that is by locking out WiFi calling and eSIM support to the customers on T-Mobile-compatible SIM. Only the users of Boost on AT&T have this feature.
· No Network Roaming
Although Gen Mobile is still offering service on AT&T or T-Mobile networks, there are areas you won't have coverage. After all, the MVNO doesn't switch between the two networks, as with the Networks Google Fi Use. You either get service on AT&T or T-Mobile-compatible SIM.
What this means is that in areas either network has zero signal, your phone won't call, text, or use data. Worst, Gen Mobile doesn't support domestic or international roaming at the moment.
So, the only way to get in touch with your contacts outside the native coverage will be to use WiFi calling. This kind of service is where your calls or text complete by using Voice over Internet Protocol (VoIP). The tech works by connecting your device to a router using a Wi-Fi signal. Then when you make the calls/ text, they route through your carrier.
Note: Gen Mobile allows WiFi calling only here in the US and has no international support.
· Free Phones Deals Still Non-existent
Sadly, Gen Mobile isn't part of the companies that give you a free phone when you switch to prepaid service. It's sad as Boost Mobile, the now-elder-sister of Gen, tends to give a free iPhone, Motorola, or Samsung phone when you join.
Even sadder news, the Gen Mobile phone catalog available online isn't something I'd call great or good. It has under twenty phones to choose from, and most of the selections available are preowned/ refurbished brands.
The nice part, though, is that Gen Mobile has Bring Your Own Phone option. You'll only need to make sure your device is compatible with AT&T (preferred) or T-Mobile, depending on the network joined. Then the device must be fully unlocked for the SIM software to work.
· Phone Plans Pricing is Good!
In a nutshell, this is one of the things great about Gen Mobile. It shows five different prepaid service tiers to choose from, starting from a 1GB plan at only ten dollars.
| | | | | | |
| --- | --- | --- | --- | --- | --- |
| Features | 1GB Plan | 3GB Plan   | 7GB Plan   | 16GB Plan   | Unlimited Plan |
| Regular Price/ Month | $10/ mo. | $20/ mo. | $30/ mo. | $40/ mo. | $50 |
| 3-Month Subscription | $27 ($9/ mo.) | $54 ($18/ mo.) | $78 ($26/ mo.) | $102 ($34/ mo.) | $114 ($38/ mo.) |
| Multi-Line Discount | NO | NO   | NO   | NO   | NO   |
| Talk Minutes |  Unlimited | Unlimited | Unlimited | Unlimited | Unlimited |
| Text Messages |  Unlimited | Unlimited | Unlimited | Unlimited | Unlimited |
| High-Speed Data |  1GB | 3GB | 7GB |  16GB | Unlimited |
| Premium Data | N/A | N/A | N/A | N/A | 35GB (Then 3G) |
| 128kbps Data | Unlimited   | Unlimited | Unlimited | Unlimited | N/A |
| Mobile Hotspot | YES | YES | YES | YES | YES (10GB) |
| International Calls | NO | YES | YES | YES | YES |
| International Texting | YES | YES | YES | YES | YES |
|   |   |   |   |   |   |
Gen Mobile Data Table
First, Gen Mobile service is seemingly cheap, which, indeed, it is. Not many phone providers have a single-line service for only $10 a month. And the best part, the ten bucks include unlimited calling and texting nationwide, as well as globally (texting only).
When you pick the $20 (3GB) plan going onward, they all now have unlimited texting and calling outside the US. The perk is only limited to a little over 100 countries, for sure. But again, many of the competitors that are slightly more expensive are only limited to domestic calls and texting.
Speaking of expensive, Gen Mobile phone plans get cheaper when you use a 3-month subscription, instead of a single-month frequency. The deal brings you the Unlimited plan from $38 per month. And this is a few coins cheaper than even the regular 3-month bundle of Mint Mobile Unlimited.
Note: Gen Mobile used to have $60 and $70 unlimited phone plan tiers. The plans had 35GB premium data as the $50 plan, albeit with 20GB and 30GB mobile hotspot caps respectively.
However, the carrier no longer has the two additional service tiers on the phone plan pages. You will notice the $60 plan on the checkout page, though.
Also, Gen Mobile shows a flat tax fee estimate of $0.10 (claims the exact charges will be visible on your invoice). Then there is a one-time $39.00 Gen Mobile activation fee. activation fee on all cell phone plans purchased monthly. The activation fee is waived for 3-month service subscribers.
· Data Throttling & Deprioritization
Like most MVNOs, Gen Mobile has deprioritized data on all the phone plans. If new to cellular technology, deprioritized data (or deprioritization) is where your mobile data is pushed to a lower priority group during network congestion. It often happens when your service is at the higher QCI standard, which is the case here.
Another thing, Gen Mobile throttles data (reduce data speed based on usage) on all plans, including the unlimited service tier. The Unlimited plan has a cap of 35GB, at which point the data speeds drop to 512kbps (about 3G data speed).
As for the 1GB, 3GB, 7GB, and 16GB phone plans, Gen Mobile throttles the speed to 128kbps (about 2G data speed). 2G data speed isn't exactly something you can use to stream or open heavy sites. But it's relatively enough to open maps, text-based apps, and other light web pages.
· Free Phone Service with Lifeline & ACP
Surprisingly, Gen Mobile is one of the carriers you can get free phone service without paying anything. The first way you can do that will be to apply for the Affordable Connectivity program (ACP) that the government launched in 2021.
If approved, the ACP program offers a $30 discount ($75 discount on tribal lands) in mobile/ fixed broadband service. And this is why the Gen Mobile ACP Assist only limits the free monthly service on the 7GB plan.
Besides participating in ACP, Gen Mobile is an eligible telecommunication carrier in several states. In other words, the carrier is one of the dozen options you can get a free lifeline phone from the government. The free Lifeline phone service offers at least 1000 talk minutes and text, plus 4.5GB of high-speed data in most states. If on Tribal lands, the free lifeline phone service has unlimited talk and text, plus 11GB of high-speed data.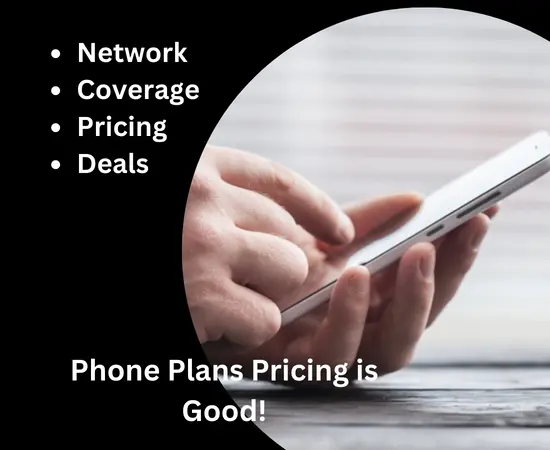 · Customer Service Support is Good Online
Although I said Gen Mobile has shops to purchase service, these are from its local partners. However, the operator doesn't have its own physical stores where you can go and consult a customer representative in person.
If you have any issues with your service, you can only contact Gen Mobile by phone, email, or online chat. To get support by phone, call + 1 (833) 528-1380 (or 611 on Gen phone). Then for the email option, you just send a direct message from the contact form.
If it's a simple problem you've got, I've found the Gen Mobile online chat more effective. In a test, I connected with an agent in about 4 minutes (the system sent me a "waiting" notification I minute after initiating a chat).
Keep in mind, online chat and phone customer support involve interacting with a live agent. Thus, you must make sure you use the two within the stated working hours: "Everyday 7:00 am – 5:30 pm PST".
·  Key Takeaway: Gen Mobile APN Settings
When you have signal and mobile data but your phone can't browse or open apps, chances are your device have incorrect network configuration. To correct the issue, the idea is to simply adjust the APN settings to the appropriate values.
APN Settings Profile 1:
The first Gen Mobile APN settings you can try if experiencing connection issues will be the "pwg" profile. See below:
Name: Gen Mobile (or whichever you prefer)
APN: pwg
Username: (leave it blank)
Password: (leave it blank)
Proxy: (leave it blank)
Port: 8080
Server: (leave it blank)
MMSC: http://pwg.mmsmvno.com/mms/wapenc
MMS Proxy: (leave it blank)
MMS Port: (leave it blank)
MCC: 310
MNC: 260 (enter 240 for T-Mobile-compatible SIMs)
Authentication type: PAP
APN type: default,supl,fota
APN protocol: IPv4
APN roaming protocol: IPv4
Bearer: Unspecified
APN Settings Profile 2:
If my Gen Mobile APN settings above fail to work, you can try this second profile:
Name: genmobile.com (or whichever you prefer)
APN: genmobile.com
Username: (leave it blank)
Password: (leave it blank)
Proxy: (leave it blank)
Port: 8080
Server: (leave it blank)
MMSC: http://mmsc.mobile.att.net
MMS Proxy: proxy.mobile.att.net
MMS Port: 80
MCC: (leave default)
MNC: (leave default)
APN type: default,supl,fota
APN protocol: IPv4
APN roaming protocol: IPv4
In the MMSC and MMS proxy settings here, you can see they are preset to the AT&T network. Thus, it will not work when using a T-Mobile-compatible Gen Mobile SIM.
Ps. If you're wondering what network your Gen Mobile SIM is on, check the ICCID printed on the back. In the SIM compatible with T-Mobile, the ICCID number begins with 89012401. Then the AT&T-compatible SIM card starts with 8901280.
You may also interest: Free Phones with the EBB Program
Make Sure You Have a Good Phone
In conclusion, although there are still other things to talk about, Gen Mobile is a good phone service. It has good coverage, great pricing, and some amazing perks. One of the favorite perks is the unlimited calling and texting outside the US. Then the supposedly ($38) Unlimited plan has 35GB of high-speed before dropping to the 513kbps for the rest of the month.
Speaking of speed, do know the type of phone you have determines the kind of data speeds achieved. And considering the carrier deprioritizes all its service plans, a 5G-capable phone will be more worth having. The 5G data speeds are at least three times faster than 4G LTE, which means they will still be decent when deprioritization happens.