In the last couple of days, we've been looking at the experience with Mint Mobile and how it relates to other providers. Well, this article is more of a continuation, whereby we'll compare Mint Mobile vs Spectrum Mobile to discern which will be great for your next service.
Meanwhile, Spectrum is not a new name to most of us. It's one of the largest internet providers across the US, albeit for Charter Comunications, Inc. Then, Spectrum Mobile is a wireless brand of the company, which brings us affordable phone service through the Verizon network.
But, anyway, in this article, we'll look at Mint and Spectrum Mobile while comparing them against the key important features in any phone service. So, just like with the previous Mint Mobile vs AT&T review, you'll learn how the two players differ on browsing speeds, coverage, rate plans, and deprioritization.
Mint Mobile vs Spectrum Mobile: An Overview on the Cell phone Providers
| | | |
| --- | --- | --- |
| Feature | Mint Mobile | Spectrum Mobile |
| Founded | 2015 | 2018 |
| Type of Service | Prepaid | Prepaid & Postpaid |
| Carrier Network | T-Mobile | Verizon |
| Technologies | GSM | CDMA |
| Free 5G | YES | YES |
| Lowest Phone Plan | $15 | $14 |
| Unlimited Minutes | YES | YES |
| Unlimited data | YES | YES |
| Carry-Over | NO | NO |
| Download Speeds | Up to 560+Mbps | Up to 2+Gbps |
| Family Plans | NO | YES (sorta) |
| Free Mexico/ Canada Call | YES | YES |
| Mobile Hotspot | YES   | YES |
| Video Streaming | YES [Up to HD] | YES [up to HD] |
| Phone Unlock Period | After 365 days | After 60 days |
| Type of Service | Online Only | Online and in-store |
|   |   |   |
Mint Mobile: Pros
Overall, Mint Mobile is a good phone service. As a mobile virtual network operator (or MVNO), it's more affordable than its carrier network. So, it can be a great idea if you're within T-Mobile's hotspot but don't want to pay its pricey service packages.
Even when cheaper, though, Mint Mobile has an average download speed of 560+Mbps when on the high-band 5G (Ultra Capacity) spectrum. But in the Ultra Mobile and Mint Mobile test, we did see you can attain even higher speeds of 780+Mbps. You only have to be at the right place, at the right time, as I'll share in a bit.
Spectrum Mobile: Pros
When it now comes down to Spectrum Mobile, the service is also cheaper than its carrier network-Verizon. But does this mean you'll also get a slice of the speed when browsing with your phone or tethered laptop?
Nooo! In fact, Spectrum Mobile claims you'll get around 450Mbps in downloads, but in reality, you can achieve 1300-2300+Mbps while on the Ultra-wideband space. Of course, this test was a few months back, in California and North Carolina. So, it could be faster now, considering Verizon 5G Ultra-Wideband is now peaking up to 4+Gbps.
Different from many carriers, though, Spectrum Mobile requires you to have their cabled internet to join the phone service. In return, the company will also give you access to unlimited WiFi hotspots across the country for free.
More on that, continue reading the full spectrum Mobile vs Mint Mobile comparison review below.
Mint Mobile vs Spectrum Mobile: Comparing the Features and Perks of the Mobile Phone Operators
Eligibility Requirements
In this one, Mint Mobile takes points as it's much easier to join or switch to than Spectrum Mobile. The MVNO has made the service available to anyone within the US who needs a reasonably-priced phone service.
On the other hand, the Spectrum mobile is not that easy to join. To qualify for the phone service, you'll first need to have installed Spectrum internet in your home or business.
Of course, some people are using the Spectrum cell phone even when they don't have the internet. But that rule only applies to the subscribers who had the connection until they couldn't maintain it anymore. So, spectrum allowed them to keep their phone service, but with a small surcharge fee (of $20) on their regular bill.
CDMA vs GSM technology
Technically, T-Mobile, which serves Mint Mobile, uses GSM network technology. So, you can insert your Mint SIM to most unlocked phones, including even those that were previously on Cricket or Metro service.
However, the T-Mobile signal is usually best on band 71 (600MHz) as it carries both the 4G LTE and low-band 5G network. So, you might want to make sure the device you want to use with Mint has that modem.
On the other hand, Spectrum Mobile is an MVNO of Verizon, thereby running on CDMA network technology. Also, this means the service operates on the 700MHz frequency, which usually utilizes band 4. So, you'll be able to share all unlocked devices from Visible and Total Wireless but only some models from Mint Mobile.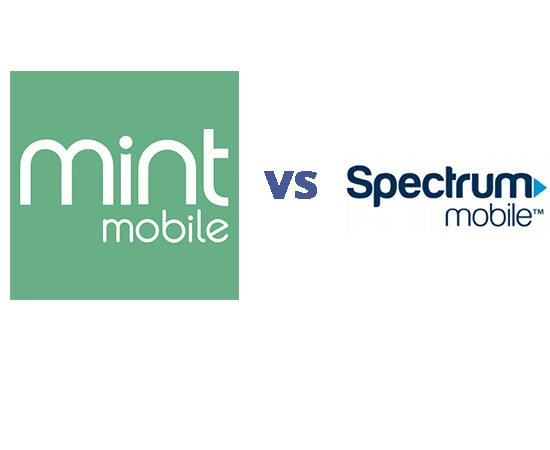 Network Coverage
When we compare Spectrum vs Mint on coverage, the former is the clear winner, all thanks to Verizon's presence in almost every city. That includes many remote parts of the Midwestern and Northwestern regions. So, the carrier is the best if you travel a lot as you'll always have a usable phone with you.
In the case of Mint Mobile, T-Mobile also does have extensive coverage across the nation, but not as wide as Verizon. In particular, in Oregon and the rest of the Midwestern region, the service is only great in the Metro areas. Once you start driving into the countryside, many are the times you'll have no bar at all
Free 5G Access & Speeds
Similarly, Spectrum Mobile will be taking the points here for three main reasons. First, the MVNO has a wider coverage of both the 4G LTE and 5G signals, thereby assuring reliable calls quality and browsing capabilities.
Secondly, Spectrum Mobile brings you access to the 5G service at no additional cost. You only need a 5G capable smartphone and a location with access to the 5G signals.
Thirdly, and most importantly, Verizon's MVNO brings you hyper-fast download speeds of up to 2Gbps on the Ultra-Wideband spectrum. However, a lot of people are getting between 600-1300Mbps, which, to be honest, is awesome. Then, most have access to the 5G Nationwide, which has download speeds of 75-200+Mbps, depending on traffic location and traffic.
In general, the 5G Nationwide of Spectrum Mobile is almost similar to that of the low-band spectrum of Mint (100-200+Mbps). On the Ultra-Capacity (mmWave) spectrum, the T-Mobile MVNO has an average of 560+Mbps in download speeds. But as mentioned earlier, you can record up to 780Mbps at other times. It all depends on your location and the kind of traffic available at the time.
Phone Plans & Pricing
When we now compare Mint Mobile vs Spectrum Mobile on plans, Mint leads on the pricing, structure, as well as allotments. It has four different plans to choose from, including the recently-added Unlimited plan, which you can get for only $30/ month. See below
| | | | | |
| --- | --- | --- | --- | --- |
| Features | 4GB Plan | 10GB Plan | 15GB Plan | Unlimited Plan |
| 3-Month Subscription | $45 ($15/ mo.) | $60 ($20/ mo.) | $75 ($25/ mo.) | $75 ($30/ mo.) |
| 6-Month Subscription | $120 ($20/ mo.) | $150 ($25/ mo.) | $210 ($35/ mo.) | $210 ($35/ mo.) |
| 12-Month Subscription | $180 ($15/ mo.) | $240 ($20/ mo.) | $300 ($25/ mo.) | $360 ($30/ mo.) |
| Free 5GAccess | YES | YES | YES | YES |
| Call Minutes | Unlimited | Unlimited | Unlimited | Unlimited |
| Text Messages | Unlimited | Unlimited | Unlimited | Unlimited |
| High-Speed Data | 4GB | 10GB | 15GB | Unlimited |
| Premium Data | N/A | N/A | N/A | 35GB |
| 2G Data | Unlimited | Unlimited | Unlimited | Unlimited |
| Mobile Hotspot | None | None | None | 5GB |
| Video Streaming | Up to HD | Up to HD | Up to HD | 480p resolution (DVD quality) |
|   |   |   |   |   |
As you can see, Mint Mobile doesn't have a "Truly" unlimited rate plan. Its unlimited plan has 35GB of premium/ priority data, which, of course, is enough for some people. However, you might need to look elsewhere if you're a heavy-data user- let say you use like 50GB or 100GB per month.
Also, Mint Mobile doesn't have specialized family plans, but you can still save a lot of bucks on its bulk rate plans. In fact, the yearly plans are even cheaper than the family plans of the Spectrum Mobile
Spectrum Mobile Is No Better
Indeed, Spectrum Mobile offers rate plans no better than Mint. Yes, the By the Gig plan is seemingly cheaper (by $1), but it only gives you only 1GB of high-speed data. If you use more than that, your bill at the end of the month will increase by $14/ 1GB. That means using 3GB will cost you $42, as shown below.
| | | | | |
| --- | --- | --- | --- | --- |
| Features | By the Gig Plan | 3GB Plan (By the Gig) | Unlimited Plan | Unlimited Plus Plan |
| Single Line Price | $14/ mo. | $42/ mo. | $45/ mo. | $55/ mo. |
| 2+ Lines Price | N/A | N/A. | $29.99/ mo. (per line) | $39.99/ mo. (per line) |
| Free 5GAccess | YES | YES | YES | YES |
| Call Minutes | Unlimited | Unlimited | Unlimited | Unlimited |
| Text Messages | Unlimited | Unlimited | Unlimited | Unlimited |
| High-Speed Data | 1GB | 3GB | Unlimited | Unlimited |
| Premium Data | N/A | N/A | 20GB | 30GB |
| 2G Data | Unlimited | Unlimited | Unlimited | Unlimited |
| Mobile Hotspot | None | None | 5GB | 5GB |
| Video Streaming | 480p (DVD Quality) | 480p (DVD Quality) | 480p (DVD Quality) | Up to 1080p (HD Quality) |
|   |   |   |   |   |
Note, Spectrum Mobile does have sort of a family discount, whereby you can save some bucks when you add multiple lines to your account. Nonetheless, the offer doesn't include By the Gig plans, which means you need to have either of the two unlimited plans.
If it's the $45 Unlimited plan, the multiple lines deals allow you to pay only $29.99/ month for each line. Then, the $55 Unlimited Plus plan gives you about a 27% discount so you can pay $39.99/ line per month. But then, that's still more than the yearly cost of the Mint Unlimited plan, plus the priority data's 5GB less.
Deprioritization & Throttling
Well, this will be a draw as neither Spectrum Mobile nor Mint mobile has its network towers. So, you'll certainly experience deprioritization when Verizon and T-Mobile surfaces are experiencing congestion.
Moreover, the two providers do throttle your data to 2G speeds after using up the high-speed and premium data allotments. But then, Mint Mobile does give more data, which is to say it has a better throttling policy.
Final Thoughts:
Overall, both Mint Mobile and Spectrum Mobile are pretty awesome, that's if you're not a heavy data user. However, Spectrum has a wider coverage through Verizon, which makes it more usable while traveling around the country. Its browsing speed is also remarkable when in a place with a strong 5G ultra-wideband signal and less congestion.
Even so, Mint Mobile also does offer fast download speeds on 5G Ultra-Capacity. Then, it's easier to join, cheaper on rate plans, and also will give you more high-speed data on both the limited and unlimited plan.
So, my recommendation is Mint Mobile, assuming you're in a place with good T-Mobile signals. If unsure of that, the MVNO does have a free trial period that gives you 250 Minutes, 250 Minutes, text, and data to use for up to seven days.