NUU Mobile is one of the brands to consider when looking for a budget smartphone or tablet. The brand is also one of the common options you'll find in the Lifeline and ACP programs from the government. But for now, I'll just focus on the latter as it's the only program you can get NUU Mobile free tablet.
In all the options I've gone through, the free NUU Mobile tablet comes with at least an 8-inch display and 32GB of built-in memory. Thus, handles basic tasks, like calls, text, browsing the internet, reading eBooks, streaming videos/ music, etc pretty well.
Would you be interested to try what you can achieve on your end? If YES, this short guide covers all the crucial deals you should know on the NUU Mobile Free Tablet offer. It includes how to apply, what is required to qualify, and the kind of NUU tablet (series) you'll be getting.
NUU Mobile is a Devices Manufacturer
NUU Mobile is a brand of smartphones and tablets, just like Sky Devices or BLU. It's a trademark name of Sun Cupid Group, a Hong Kong-based manufacturer of electronics and small home appliances.
While you may be hearing the name today, NUU Mobile has been in the stores for over a decade now. However, it mostly focuses on entry-level products, whereby you can get smartphones under $100 and tablets as cheap as $130.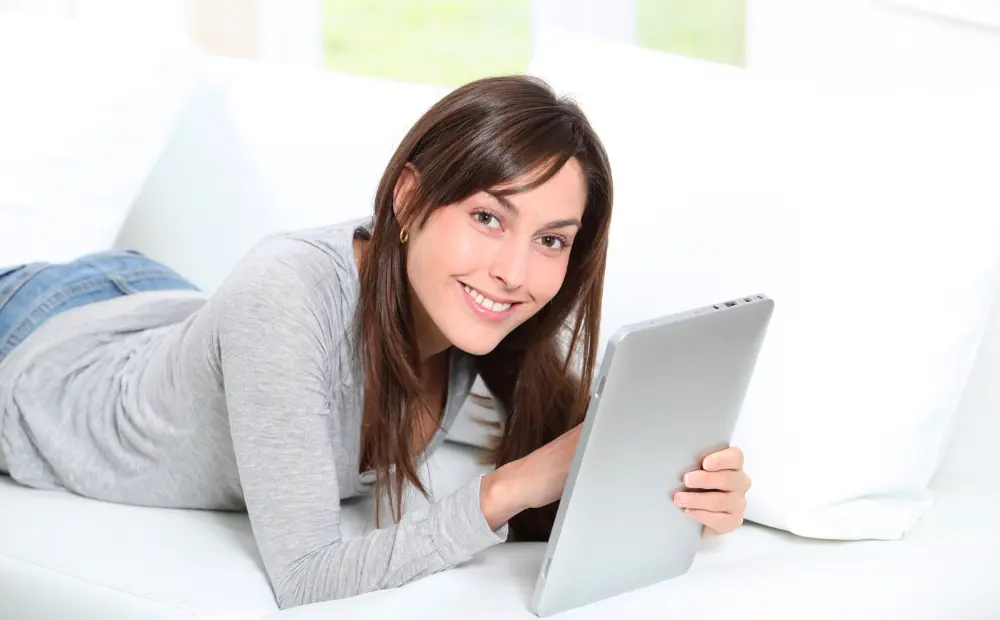 NUU is still new in the category of tablets, as it only has two product series: TAB 8 and TAB 10. The NUU TAB 10 is a recent release from the company, with everything as an improvement of the TAB 8.
Conversely, the NUU Mobile TAB 10 is available at twice the price of the legacy Tab 8. Does this mean you'll still get the improved device for free? Let's see.
What's a NUU Mobile Free Tablet?
Even before deals, NUU Mobile devices are very affordable, compared to iconic brands like Apple and Samsung. In the lines of tablets, the recently released TAB 10 is the priciest, which is understandable with the specs on board.
When we come to the deals, the NUU Mobile free tablet is what you get in the ongoing broadband program from the government. The broadband program started back in May 2021 with EBB (emergency broadband benefit).
In the EBB program, the government had set aside $3.2 billion. From this amount, eligible individuals would get free monthly service and up to a $100 discount to purchase a connected device.
The EBB discount of a "connected device" covered a laptop, desktop computer, or tablet PC. But most of the companies participating in the program would offer the latter- perhaps since they're more affordable and accessible.
NUU Mobile Tab was one of the brands featured in these free tablet offers with EBB. However, NUU had no license to participate in the broadband benefit. Instead, it had partnered with internet service providers on EBB to supply them with the tablets.
Even after the government replaced the temporary emergency broad benefit (EBB) with the Affordable Connectivity Program (ACP), NUU still isn't a participant. However, some of the service providers with the ACP free tablet have been sending the brand.
What Kind of NUU Mobile Free Tablet from the Government Do I Get?
Again, NUU Mobile doesn't offer free tablets from the government directly. The ACP providers it has partnered with do.
So, the kind of NUU Mobile free tablet you'll get will mostly depend on its deal with the service provider. But since the device maker only has two tablet lines in its catalog, there's no much difference.
At the time of writing, the NUU Mobile TAB 8 is the tablet most of the providers of ACP have been sending out. As the name the tablet has an 8-inch display, which is 2 inches less than the latest NUU Mobile TAB 10.
Whichever of the handsets you get, they pack some decent features- better than what the famous Qlink Scepter tablet offers.
Qlink Scepter vs NUU Mobile Free Tablet: Comparing Specs & Features
| | | | |
| --- | --- | --- | --- |
| Specs | Qlink Scepter 8 Tab | NUU Mobile TAB 8 Tablet | NUU Mobile TAB 10 Tablet |
| Price Range | Entry-level | Entry-level | Midrange |
| Display | 8 inches (800 x 1280p HD+) | 8 inches (800 x 1280p HD+) | 10.1 inches (1920 x 1200p FHD+) |
| Platform | A100 | 28nm (Android 11) | MT8765A | 28nm (Android 12) | MT8768WA | 12nm (Android 11) |
| Type of SIM | None | Nano-SIM | Nano-SIM |
| Cellular Connectivity | N/A | Up to 4G LTE | Up to 4G LTE |
| Mobile Hotspot | N/A | YES | YES |
| WiFi Connectivity | Up to WiFi 4 (802.11n) | Up to WiFi 4 (802.11n) | Up to WiFi 5 (802.11ac) |
| Built-in Memory (ROM, RAM) | 16B, 1GB (16GB, 2GB) | 32GB, 3GB | 32GB, 3GB |
| Expandable Memory | YES (w/ MicroSD card) | YES (w/ MicroSD card) | YES (w/ MicroSD card) |
| Integrated Camera | 5MP (720p @ 30fps videos) | 5MP, with LED flash (1080p @ 30fps videos) | 13MP, with LED flash (1080p @ 30fps videos) |
| Type of Bluetooth | Bluetooth v4.0 | Bluetooth v4.2 | Bluetooth v5.1 |
| Integrated USB | Type C (charger/ data cable) | Type C (charger/ data cable) | Type C (charger/ data cable) |
| Built-in NFC | Li-ion 3500mAh | Li-ion 4000mAh | YES |
| Battery Capacity | Li-ion 3500mAh | Li-ion 4000mAh | Li-ion 6000mAh |
| Other Features | – | G-Sensor | NFC, Fingerprint reader, Gyroscope, Accelerometer, Digital Compass |
|   |   |   |   |
As you can see, the NUU Mobile tablets, both the entry-level and midrange models, pack better features than the Scepter. The performance will be smoother from having more internal memory. But the NUU Mobile TAB 10 tops it all by having a more powerful processor.
Furthermore, the NUU Mobile tablets have a built-in slot slot, where you can insert a SIM card for your cellular service. The device supports up to 4G LTE cellular networks, which include both the extended-range and high-capacity spectrum.
With cellular and WiFi connectivity, this means the NUU TAB tablets automatically support mobile hotspot/ tethering. Thus, you can share the mobile data from your free government monthly service with other internet-enabled devices.
What Companies Give NUU Mobile Free Tablet
Federal Communications Commission (FCC) has recently updated the list of ACP providers. In the list, there are 6000+ providers of fixed and mobile broadband. 2992 of these companies are offering discounts on connected devices, which is a tablet in most cases.
I have not been able to check all the 2k ACP providers with "connected devices" yet. But of those checked, the only company I'm certain gives NUU Mobile Free Tablet is StandUp Wireless.
Even then, the Vortex ZTAB 10 is the primary tablet StandUp Wireless gives you when eligible for the ACP program. If the Vortex Tab is unavailable, that's when you may get the NUU Mobile Tab 8. It's a "may" as StandUp also has a deal with Sky Device – the time I checked they would send an Elite T8 Tablet.
Note: Lifeline providers TAG Mobile and Access Wireless have a deal with NUU Mobile for their free touchscreen phones program. However, the two doesn't offer free NUU Mobile tablet as they registered on ACP for just the monthly service.
How to Get a NUU Mobile Free Tablet from the Government
I'm still not promising you'll get a NUU Mobile tablet when you apply ACP with StandUP Wireless (or other providers). But when you apply and by chance they have the NUU TABs, you'll need to qualify to get one.
To qualify for the free tablet from the government with any ACP provider, the first requirement is to be a US citizen. You'll even have to upload a document copy as proof of your identity. Perfect examples of the various accepted documents include a valid driver's license, passport, government-issued ID card, birth certificate, and Green Card.
The second requirement to get a NUU Mobile free tablet is to qualify for the ACP program. ACP, similar to its predecessor, EBB, is only available to those from low-income households. As an applicant, you can qualify with either an eligible low income or government assistance benefit.
If applying with the income-based requirement, the policy is that your total household amount should be at or less than 200% of federal poverty guidelines. Don't think of fabricating figures as you must provide proof of income with valid documents, such as paycheck stubs, tax returns, or income and social security benefits statements.
On the other hand, enrolling with the program-based requirements will require you to participate in either:
Medicaid
Supplemental Security Income (SSI)
Federal Public Housing Assistance (FPHA)
Students' Pell Grant during the current award year
Veterans' Pensions and veterans Survivors' benefit
Free and Reduced-Price School Lunch/ Breakfast Program
Food Stamps or Supplemental Nutrition Assistance Program (SNAP)
Special Supplemental Nutrition Program for Women, Infants, and Children (WIC)
Head Start, Bureau of Indian Affairs General Assistance, and other Tribal-based federal assistance programs
Similar to the income-based requirement, you must provide proof of eligibility with either of the programs above when applying. A perfect document proof you can provide is a copy of a letter of approval or a statement of participation.
Final Thoughts
The NUU Mobile free tablet is certainly a good offer if you can qualify. Of course, in most cases, you're likely to get the entry-level TAB 8 tablet. But we've seen the device still packs some decent specs, including a wide HD+ display, 32/ 3GB built-in memory, WiFi, 4G LTE connectivity, and a mobile hotspot.
If you're okay with these features, the free tablet from NUU Mobile is easy to apply. I mean, you just need to check out a provider of ACP that gives the devices from the brand. Then, apply with your eligible credentials (or as a dependent of someone who does).
When you apply for the tablet discount, remember it's still not 100% free. The FCC requires all participants of the ACP program to charge their applicants for the free tablet a co-payment fee of less than $50 but more than $10.
For example, StandUp Wireless, which sometimes sends NUU Mobile tablets requires a one-time co-payment of $10.01.