After SafeLink, Qlink is another free cell phone service. You will also get a free phone when joining for the first time. But when we come to the Qlink wireless phone replacement, the operator isn't as generous as with other things.
YES, you may be lucky to qualify for a free replacement in some states and situations. Many users aren't so lucky, though. There's a minimal fee the lifeline provider has in place if not  eligible for the freebie.
 But whether it's a freebie or not, don't expect your Qlink replacement phone as anything close to that Free iPhone When You Switch to Verizon, T-Mobile, or AT&T. Same as with SafeLink Wireless, you'll receive an entry-level brand, which doesn't have the best of features.
Situations You May Need A Qlink Wireless Phone Replacement
The reason one would want to get a Replacement Safelink Phone is pretty much the same for Qlink Wireless. And that includes:
Replace after a malfunction/ damage
The first reason you may need a Qlink wireless phone replacement is after the old device has malfunctioned. It can happen from mechanical malfunctions, such as broken screens and faulty charging systems, or technical issues with the firmware.
Replace after your old phone gets lost or stolen
You may also need a Qlink Wireless replacement phone after the old device gets lost or stolen. The cellular carrier isn't too gentle here as you'll still pay the applicable minimal fee by the end of the day.
Replace after the issue of incompatibility
Indeed, you'll also want have to replace your Qlink phone in the event of compatibility issues. It was a huge deal the other day as the MVNO switched over from Sprint towers to T-Mobile.
Sprint used to operate on a CDMA protocol that would tie your line to the phone. And for this reason, a few people who were still using the old CDMA flip phones had to replace them. T-Mobile has always been a GSM operator, with a physical SIM card to store your service profile.
Even so, the discontinuation of 3G has been the reason the largest percentage replace their phones recently. In particular, most enrolled in the free cell phones for seniors used to get flip devices that supported only up to 3G.
But at this point, you need a phone device that supports VoLTE/ HD voice. Otherwise, the Non-VoLTE phones (including 4G Non-VoLTE) lost service together with the 3G shutdown.
Moreover, you might want to check out the phones that are compatible with Q Link wireless on a 5G network for better speeds. But do remember the subcarrier is still likely to cap your browsing speeds.
Replace to enjoy a better mobile experience
Last but not least, you can consider a Qlink Wireless phone replacement for a better mobile experience. Same as with others, the free government touchscreen phone from the lifeline carrier is a low-end model.
For instance, Qlink has been mailing out the Hot Serrano 3 smartphone. The device brings you service on bands 71, 66, and 41. But it's very lacking performance-wise as the processor is the 2017 MediaTek MT6739 and the memory status at only 16/ 2GB.
Nonetheless, a replacement upgrade is something optional. Be ready to spend a few bucks if you want that smoother streaming/ gaming or capturing sharper videos.
Can I Bring My Own Replacement Phone to Qlink Wireless
Well, there are two main methods you can get a Qlink Wireless phone replacement. And the first way is to get your phone from somewhere and bring it to the lifeline service.
Unlike Assurance Wireless, Qlink has the BYOP (Bring your own phone) program. You can purchase the device from another dealer with a great deal and activate it with your service.
The Qlink Wireless phone replacement activation is pretty straightforward and something you can do yourself. But in case you encounter any issues, it's always free to call customer care at 1-(855) 754-6543 for assistance.
Remember, your BYOP device must be compatible with the Qlink service. It will need at least two or three of the T-Mobile frequency bands, just as with phones compatible with Simple Mobile. Then must not have any network restrictions (must be fully unlocked).
If not, you can replace your Qlink phone right from the lifeline carrier. It's somehow a better option than BYOP as you won't need to worry about compatibility issues.
But then, is Qlink Wireless phone replacement free? If not, how much will they charge me? And most importantly, what kind of replacement phone does the provider give?
 How to get a free replacement phone from Q Link Wireless?
Unfortunately, there's only one way how to get a free replacement phone from Qlink Wireless. And that way is only applicable if your device from the operator has malfunctioned within the limited warranty period.
In the latest Qlink Terms & Conditions, you have fourteen (14) days to return your defective phone for a free replacement. The first day of the 14 days starts on the day of delivery (or when you activate the device). But like any other cellular carrier, the "defects in the material workmanship" must be under normal use.
Qlink won't replace your phone if it has malfunctioned from abnormal use, unauthorized repair, accident, alteration, or any other act not related to them. They also don't do the replacement if the defects with your device are for the non-operative parts, such as framing or anything to do with the appearance and cosmetics.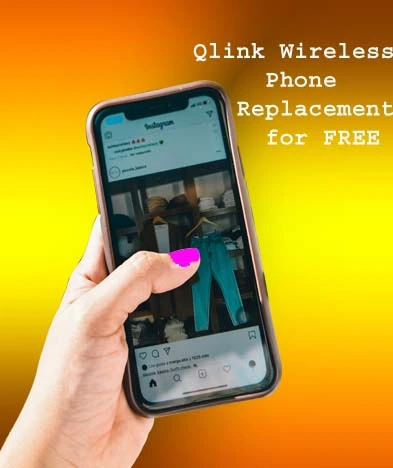 Once positive the defects with your device are within the warranty protection, you can now request a free replacement phone from Qlink Wireless.
Ps: you can also get a free Qlink Wireless phone replacement if the one the carrier was sending you is lost/ stolen during transit. But the provider claims it's a one-time thing "as a Courtesy".
7 Easy Steps How to request a free Qlink Wireless Phone Replacement
The following are seven easy steps on how you can apply for a free replacement phone from Qlink Wireless:
Step 1: Dial * 611 on your Qlink phone (if possible) or call 1-855-754-6543 from any other phone
Step 2: Provide the customer support rep with your account details to prove the ownership. They may ask for your order number if the device in question is from the subsidized upgrade options in their retail department.
Step 3: Print the RMA (return merchandise authorization) number that you will use to mail back the defective phone. Qlink will only give you this number when they have failed to resolve your issue over the phone
Step 4: Prepare the defective phone, including backing up your content and wiping all the data. You'll also need to turn off Find My iPhone / Find My app or Find My Device. Then power off the phone
Step 5: Next, put the device in the original packaging it came with and a shipping carton.
Step 6: Now, attach the RMA shipping label from Step 3 to the shipping box. Make sure you keep a copy of the (RMA) number for your records.
Step 7: Finally, send your package to a Q LINK Lifeline Service Center for a replacement that the provider provided in Step 3.
After receiving your defective phone, the Qlink technicians will inspect it to make sure everything conforms to their warranty policy. They will even check the serial number plate to make sure it's not defaced or altered.
If everything passes, Qlink Wireless will replace your device with a similar product or a comparable model (if the original isn't available). In most cases, in particular with the freebies, you'll receive a refurbished device as a replacement. But other times the replacement can be new, especially if the defective phone was from their paid/ upgrade catalog.
Is the Paid/ Upgrade Replacement Phone From Qlink Wireless Worth it?
The second way you can get a replacement phone from Qlink Wireless is to pay for it. And the first method you can do that will be to contact customer support at 1-855-754-6543.
If the reason for replacing your Qlink phone is after the old device got lost/ stolen, there's a nominal fee of $34.95. The same also applies when the defects from your device are from carelessness, exposure to harsh weather conditions, and other causes not related to Qlink.
It's worth noting Qlink doesn't let you choose the replacement phone to get in this case. And for that, you'll still receive the entry-level HP Serrano that the company sends out when you join.
Unfortunately, this entry-level Serrano is what we said you only get 16GB of storage and 2GB RAM. Thus, may not be ideal for someone who is on phone a lot or wishes to do some heavy tasks.
Fortunately, Qlink Wireless does have a retail department if you want a more decent phone replacement. It stocks both Android and iOS, including the latest 5G-capable options.
The high-end series like iPhone 13 and Samsung Galaxy S22 is still very expensive to own here at Qlink. But the dealer does allow eligible consumers to shop now and pay later in small installments of as low as $20/ month.
Key Takeaway: Qlink Wireless Phone Replacement Activation
Once you've received your Qlink Wireless phone replacement, either from the carrier or BYOP, you'll need to activate it to use your service. It's a simple process to do that will take you five minutes or less:
Insert the Qlink SIM into your phone
Go to your phone settings to perform a network reset
Download the My Mobile app and follow the onscreen prompts to register
Dial the Qlink service number 305-260-6232 to make a call test and complete the activation
Voila! Your Qlink Wireless replacement phone is connected to the network and ready to use
Ps: new, replacement, or upgrade phones from Qlink Wireless usually come already configured for the carrier network. Thus, you can skip Step 2 above and go straight to the preinstalled My Mobile App. Then, log in with your number and dial 305-260-6232 to complete the activation.
Frequently Asked Questions
Can I upgrade my Q Link Wireless phone?
How do I report my lost Qlink phone?
You can report your lost Qlink phone by calling the customer support team at 1-855-754-6543. The customer rep will temporarily deactivate your service so no one else will use your allowance. Then she will give you the way forward on how to get a replacement.
How much is a replacement phone from QLink?
A replacement phone from Qlink is FREE if you meet the 14-day return policy. If not or your device was lost/ stolen, you'll have to pay $34.95 to get their basic replacement model.
Who is the carrier for Q Link phones?
At this moment, the carrier for Q-link phones is T-Mobile. The MVNO was previously on the Sprint Legacy CDMA network. But after the T-Mobile/ Sprint merger in 2020, Qlink Wireless agreed to continue using the new owner.
Will Q Link send me a free phone?
Many lifeline providers charge a nominal fee to replace your defective, lost, or stolen phone. But Qlink will send you a free phone if you report the defect within 14 days after activation. You can also receive a free Qlink phone replacement if the one the company was sending you got lost/ stolen while in transit.
Wait up to 14 Days to Process
Whether the issue is loss or a defect, that's how to get a Qlink Wireless phone replacement. The freebies and the subsidized options are not the best options if you'd like to make the most of your free monthly service. Remember, the operator gives you up to 28GB of high-speed data, plus unlimited talk and text.
The discounted Qlink Wireless replacement phones are still worth it, though, for those of us unable to upgrade at this time. But the operator asks for a 7-10 days wait to complete processing your request and send a tracking number.
If your reason to replace was from defects, the waiting period is up to fourteen (14) days to confirm your returned phone meets the terms of their policy.