Do you have a small garden or backyard at home? If you do, today's all about how you can make it more attractive and inviting at less. I'm going to take you through various stores where you can get buy now pay later patio furniture financing, regardless of your credit history.
As you might know, however, quality outdoor furniture is often a bit pricey. So, some of these bill me later stores will require you to have either a strong FICO score or a down payment.
What's The Best Buy Now Pay Later Patio Furniture Store?
In my opinion, Furniture7™ is the best choice to finance your patio furniture. Unlike buy now pay later catalogs like Overstock or Kmart, it only deals with furniture (just as its name), all brand quality.
Nonetheless, the Furniture Seven special financing is under progressive Lease service, which is unavailable in Minnesota, New Jersey, Wisconsin, and Vermont. So, you might want to look elsewhere if in either of the US states. Some of the alternatives include:
Best of Patio Sofas: Cozy Corner Patios
Best of Bad Credit: Lease Ville Pay Later Store
Best of Pergolas: My Backyard Décor
Choose the Right Patio Furniture Materials
First of all, it's good to have some greenery or nice flowers in your outdoor space before you can think of the patio furniture. It will not only give the area that extra special look but also make your ambiance more refreshing and relaxing. Remember, the importance of outdoor furniture is not just for the area to look great. You also want to make your garden more comfortable and exciting to enjoy spending time in.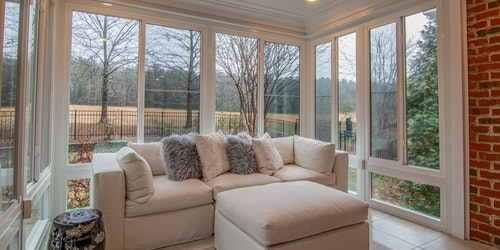 But again, the way your garden will transform depends on the type, design, and materials of the furniture you use. As for the materials, some that you might consider include:
Wood:
This is the most common furniture material, and not just for outdoor decoration but indoors as well. One of the best woods choices that you can consider is Teak from its natural beauty and superior all-weather capabilities. Alternatively, you can also try cider or else eucalyptus if you have a small budget.
Metal:
Metal is also common for garden furniture, given its tensile strength and durability. People used to go for Wrought iron from its availability, but it's highly prone to rust, which calls for high maintenance. For this reason, many homeowners have moved to use aluminum and steel for their patio furniture. The two have low maintenance requirements, plus they blend well with the modern outdoor settings.
Plastic:
Synthetic resin, which includes PVC, polyethylene, and nylon, can also be a great choice of outdoor furniture for your modern setting. It's effortless to move from its lightweight nature, easy to maintain, and comfortable with all weather conditions. Also, synthetic resin patio furniture can come in a classic wicker style and other gorgeous designs.
Fabric
Upholstered furniture is the most comfortable even after a long lounging moment. So, it's also a great patio furniture idea, in particular, if you intend to use the space for relaxation or eating. On top of not hurting your rear, you have to make sure your outdoor fabrics are weather resistant and the fill materials quick to dry.
Concrete:
Last but not least, concrete can also make amazing outdoor furniture design, and a durable one. The material is also strong and aesthetically pleasing when given a contemporary finish. You could even get your seats, table, freestanding firepit, or any other patio furniture in a blend of concrete and fiberglass or resin. Thus, you won't have to worry about stains or harsher climates.
Comparing the Features of the Best Buy Now Pay Later Patio Furniture Stores
As was said when we began talking about buying now pay later financing, different point-of-sale credit departments have varying perks and requirements. Here's a summary of the eight stores that you can decorate your garden today, then pay them up later.
1. Furniture7™ Online Store
As was mentioned, this store deals only with furniture, all from top brands like Ashley, Diamond Sofa, Natuzzi, and others. However, that's not exactly why it's my favorite. The main reason I've picked it's because the dealer is primarily for furniture leasing and furniture financing, with starters spend limit of at least $3000.
Even better, the Furniture Seven buy now pay later program doesn't run a credit check. So, you can decorate your backyard with your dream patio setup when you even have bad credit or no history.
2. Cozy Corner Patios
If the plan is to set some sofa sets in your garden, the Cozy Corner might be an excellent place to start. It has hundreds of selections to browse, all in exceptional quality and elegant designs that you want for an exciting resting space. The outdoor sofa sets are also available for various classes, including designer labels, Wicker styles, aluminum material, et cetera.
Even better, you can check out your shopping cart with Cozy Corner financing partner, Affirm at flexible and affordable monthly installments. The financing department allows you to pay over twelve months but might subject you to a credit check and a minimum down payment.
3. Lease Ville Pay Later Store
Lease Ville is one of the best rent-to-own sites for bad credit and a favorite of many Americans. It not only has a wide range of furniture and electronics but also doesn't require credit to apply. The retailer stocks quality and top-selling products, as well as contemporary brands like Ashley, Arturo, Lehmann, Drago, and more.
Regardless, you need stable employment, income, and checking account to qualify for Leaseville financing with no or bad credit. Also, you might need to put a down payment, though it will depend on your creditworthiness.
4. My Backyard Décor
As the name advertises, My Backyard Décor is all about beautifying your garden and making it cozier for pleasant afternoons and fun evenings. It has about all categories of patio furniture, ranging from the seats, dining tables, and hammocks, plus decors like chimes, garden arts, and outdoor curtains. So, you might want to check it out if you have a Pergola that you want to furnish.
The best part, you can use the My Backyard Decor buy now pay later payment option to decorate however you want. Afterpay is one of the three partners for the financing program. So, it's not a must you have a perfect credit to qualify.
5. Luther Sales Luxury Store
If you're yet to find nice financing for your patio furniture, Luther Sales is yet another provider for a dashing setting. It usually deals with only luxury items, which is why Hanover and Ashley are the kind of furniture brands you'll find. Also, you'll find various patio collections, including lounge chairs, dining sets, chaise sets, cushioned outdoor sofas, and fire pits.
Still, Luther Sales buy now pay later furniture financing plan features everything you might want. It's easy to apply, quick to approve, and you can personalize your payment schedule in either weekly, bi-weekly, semi-monthly, or monthly for over 12-36 months.
6. Country Door Online Store
At Country Door, you can improve the ambiance of your backyard without having to spend huge bucks. It features simple but affordable patio furniture, not limited to rocking chairs, hammocks, workspace set, Temporary Gazebo, bistro set, lounge set, and more.
Once you have loaded your cart enough, you can check out by either paying the full amount or in small installments. The Country Door decorate now pay later financing is open to even those with no credit history, plus also you can use to fix a poor score.
7. Kmart Big-Box Store
Once in a while, you probably will want to barbecue some ribs for the neighbors or share a few bottles of beer with friends. So, as you pick a few lounge chairs and sofa sets, remember to add a fire pit or fire table to the list. Kmart has plenty of choices that you can check as per your requirements. The items are available in various designs, shapes, materials, brands, and costs. So, it's kind of impossible to not find the perfect one for you.
Indeed, you don't even need to have all the payments at once to take home your favorite brand and design. You can split the total cost into small, affordable payments through the Kmart leasing plan. And since the financing department doesn't require credit, you can even apply with a less impressive FICO score.
8. Overstock Internet Retailer
Similarly, Overstock doesn't expect you to have all the cash at hand to take home the patio furniture you want. The Overstock lease-to-own program allows you to spread out the cost into affordable payments that you can pay weekly, bi-weekly, or monthly. It doesn't require credit to approve and charges no application or processing fee.
On top of that, Overstock stocks a variety of patio furniture, including Hammocks and swings. The items are available in a wide range of styles, brands, and materials.
Conclusion:
As you can see from the above reviews, you don't need to have money at hand to style up your home garden, or backyard. In fact, you don't even need to have a perfect credit score. A buy now pay later patio furniture store like Furniture7™ doesn't run a credit check, which means your employment and income will determine your eligibility.
Irrespective of the leasing program you settle on, however, remember to choose a set of patio furniture that matches your home setting. Also, don't forget to put the weather conditions into account. So, the décor style should be both elegant and weather-resistant to ensure durability and the worthiness of your investment.