TracFone and Straight Talk are two of the many prepaid phone carriers here in the US. The two actually are sisters as they're trademarks of TracFone Wireless, Inc. However, does this mean the two are compatible? Can I use a TracFone with a Straight Talk phone or vice versa?
While it may be a first for you, this is a common question on TracFone community forums. But the answer you get on these forums varies, whereby some claim the two are compatible and others believe not.
In this guide, I've put together some crucial details on the compatibility between TracFone and Straight Talk. But before we come to that, let's break down some of the situations you may want to use the two together.
When You May Want to Use TracFone with Straight Talk
First, when comparing TracFone vs Simple Mobile, we concluded Verizon has bought TracFone Wireless, Inc. from América Móvil. Thus, the TracFone subscribers that were through T-Mobile or AT&T had/ have to switch to Verizon-compatible SIMs.
Fast forward, there are various situations you may want to use TracFone service with Straight Talk phone or vice versa. They include when:
Switching Phone Services
The first situation you may want to use TracFone with Straight Talk is when switching services. It could be you're trying to take advantage of the super-cheap plans and international perks on TracFone. Or else would like more browsing capabilities, which Straight Talk offers with more high-speed data.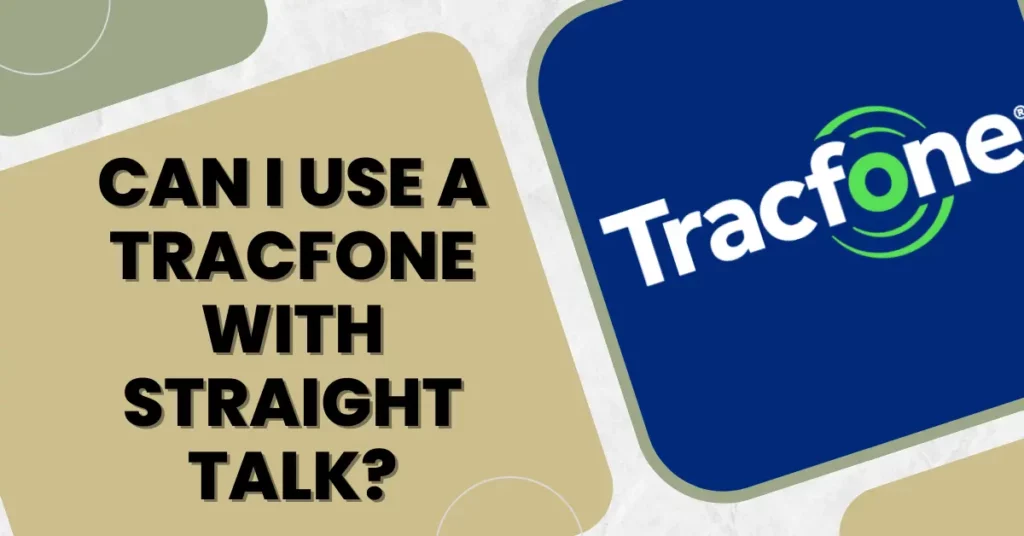 When switching from TracFone to Straight Talk service or vice versa, you may want to bring your device. Perhaps that device is a favorite or don't have money to purchase a new one.
Need a Quick Replacement Phone
Secondly, you may want to know whether one can use TracFone with Straight Talk when looking for a quick replacement device. The replacement could be for your old device that got damaged, lost, or stolen but happens to have a functional one from the other carrier.
Taking Advantage of Phone Deals
When shopping for a phone, the carrier-locked options are usually cheaper to get than their factory-unlocked versions. Different carriers also often have different pricing and offers, whereby Straight Talk may have a better deal than TracFone. In some cases, you can save $50 to $100+ on a single device.
Furthermore, your carrier may not have the device you wish to use, but the other provider has it in stock.
Before purchasing a device for your service from a rival carrier, it's crucial to confirm compatibility. Otherwise, you may end up buying a phone/ tablet/ hotspot that will never work with your SIM card.
Also, the rule of a carrier-locked device is that you must use it for a particular period to get the unlocking code. If the carrier with the unlocking codes doesn't provide them, you can only be using the device with services compatible directly.
Now, this brings us to our main question on whether one can use a TracFone service with Straight Talk or vice versa.
Can I Use a TracFone with Straight Talk?
A quick answer is a YES and NO. Why is that?
If we start with the YES, TracFone is usually directly compatible with Straight Talk and its other brands. The brands seemed to use the same TracFone SIM card– unless things have changed now with Verizon at the wheel. I've even seen users claim to have had their service mixed up during activation.
However, for the TracFone to be compatible with Straight Talk or any of its brands, they all must be on the same network. That is, you must have a Verizon-compatible TracFone SIM for it to work on a carrier-locked Straight Talk (CDMA) phone.
How to Deactivate Straight Talk Phone Online
Straight Talk and TracFone are MVNOs (mobile virtual network operators)- carriers without their own cell towers. They usually resell the network of a Major Carrier, which used to be Verizon, AT&T, and T-Mobile.
The three Major Carriers usually run on different network frequencies. If you need to use a Straight Talk (locked) phone with TracFone service, the ( TracFone) SIM card must be on Verizon. Straight Talk only sells devices locked to its service through Verizon CDMA.
If you tried to use the Straight Talk phone with a TracFone GSM (T-Mobile/ AT&T) SIM, it could still read the card. But you may not get any signal bars since the device will be on totally different frequency bands. See below.
| | | | | |
| --- | --- | --- | --- | --- |
|   | Primary Frequencies | Secondary Frequencies | Low-Band 5G Frequencies | High-Band 5G Frequencies |
| TracFone/ Straight Talk on Verizon | 5 & 13 | 2, 4, & 66 | N2, N5, & N6 | N77 (C-band), N260, & N261 |
| TracFone/ Straight Talk on T-Mobile |  12 & 71 | 2, 4, 5, & 66 | N71 | N41 (C-Band), N258, N260, & N261 |
| TracFone/ Straight Talk on AT&T | 12, 17, & 30 | 2, 4, 5, 29, & 66 | N2, N5, & N66 | N77 (C-Band), N258, & N260 |
Rebrands Your TracFone or Straight Phone During Purchase
When you purchase a phone locked to Straight Talk or TracFone, the carriers expect you'll use the device on their individual services. But when asked about compatibility with the other, the customer care from either network usually says you'll need to rebrand the device. So, what do they mean by rebranding?
If TracFone or Straight Talk says you must rebrand a device, they want to convert it into their own. Say a Straight Talk (locked) phone, rebranding will mean turning it into a TracFone (locked) phone.
Some people usually see this as a waste of time. After all, what else is there to gain if the carrier-locked device can work on the service I want?
Well, the rule for carrier-locked devices is that only the original carrier can unlock it. As mentioned, one of the requirements for unlocking is to use your phone service on the device for a certain period. In the case of TracFone and its brands, unlocking now happens after 60 days (used to be after 12 months).
If you fail to rebrand your Straight Talk phone for TracFone, that means you'll have to activate it under BYOP. And for that, Straight Talk won't give the unlock codes since you're not using the device with their service. Then, TracFone won't give the unlock codes since you're using your service with the BYOP (bring your phone) program.
How to Rebrand Phone on TracFone or Straight Talk
Again, this article is for those trying to use TracFone service with a Straight Talk phone or vice versa.
If the phone from either carrier is new and you'd like to unlock it, then rebranding is a MUST. As complicated as it may sound, this is a simple process that will take a couple of minutes to do.
To rebrand your phone with TracFone or Straight Talk, you'll need the help of a customer rep from the respective carrier. You can get in touch with the customer rep by initiating an online chat, calling, or emailing.
Alternatively, you could have your device rebranded at the Walmart store if you've purchased it there. But I've seen some users complain of their devices not rebranding properly with Walmart's system.
In conclusion
It's possible to use a TracFone service with Straight Talk devices or vice versa. The requirement is to make sure the service SIM is on the same network as the device. Otherwise, you won't be able to get a signal or all the functions available.
Also, Straight Talk seems to have better deals on its locked phones than TracFone. But to make sure you can still use the device with other carriers (not just TracFone brands), you'll have to rebrand it. The online chat feature is the easiest way to get in touch with TracFone customer agents.
Once connected, the customer care agent will just ask for your email or phone number to verify your service account.