Are you a low-income earner? Do you know of a friend who needs a mobile phone but can't afford it? Try Access Wireless. The service is absolutely free to those eligible and includes not only a cell phone but also a free communication service. But again, various virtual network operators have different features and policies. So, what kind of phone does Access Wireless give you on the free plan?
Well, to begin with, you should think of Access Wireless service as a Lifeline Assistance program for free government cell phones. It usually targets the disadvantaged, whereby you can get a free phone, plus minutes and texts to keep in touch with your loved ones. If the provider approved you for a smartphone, you'll also get a free (limited) data plan, which you can use to browse or video-chat.
What Do I Need to Qualify For A Free Access Wireless Phone?
As was just mentioned, Access Wireless is more of a government-funded Assistance Program. True, the service company does offer buy now pay later mobile phone plans through Affirm, but it's primarily for those who couldn't afford phone services.
For you to qualify for the program, you need to be amongst the:
low-income Household or
government-funded welfare program
Low-income Household
In this category, Access Wireless accepts applications based on household earnings. This is to mean one can only qualify if the total income of all individuals under the roof is at or below the federal income standards.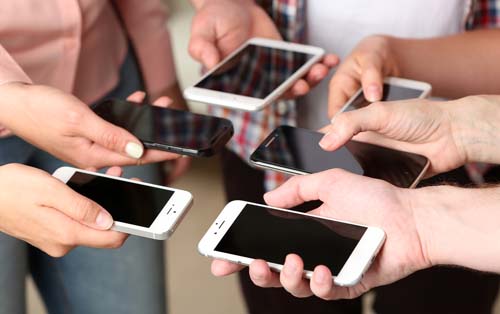 But again, these federal standards vary from state to state and depending on the number of persons in the family. Hence, one of the reasons Access Wireless isn't transparent on the exact minimum income requirement on their website.
Nonetheless, you can still check your eligibility through the local state regulations and local Access Wireless program requirements.
Government Welfare Programs
Put simply, government-funded programs are an automatic qualification for any Lifeline Assistance programs, not just Access Wireless. Why? The programs are accessible to those with the least or zero annual earnings. So, the mobile network provider won't need to look into other financial documentation.
Some of the welfare programs that should qualify you for a free government Access Wireless phone include:
Medicaid
Tribal head Start
Supplemental Security Income (SSI)
Federal housing/ section 8 Assistance
Bureau of Indian Affairs general assistance
Supplemental Nutrition Assistance Program (SNAP)
Temporary Assistance for Needy Families (TANF)
Low Income Home Energy Assistance Program (LIHEAP)
Veterans pension or survivors pension/ other pension benefits
To say the least, some people do attempt to apply for the free phone service despite having a stable income. After all, who wouldn't want a life where you can get a smartphone and monthly data plan at no cost.
But, unfortunately, Access Wireless requires you to prove your eligibility for its program using valid documentation. Amongst the accepted documentation is:
Social security benefits statement
Child support or divorce document
Copy of last year's federal/ state income tax return
Unemployment/ workers compensation benefits statement
In the case of low household income, you'll have to check the minimum requirements and required documentation through your local Access Wireless service.
Is the Access Wireless Lifeline Phone Program Worth it?
To be honest, any lifeline assistance program is worthwhile. A mobile phone nowadays is one of those tools everyone, or rather every household should have to keep in touch with relatives, friends, and emergency services.
As for Access Wireless, you can enjoy quite some perks if they approve your application. The assistance program features:
A free cell phone
Free minutes and text messages
Free but limited browsing data
Free voicemail, call waiting, and call ID:
Advantages:
It sends no monthly bills
Doesn't have hidden costs or fees
Simple and quick application
Requires no long-term contracts to use
You can top up additional minutes, texts, and data
It has a nationwide communication coverage
Cons:
It mostly provides older cell phone models
You cannot choose the free phone to get
Notes:
Although we're saying it has nationwide coverage, the Access Wireless assistance program isn't available in all U.S. states. The service is on the Sprint network, which is quite limited in places like Wyoming, Montana, and South Dakota. So, you'll have to try other Lifeline programs if in either of the locations.
Another thing, the free cell phone you get depends on where you're are and what's available in the inventory. The same applies to the communication data, whereby some states seem to have better rates than others.
For instance, you can get unlimited minutes and text messages, plus 3GB of free data if you reside in California. In other states, you'll get between 250 -1000 free voice minutes, unlimited texts, and 50MB-3GB of data.
However, you can refill your account for up to 10GB from the Access Wireless upgrade plans if you need more browsing data.
What Kind of Phone Does Access Wireless Give You
Similar to many Lifeline programs, Access Wireless rarely provides the latest gadgets on its free cell phone program. It usually delivers devices that are a few years old, and like was mentioned, you can't dictate what to get. Regardless, these phones still can perform basic communications well, but, of course, the experience won't be as good as their modern counterparts.
But again, Access Wireless shop does have amazing smartphone deals if you need something better. You can get a decent model from as low as $60 to high-end, snazzy iPhone and Samsung Galaxy smartphones.
Even better, you necessarily don't need to pay for your device in full at once. The Access Wireless Shop functions similarly to bill me later stores like Zebit, whereby you pay for your device in small monthly installments.
More on that, the special financing plan is with Affirm, which not only has an affordable payment plan. But you can apply with bad credit as well since it has no minimum credit score requirement.
Needless to say, many users of Access Wireless are those with no jobs or disadvantaged in a way. So, it's only a small percentage who will afford the modern selections.
Regardless, some situations might force you to get another phone for your Access Wireless account. The two main ones are:
For A Phone With Hearing Aid Support:
While it's a crucial feature, not all phones from Access Wireless are compatible with a hearing aid (featured identified as HAC). Also, some of the cell phones might have the feature, but they lack compatibility with the hearing aid in use.
For example, T-Ratings (T3 or T4) phones are the best for those hearing aids that have telecoils. Meanwhile, M-Ratings (M3 or M4) phones are for the standard hearing aids, in which case they enable you to make calls without signal interference.
Remember, a hearing aid is also an electronic device with a built-in mic and receiver. So, a phone that has no either of the two compatibility ratings is more likely to cause interference noise in the hearing devices.
For A Replacement Phone
In this case, you'll need a replacement phone if your provided phone got lost, stolen, or even damaged. If the issue is internal, you can contact Access Wireless to apply for a replacement. However, the company can approve or deny your application based on whether the malfunction is at the Manufacturer's fault or your carelessness.
If you don't qualify for a free replacement device, Access Wireless will suspend your lifeline account until you request them to reactivate. However, after 45 days and you haven't activated a new phone yet, your account will be deactivated and the remaining free data/ talk/ text balance canceled. So, you'll have no other option than look for another phone that you can use with your Access Wireless SIM.
The 7 Best Cell Phones Compatible with Access Wireless Program
Here are some examples of unlocked GSM cell phones that can use to reactivate your Access Wireless plans. It can also come in handy if you decide to purchase a GSM SIM activation kit to save with the network's low-monthly phone plans.
Access Wireless
Compatible Phone
Wireless Carrier
Cellular Technology
Internal Storage
Motorola Moto G Power 2020 Black Edition
Unlocked
4G or lower
64GB
Samsung Galaxy A51 DUOS GSM Unlocked
Unlocked
4G or lower
128GB
Google Pixel 4a Unlocked 128GB RAM Android
Unlocked
4G or lower
128GB
Apple iPhone XR-US 128GB Unlocked
Unlocked
4G or lower
128GB
LG K51 Universal Platinum Smartphone
Unlocked
4G or lower
32GB
OnePlus N100 Nord GSM Unlocked
Unlocked
4G or lower
64GB
Nokia 225 Classic 4G Cell Phone
Unlocked
4G or lower
0.13GB
Table
Final Verdict:
While there are other Lifeline Assistance programs with better rates, Access wireless is still a great option to try. Of course, we could say it kind of favors Californians on the unlimited voice minutes + texts, but the others are not bad of either. Even with the smallest package, 250 voice minutes, you have at least eight minutes of free calling per day. Chances are that you'll even not make calls every day, plus there is unlimited texts plan in case you finish your monthly minutes early.
As for the phones, I think using your own phone is much better if you could afford it. Not only do you get to use your preferred brand but also a modern system with a stronger network signal, amongst other features.
Speaking of the signal, by the way, Access Wireless offers GSM mobile services on the Sprint Network (which is CDMA). So, if you decide to bring your phone to the lifeline program, make sure it's unlocked GSM support.