AirTalk Wireless is one of the lifeline providers with free touch screen government phones. It actually offers flagship names such as iPhone, Google Pixel, LG, Samsung Galaxy, et cetera. The devices are pre-owned models from the HTH Communications certified refurbished stock. But they're still far better than the kind of phones other lifeline companies give you. And besides, you can always get a free AirTalk replacement phone if what you've received develops issues.
Of course, it's often breaking when your anticipated product doesn't work right from the box. But this is something we've seen happen to even brand-new items that have never been used before.
When dealing with pre-owned devices, though, we should expect to have more problems than we would on brand-new devices.
However,HTH Communications is a certified phone refurbishment company- one of the largest in the country, by the way. The "certified refurbishing" process usually involves vigorous inspection, testing, and fixing to have the device look new. It's the same process done on all the products you see listed as "renewed"/ "certified-refurbished"/ "preowned" on retailers like Amazon and Walmart or carriers like Verizon, AT&T, and T-Mobile.
Similar article: AirTalk Wireless Reviews
In any case, my point here is that the preowned phones that AirTalk Wireless gives you are usually as good as new. If by chance your box comes with a bad lemon, you can get a replacement device for free.
The Five Situations You May Apply for an AirTalk Wireless Replacement Phone
There are different reasons you may want to get an AirTalk Wireless replacement phone. But they all come down to:
The previous phone was lost or stolen
Your other phone malfunctioned from firmware/ software issues. The malfunction can be evident with freezing issues, overheating, camera not working, battery not charging, buttons/ touchscreen being unresponsive, et cetera.
The other phone has physical damage from the user's carelessness or negligence. Such damage can be a cracked screen or the phone no longer powering up after dropping on a hard floor or water.
Your old phone is not compatible with the AirTalk Wireless network, which has been the predicament of a handful of customers. The new AirTalk SIM (on T-Mobile) doesn't work on the old AirTalk phones (with AT&T programming).
The old phone is a bit outdated or doesn't have the latest features you want to make the most of your AirTalk free phone service. For instance, you can replace your device with another that has a faster processor, 5G connectivity, more memory, eSIM, etc.
How to Get AirTalk Wireless Replacement Phone
Different service providers usually handle phone replacements differently. The AirTalk Wireless replacement phone policy isn't exactly the most generous, but it's not bad either. Why so?
You can get an AirTalk Wireless replacement phone for free, at a good deal from as low as $40, or from third-party resellers.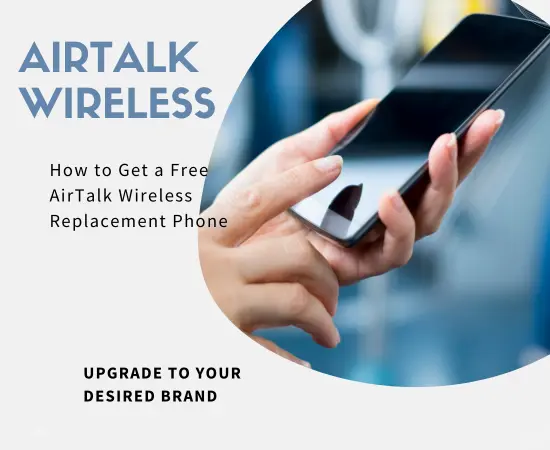 Part 1: Get AirTalk Wireless Replacement Phone for Free
The first way how to get an AirTalk Wireless replacement phone is directly through the carrier. And in this part, you can receive the replacement phone for free.
Sadly, you can only get a free AirTalk replacement phone when the previous device has malfunctioned. The "malfunction" include the issues that the device came with from the manufacturer, or in this case from AirTalk.
Similar to the other lifeline and even prepaid carriers, AirTalk Wireless doesn't give free replacements based on unauthorized usage/ tampering. The AirTalk Wireless terms and conditions classify unauthorized usage and tampering as practices such as early unlocking, re-flashing, component repairs, or alterations of the software.
Either of these practices tends to void the warranty and disqualify you from the free AirTalk Wireless replacement phone. The operator offers a standard warranty policy of 15 days on both the free and upgrade phone selections.
Fifteen (15) days are no doubt less when you consider a competitor like SafeLink offers a one-year warranty on both brand-new and refurbished phones. However, it's still enough window to closely examine your device and identify any malfunction available.
Quick Note:
When AT&T, T-Mobile, and Verizon retired the old 3G network, Lifeline providers gave a free replacement smartphone to the existing customers that were using flip phones. AirTalk Wireless we know wasn't born at the time, though. AirVoice, back then, offered its lifeline program under the brand name FeelSafe Wireless.
As mentioned earlier, it would seem AirTalk Wireless is leaving its old carrier network, AT&T, for T-Mobile. The operator is already sending out T-Mobile-compatible SIM and phones to new customers.
AirTalk is still yet to state the future of existing customers through the AT&T network. But I'm hoping the carrier will also give a free replacement phone to all that will be affected. After all, this big switch is AirTalk's fault, not the users'.
8 Steps How to Get AirTalk Wireless Replacement Phone for FREE
It's straightforward to apply for a free replacement phone from AirTalk Wireless. The process starts with making sure the device you'd want to replace passes the two main requirements: a 15-day warranty/ return window and qualified defects. Then:
Get another phone and call AirTalk Wireless customer support at +1 (855) 924-7825 and explain your problem. If you don't have a phone, you can also send an email to info@airtalkwireless.com.
The AirTalk Wireless customer rep will want to verify you're an active customer. So, be ready with your account details, such as the name used to apply, account number, order number, et cetera.
After verifying your account, the agent will try to help you troubleshoot the issue with your phone. Sometimes the problem can be resolved. But if that doesn't work, will the agent will start to process your return request and provide an RMA (return merchandise authorization) number.
Print out the RMA number that the AirTalk Wireless rep provided (sent via email)
Next, get your defective AirTalk Wireless phone and prepare it for return. The preparation includes things like factory resetting the device to erase your data (and passcodes), and also turning off Find My Phone/ iPhone.
Once done erasing all your data, put the defective phone in the original packaging it came with. Make sure you also include all the accessories that were provided, or else AirTalk will not accept your return. The only thing you can keep is your service SIM card.
Now, stick the RMA shipping label (you printed in Step 4) to your return packaging. Write down your original order number for faster processing of your return.
Finally, mail your package to the return address AirTalk provided in the email that came with the RMA label or instructions guide.
After AirTalk Wireless receives your return, they will inspect everything in the box. And if the product passes the requirements, they will ship you another phone. The replacement phone the company sends can be either like the previous one you had or a different equivalent model.
Part 2: Get AirTalk Wireless Replacement Phone for a Small Fee
If you don't qualify for the free AirTalk Wireless replacement phone, the only way to get another will be to pay. The solution is applicable after your previous phone got lost/ stolen, damaged from your recklessness, or if you made unauthorized modifications.
When you apply for a replacement phone with AirTalk Wireless in this category, there's a standard fee of $25. However, the replacement policy doesn't allow you to choose the device to get. The company will send whatever is available in stock, which can be either what you had earlier or an equivalent model.
Upgrade to Your Desired Brand
Instead of waiting for a mysterious replacement, you can visit the AirTalk Wireless upgrade section and choose your desired phone brand. The option is the best when you want to replace an outdated AirTalk device, but also works after losing or damaging your previous one.
While you'll have the option to choose what you want, the AirTalk Wireless upgrade program has no fixed cost. The amount you should pay varies with the kind of phone you choose, ranging from $30 (on classic flip phones) to $700+ (for high-end smartphones).
Some of the latest high-end phones on AirTalk Wireless upgrade shop include iPhone 13/ 12/ 11/ XR/ SE, Samsung Galaxy Z Fold/ S21/ S20/ Note 20/ S22, Google Pixel 5, etc.
The phones from the AirTalk upgrade catalog are yet certified-refurbished selections. You will find the pricing is pretty great compared to third-party resellers like Amazon, Walmart, Best Buy, and others. Then again, HTH Communications will favor its daughter brand, AirTalk, over these other external resellers.
Another reason  AirTalk Wireless upgrade phones are cheap is for they come locked to the carrier service. The strange part is that the company has not shared any information about unlocking on its website. But do remember unauthorized unlocking will void the 15-day warranty, denying you a chance of free replacement.
Part 3: Get AirTalk Wireless Replacement Phone from a Third Party
Lastly, you can get your AirTalk Wireless replacement phone from third-party resellers. The carrier has a bring your own phone (BYOP) program, something its competitor Assurance Wireless is yet to introduce.
We could say the feature BYOP) is unavoidable, anyways. The AirTalk Wireless Lifeline-only service plan is for a Free SIM only.  Then you'll have to bring your own device, in which case it must be compatible with both the carrier and network technology to work.
In carrier compatibility, it means the phone you bring should be either fully unlocked or locked to the AirTalk service. The network compatibility means the device should have at least band 12/ 17 (or both) if with an AT&T-Compatible SIM and band 5/ 12/ 71 (or all) for the T-Mobile compatible SIM.
Even with a phone that certifies all these BYOP requirements, you must perform an AirTalk Wireless compatibility check before activating. It's a simple process to carry out, whereby you just put your phone ID number (IMEI) in the input box, then tap the "Check Compatibility" button.
In the compatibility check, the AirTalk Wireless automated system checks if your phone has the appropriate network frequency or any active red flags. "Red flags" refers to whether your BYOP device (IMEI) has been reported stolen/ lost.
Also, for the customers on AirTalk Wireless with the Super LTE network, AT&T has a notorious compatibility rule where it doesn't work with international phones. So, the compatibility check on AirTalk Wireless may fail to pass if your device is not from the provided whitelist.Also, you should know AT&T,
Key Takeaway: The 10+ Best AirTalk Wireless Replacement Phones with 5G under $200
If replacing your damaged/ stolen/ lost/ outdated AirTalk Wireless phone with your own money, I'd recommend getting a 5G-capable device. The lifeline provider has great options from the catalog, with some going for under 200, such as:
| | | |
| --- | --- | --- |
|   | Display Size | ROM vs RAM |
| Apple iPhone SE (2022 Release) | 4.7-inch, HD | 64GB, 4GB |
| Samsung Galaxy S20 FE 5G   | 6.5-inch, Full HD+ | 128GB, 6GB |
| Samsung Galaxy A22 5G | 6.6-inch, Full HD+   | 64GB, 4GB |
| Samsung Galaxy A71 5G   | 6.7-inch, Full HD+   | 128GB, 6GB |
| Samsung Galaxy A51 5G | 6.5-inch, Full HD+   | 128GB, 6GB |
| Samsung Galaxy A13 5G | 6.5-inch, HD+   | 64GB, 4GB |
| Motorola Moto G Stylus 5G | 6.8-inch, Full HD+   | 128GB, 4GB |
| Motorola Moto One 5G | 6.7-inch, Full HD+ | 128GB, 4GB |
| Airtalk Revvl 6 5G | 6.5-inch, HD+   | 64GB, 4GB |
| Google Pixel 5 5G | 6.0-inch, Full HD   | 128GB, 8GB |
| Google Pixel 4A 5G | 6.2-inch, Full HD | 128GB, 6GB |
| LG V60 ThinQ 5G | 6.8-inch, Full HD+ | 128GB, 8GB |
| T-Mobile REVVL V Plus 5G | 6.8-inch, HD+ LTE | 64GB, 4GB |
|   |   |   |
Be Patient, It Takes A While
Whatever the situation may be, that's every that matter in how to get an AirTalk Wireless replacement phone. I still feel the 15-day free replacement policy is short when you consider third-party resellers are 30 days for refunded returns and a year for a free replacement.
If you won't mind replacing the phone from your pocket, the selections from the AirTalk Wireless upgrade catalog are pretty great. For instance, you can get the renewed iPhone SE (2022 edition) under $200, almost $100 cheaper than from third-party resellers. A Samsung Galaxy S20 FE 5G is also only $135 on AirTalk, whereas external dealers have it between $195 -$220.
One thing to note is that AirTalk Wireless doesn't have the fastest shipping policy. The delivery timeline (after they have shipped an order) takes 7-10 days. Then all returns to the carrier take 1-3 days to process.
As such, it can take up to 14 days for your free AirTalk Wireless replacement phone to come. The upgrade orders ship faster, though.