Sfone is one of the 100+ mobile virtual network operators (or MNVO) to consider in the country. It offers affordable prepaid cell phone service from as low as $10 per month. And if that's still much, you can get the Sfone Wireless free government phone and service.
The free cell phone service includes monthly talk minutes, texting, and data. But unlike the likes of SafeLink and Qlink, Sfone isn't exactly on the list of Eligible Telecommunications Carriers (ETC).
An Eligible Telecommunications Carrier is a telecommunication company that the FCC or respective state regulatory commission has deemed eligible for the federal universal service fund. Or in other words, the particular carrier can offer subsidized phone (or broadband) service to eligible low-income consumers, then receive a reimbursement from the government.
But now, if Sfone Wireless is not an ETC, how does it offer free government phone and service?
Sfone Wireless as a Prepaid Phone Carrier
Sfone Wireless is a brand of HTH Communication, one of the largest mobile phones refurbishing and distribution companies here in the U.S. HTH is also the parent company to Cintex Wireless, NewPhone, AirTalk Wireless, and AirVoice Wireless, making Sfone their sister brand.
Cintex, NewPhone, and AirTalk Wireless are now some of the Eligible Telecommunications Carriers with free cell phone service. When you visit each of the sites, you'll notice their website arrangement is very similar, and so are the service offerings.
As for Sfone Wireless, HTH Communications launched it in 2019 to offer prepaid service. And despite the competitiveness in this field, the company still managed to win a few thousand subscribers.
The rate plans on Sfone Wireless at the time costed $12/ month with unlimited talk & text, plus 500MB of data. You could also get a plan with only talking minutes and text at $10.
In early 2022, HTH Communications acquired AirVoice Wireless, which came with its lifeline brand AirTalk Wireless. AirVoice has been active for over twenty years, with cheap pricing being how it has survived for so long.
Strangely, it seems AirVoice Wireless will be replacing Sfone prepaid- or we can say they have merged. The reason for saying this is because the links on the Sfone website and social media accounts now redirects to AirVoice Wireless.
However, this may not be a bad thing. I've been going through the AirVoice Wireless rate plans and they are slightly better valued than what we had in our Mint Mobile review.
Sfone Wireless As a Free Government Phone
As already mentioned, Sfone Wireless isn't exactly on the list of Eligible Telecommunications Carriers. If they decide to give discounts on its phone service, this would mean the USAC won't be reimbursing them.
*In case you're wondering, USAC (or Universal Service Administrative Company) is the body the FCC has assigned to administer the Universal Service Fund.
We've seen Cintex Wireless is one of the carriers eligible to receive the Universal Service Fund (through the Lifeline program). And through the sisterhood bond, Sfone has partnered with Cintex to bring free government phone service to the East Coast.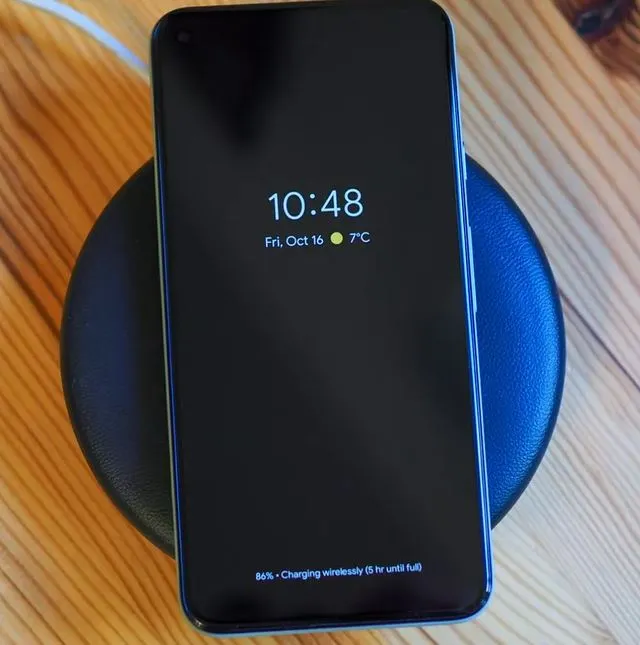 Cintex is one of the few lifeline providers with free touchscreen government phones from top brands like Apple and Samsung. So, the partnership with Sfone Wireless isn't a bad one, as long the premium phone stock doesn't run out.
What are the SFone Plans with Free Government Phone?
Initially, the Sfone Wirele free government phone was a limited service. While its base provider, Cintex Wireless, offers service literally everywhere in the country, it was only available in the East Coast States Maine, Maryland, Rhode Island, West Virginia, and Arkansas.
However, through the Emergency Broadband Benefit (EBB), Sfone Wireless extended its service to other parts of the country. The lifeline program went by the name "EBB Sfone", which they kind of decided to keep even after the Affordable Connectivity Program (or ACP) replaced EBB.
One difference between lifeline and ACP is that the latter has relatively more allowances. But your Sfone Wireless free government phone plan will have the best allotments with a combo of both.
At the time of writing, the free phone plan shows all the eligible customers will get a free one-time smartphone and:
Free unlimited talk minutes per month
Free unlimited text messages per month
Free unlimited mobile data per month
You can use your Sfone Wireless free phone to call or text anywhere across the country. The service also has access to the following features free of charge:
911 emergency
411 Directory Assistance
Voicemail Account
Call Waiting
Caller ID
Note: as with any other lifeline service, the "unlimited mobile data" with Sfone Wireless free government phone isn't "truly unlimited". Of course, the operator has not said the exact allowances you'll receive in this part. But since the company is using Cintex to offer the program, I'm assuming they have 15GB of high-speed data and 128kbps speeds afterward.
How Can I Get an SFone SIM Card for the Free Government Phone?
Technically, you can easily get a Sfone SIM card by applying for a free government phone. (The carrier is yet to accept eSIM activations). And once approved for the service, you'll have to wait for the physical SIM card kit to arrive.
The SFone Wireless Application for the Free Government Phone
The process to apply for any free government phone is pretty straightforward, and Sfone Wireless is no different. You just have to have the necessary eligible documents before proceeding with the application.
In our case, the Sfone Wireless application is available and can be done online, by phone, or in person. If you opt to apply by phone, just Call Customer Care at +1 (855)655-3097 with your proof of eligibility, address, and identity at hand.
The proof of eligibility is any documents to show you qualify for a free government phone. This includes a letter of participation in a federal assistance program or payment slip (if applying on low income).
As for the specifics, the rule for "low income" requirements is that your total household income must be at or below 135% of federal poverty guidelines. Then the "federal assistance program" requires you to be on either:
Medicaid
Supplemental security income
Federal public housing assistance
Veterans & Veteran's Survivors Pension
Temporary Assistance for Needy Families (TANF)
Food Stamps or Supplemental Nutrition Assistance Program (SNAP)
Head Start, Bureau of Indian Affairs General Assistance, and other Tribal-administered assistance programs
Remember, when applying over the phone, the Sfone Wireless representative will require you to mail the eligibility documents. You can send them as soft copies (JPG photo) or a hard copies via mail.
When applying online, you will also need to upload a soft copy (take a photo or scan) of your eligibility proof. But when applying in person, the representative assisting you will now need a hard copy of the document.
Speaking of, Sfone Wireless can only help you in-person when they have set camp in your neighborhood. The agent will confirm your eligibility, and once approved, she/ he will provide you with the free phone, fully activated.
Tip: If you applied for the program online or by phone, your Sfone government phone may not come activated. You will need to call Customer Care at +1 (855)655-3097 to help complete the activation.
Which SFone Wireless Compatible Phones Can I Use With My SIM
Basically, Sfone Wireless do give a one-time smartphone phone once eligible for their free government phone service. I've not been able to find the exact model they're sending out at the moment.
But the last time I checked, Cintex (which SFone has partnered with) was sending out decent devices. You could get iPhone 7/ 8 series, Samsung Galaxy S9, LG ThinQ, Google Pixel 2/ 3 series, Motorola Moto G Stylus, et cetera.
Nonetheless, these high-end phones are the certified-refurbished selections from the parent company, HTH Communications. You can also see the brands are a couple of years older, thereby will not have some of the latest bells and whistles.
Fortunately, Sfone Wireless does allow you to bring your own device, considering it's compatible with the service. T-Mobile is the sole carrier network of Sfone after the Sprint exit. And this means the device you bring must have the necessary bands, including Bands 2, 4*, 5, 12*, 66, & 71* for LTE, and n71, n41, n258, n260, & n261 for 5G.
More on that, the phone you intend to use with lifeline service must be fully unlocked, unless coming from Sfone themselves. I'd also like to remind you US carriers have blacklisted international phones, thereby get a "made for US" version.
14 Best Phones Compatible with SFone Wireless
A few examples of SFone Wireless Compatible Phones you can use with your SIM without any issue are:
| Phones Compatible with sFone Wireless | Network Connectivity | ROM vs RAM |
| --- | --- | --- |
| Factory Unlocked Samsung Galaxy A71 | 5G & 4G LTE | 128GB, 6GB |
| Unlocked Apple iPhone SE | 4G LTE | 64GB, 3GB |
| Unlocked Google Pixel 3a | 4G LTE | 64GB, 4GB |
| Fully Unlocked Google Pixel 4A | 5G & 4G LTE | 128GB, 6GB |
| Fully Unlocked Samsung Galaxy Note 10+ | 4G LTE | 256GB, 12GB |
| Unlocked Easyfone T200 Big- | 4G LTE | N/A |
| Unlocked Motorola Moto G | 4G LTE | 128GB, 4GB |
| Fully Unlocked Apple iPhone 12 Mini | 5G & LTE | 64GB, 4GB |
| Fully-Unlocked Apple iPhone | 4G LTE | 64GB, 3GB |
| Fully Unlocked Samsung Galaxy S9+ | 4G LTE | 64GB, 4GB |
| LG Stylo 5 6" FHD+ | 4G LTE | 32GB, 3GB |
| Unlocked Apple iPhone 11 4G | 4G LTE | 64GB, 4GB |
| Unlocked Motorola Moto G | 5G & 4G LTE | 256GB, 6GB |
| Unlocked Apple iPhone 8 | 4G LTE | 64GB, 2GB |
Can I Get an SFone Wireless Free Tablet with the Phone?
While it might not be what you want to hear, I've not been able to find any information about Sfone Wireless free tablet. But the carrier is already part of those with EBB, or rather ACP that includes a $100 on device connected.
Also, the lifeline partner of Sfone, Cintex Wireless, is one of the companies that give free tablet. It has better offerings than most competitors, including an Apple iPad, Samsung Galaxy Tab, Alcatel Joy tab, et cetera.
Similar to the phones, the high-end tablet brands here are models HTH Communications have refurbished professionally. But performance-wise, they are still better than the free Sky Devices government tablet.
So, the answer to our theme question is a Yes, you can get a Sfone Wireless free tablet with the phone. The drawback is the carrier isn't clear on the brands to expect.
Also, do note FCC requires all consumers eligible for the free government tablet to co-pay $10.01. You will receive an invoice with the tablet or shortly after.
What Are the SFone Network Settings
Even with the right cellular and network technology, a phone may yet fail to connect properly if it has incorrect APN (access point names) settings. And when it happens, you'll have poor/ No signal or lose particular features – in most cases data access & MMS.
If you activate your phone but experience such issues, check and adjust your Sfone network settings as below:
| Name | SFone APN Settings     |
| --- | --- |
| | |
|   |   |
| Name | APN SFone |
| APN |   |
| Proxy |   |
| Port | 80 |
| Username |   |
| Password |   |
| Server |   |
| MMSC |   |
| MMS Proxy | 80 |
| MMS Port |   |
| MCC |   |
| MNC |   |
| Authentication Type |   |
| APN Type | default, admin,fota,mms,supl,hipri |
| APN Protocol | IPv4/IPv6 |
| APN Roaming Type | IPv4 |
| Enable/Disable APN |   |
| Bearer | Unspecific |
Final Thoughts
The Sfone Wireless free government phone is a pretty nice way to save on your monthly telephone bill. In a Lifeline & ACP combo, you get to save an equivalent of $35/ month with the 6-month plan of Mint Mobile.
Of course, we can never compare the quality of a lifeline phone with that of a paid service. But without over-expectations, you can make the free government phone work.
As we've seen, though, Sfone Wireless offers a free government phone through its sister company, Cintex Wireless. And considering the carrier isn't clear on many parts of the program, I'd recommend signing up directly with Cintex instead. They are solely a lifeline program and have clear terms, including even the phones you can expect.