AT&T is the overall best GSM network on coverage and Data speeds. It also has a "truly" Unlimited plan, free calling to Mexico or Canada, free HBO Max subscription, roaming service, and other amazing perks. But then, does the carrier shares these features with its MVNOs? Let's compare Pure Talk vs Cricket Wireless and see about that.
FYI: MVNO is a short form of mobile virtual network operator– a carrier that runs on a major carrier's network.
Pure Talk vs Cricket: a Quick Peek on the Wireless Phone Providers
Feature
Pure Talk
Cricket Wireless
Founded
2009
1999
Carrier Network
AT&T
AT&T
eSIM support
YES
N/A
Free 5G
YES
YES
LTE Download Speeds
70+Mbps
70+Mbps
Cheapest Phone Plan
$20/ month (before discount)
$30/ month
Unlimited Minutes
YES
YES
Unlimited data
YES (with cap)
YES (with no cap)
Family Discount
YES
YES
Free Mexico/ Canada Call
NO
YES (varies)
Mobile Hotspot
YES
YES
WiFi Calling
YES
YES
Video Streaming
YES [up to 1080p HD]
YES [up to 1080p HD]
Phone Unlock Period
At Purchase
After 180 Days
Extra Perks
N/A
150GB cloud storage,
Free HBO Max streaming,
& Unlimited texting to
international destinations
 
 
 
Is Pure Talk Any Good?
Are you looking for a way to cut down your current bill on the AT&T network? Pure Talk is one of the providers you can consider on your list of options. Of course, it's not as cheap as the likes of Tello or Ting, but you can get the basic plan with 2GB of data at $20/ month.
When trying the provider, the total breakdown at checkout showed me $0 on taxes, which means they include it in the listed price. Then, there's a discount of up to $13/ month on each extra line you add to your account.
Other pros & cons of Pure Talk include:
It has eSIM support
Offers decent browsing speeds
Doesn't charge activation fees
Performs no credit check when joining
Sells devices that are fully unlocked
Also has good deals on phones & trade-in
You can stream videos in up to HD quality
Cons:
It has throttling on all plans
Doesn't have international roaming
It also doesn't have free calling to Canada/ Mexico
Is Cricket Wireless Any Good?
Are you a heavyweight data user? If yes, Cricket Wireless might be a great phone for you. It has not only decent 5G & LTE browsing speeds, but also you can get unlimited high-data plans (with no cap).
In the previous Red Pocket vs Cricket review, we also conclude Cricket gives you free roaming data while in Canada or Mexico. Then, there's unlimited texting to 30+ international destinations and a subscription to the HBO Max streaming service.
Other pros & cons of Cricket Wireless phone include:
Pros:
It has no activation fees online
Doesn't perform credit check
Supports domestic roaming
Provides great phone deals
Also, offer amazing phone plan deals
You can finance your desired device
It supports video streaming in up to 1080p HD
Cons:
It doesn't have eSIM support
Mobile hotspot isn't free on most plans
Offers deprioritized data on most plans
It has no 5G support on BYP (bring your phone) program
Update: the Cricket basic plan is now offering 5GB of high-speed data instead of the previous 2GB.
Pure Talk vs Cricket: Comparing the Features & Perks of the Wireless Phone Providers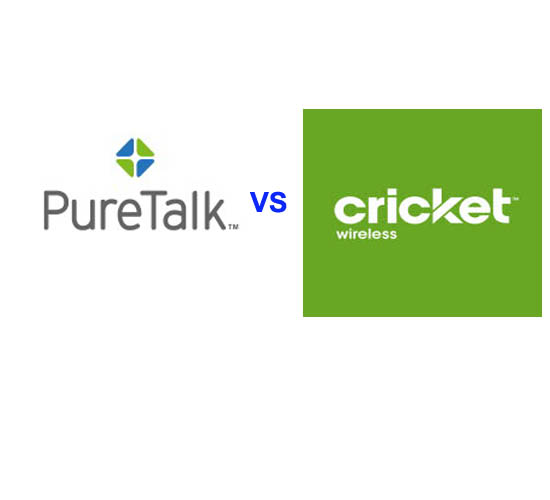 Eligibility
As prepaid carriers, both Pure Talk and Cricket services are very easy to join even with bad credit. They require no contract, security deposits, or even credit checks.
Regardless, Pure Talk does support the digital eSIM. The feature can come in handy if you want to use your iPhone with multiple lines. Or else activate your device instantly without having to wait for the physical SIM card (usually takes two days to arrive).
Winner: Pure Talk as it supports eSIM activation, which Cricket doesn't have at the moment
Network Coverage
As MVNOs on the AT&T network, the two will be sharing the point in this case. And if you can remember our talk on Xfinity Mobile vs AT&T, we did say the GSM carrier has pretty wide coverage across the country. That includes even most parts of the Midwestern region like Oregon, Madison, and some other remote areas.
Winner: A Tie as both phone operators run on AT&T's extensive network
Phone Deals & Discounts
Cricket takes the whole point in this part from its deals of free phones when you switch to its prepaid service. True, the featured devices aren't exactly like the Verizon iPhone deals, but they're better than the carriers with no such offers.
Also, the Cricket phone promos don't require a  trade-in, rather switching a line with an eligible phone number.
On its end, Pure Talk rarely offers free phone deals. However, you can get a partial discount of up to $250 when you purchase any of the high-end devices. Or else provide an eligible trade-in when adding your purchase to the shopping cart.
Winner: Cricket as it has free phone deals and more amazing device offers for all customers.
Free 5G Access & Speeds
While all the operators have free 5G access, Cricket takes the points as it has relatively faster 5G data speeds. In a speed test with the iPhone 12, the carrier peaked at 225Mbps, but some people have mentioned getting up to 265Mbps. Then the LTE was hovering around 70-80Mbps, which, of course, isn't the best, but enough for most applications.
As for Pure Talk, I'll not lie I've tested the service any recently, especially on 5G bands. But in an LTE speed test in the mid-last year, the phone peaked at 72Mbps, which is twice faster than the 4-35Mbps advertised by the provider.
Network Roaming
Both Pure Talk and Cricket have partnered with some of the U.S. phone providers to enable domestic roaming while outside the AT&T coverage. Of course, there's no guarantee you'll get a roaming network everywhere, but it can be handy where available.
As for international roaming, Pure Talk doesn't support the feature. Even Cricket doesn't have exactly roaming agreements with far beyond partners, just only in Canada and Mexico. And in the two regions, you can get unlimited roaming talk + text and capped high-speed data.
Winner: Cricket as it has roaming talk, text, and data while in Canada or Mexico.
Phone Plans & Pricing
When we now compare Cricket vs Pure Talk on rate plans, the latter's more flexible and also affordable. It has the basic 2GB plan going for twenty bucks and you can still get up to a $4 discount when you add multiple lines to your account. See below.
Chart 2.1 Pure Talk Phone Plan Structure
Chart 2.2 Cricket Wireless Phone Plan Structure
| | | | | |
| --- | --- | --- | --- | --- |
| Features | 5GB Cell Phone Plan | 10GB Cell Phone Plan | Cricket Core Unlimited Plan | Cricket More Unlimited Plan |
| Single-Line Price | $30/ mo. | $40/ mo. | $55/ mo. | $60/ mo. |
| Auto-pay Discount | N/A | $5/ mo. | $5/ mo. | $5/ mo. |
| Multi-Line Discount | N/A | $5-$14 | $15-$30 | $15-$28 |
| Talk Minutes | Unlimited | Unlimited | Unlimited | Unlimited |
| Text Messages | Unlimited | Unlimited | Unlimited | Unlimited |
| High-Speed Data | 5GB | 10GB | Unlimited | Unlimited |
| Premium Data | N/A | N/A | Unlimited | Unlimited |
| 2G Unlimited Data | YES (up to128 Kbps) | YES (up to128 Kbps) | N/A | N/A |
| Mobile Hotspot Access | N/A | N/A | Add-On (for $10/ mo) | 15GB Hotspot (free) |
| Video Stream Resolution | (Up to HD) | (Up to HD) | (480p Quality) | (480p Quality) |
|   |   |   |   |   |
First of all, Pure Talk phone plans are actually seven options, including the 6GB (cost $30/ line) that I've intentionally left out on our chart. There are also data-only plans for tablets starting from as low as $10/ month on a single line or $8/ month with multiple lines.
Speaking of multi-line, the Pure Talk basic 2GB plan is only available with two or more lines. But similar to the rest, you can still get a family (multi-line) discount, saving up to 10% on two-line, 15% on three-line, & 20% on four-line subscriptions.
As mentioned earlier, the Pure Talk display price includes even the monthly taxes. And, surprisingly, it's the same case with Cricket phone plans, only that the listed cost here's a little higher.
That's the basic Cricket 5GB plan goes for $30/ month and doesn't include any form of discount. The discounts for the auto-pay on single-line or multi-line (family) subscriptions start with the 10GB plan going onward. And in that case, you get to save $5 to $28/ month depending on the chosen plan.
Winner: Pure Talk as it's relatively cheaper on single and multi-line subscriptions
Deprioritization & Throttling
On this one, Cricket is the clear winner as it has the Cricket More plan with prioritized data that won't slow down during congestion. Rest of the plans usually get deprioritized during congestion, whereby your LTE data can drop to a low speed of 4-15Mbps.
As for throttling, the Cricket More and Cricket Core plans have "truly" unlimited data that won't drop on speed based on usage. However, the basic 5GB and 10GB will get throttled after reaching the maximum limit.
On its end, Pure Talk does get deprioritized when the network is busy. Then, all the plans have throttled data, whereby the speeds drop to 3G (256kbps) after reaching the maximum cap.
Winner: Cricket as it has no deprioritization or throttling on the unlimited Core More plan
Frequently Asked Questions:
Is Cricket Better than Pure Talk?
Put simply, all the two carriers are great in various aspects. However, Cricket is better than Pure Talk on phone deals, prioritized data, and no throttling on the unlimited plans. Also, Cricket has better roaming agreements since you can use your phone while in Canada/ Mexico
What is the Downside of Pure Talk?
While it's a great option to save on your phone bill, the downside of Pure Talk is that it has all plans, including the unlimited options, with capped high-speed data. Also, it has no free calling to Canada and Mexico or international roaming features.
Who is Better Than Cricket Wireless?
Well, naturally, all the major carriers, including AT&T, Verizon, & T-Mobile are better than Cricket Wireless on domestic and international services. As for the MVNOs, Red Pocket, Tello, Ting, Twigby, and our Pure Talk are all better than Cricket on price point.
Final Thoughts:
In general, both Pure Talk and Cricket Wireless are great options if you're looking for a budget-friendly phone on the AT&T network. Pure Talk might even be more reliable if you want to cut down your phone bill, use a mobile hotspot, or activate an eSIM line.
But, in my opinion, Cricket Wireless is a much better option as it. It not only gives you free phone deals when you switch but also has prioritized and un-throttled data on the unlimited plans. So, you can browse, game, or stream as much as you want.
As you choose the Cricket phone, though, do remember the carrier currently doesn't have eSIM support. Then, the mobile hotspot isn't guaranteed on all Android phones.