Same to prepaid or postpaid carriers, switching between lifeline providers is usually the best way to find the perfect service for your needs. For instance, you can switch from SafeLink to Qlink Wireless and see how the program will be.
Even as a free service, the process here is pretty similar to when you switch from AT&T to Verizon or T-Mobile.
Remember, the lifeline provider is still in this for profit (from the government sponsorship). Thus, the Qlink customer support team will be eager to assist you this time if you want to switch with your phone number.
Is Qlink Really Better than SafeLink Wireless?
In this guide, we'll be looking at how you can switch from SafeLink to Qlink service with ease. But before we come to that, does this means Qlink free phone is better than Safelink?
There are typically many reasons one may want to switch phone services. In our case with SafeLink to Qlink, the reasons come down to:
SafeLink doesn't offer service in your area: it can happen after you have relocated to a new location
SafeLink has poor service in your location: of course, the carrier still offers service on the three main carriers (Verizon, AT&T, and T-Mobile). But after the recent acquisition of TracFone, Verizon has scheduled to transition all the customers of SafeLink on other networks to its network. And this means the consumers in areas with poor Verizon coverage will have to look for an alternative government phone, like Qlink.
You need more talk minutes of the lifeline-only plan: in the SafeLink vs Qlink review, we saw the latter offers the best allowances on the lifeline-only plan. You get at least 1000 talk minutes in most states, whereas Qlink starts at 350 minutes.
You need to take advantage of the ACP benefits in your state: similarly, Qlink has relatively better ACP benefits than SafeLink (except in California). You get unlimited talk, text, and data with 28GB of high-speed browsing vs 25GB with SafeLink.
You want to get the ACP free tablet from the government: Q Link does Give Free Tablets when you apply for the ACP benefit. The kind of tablet the lifeline provider gives you (Qlink Scepter 8) isn't the best on specs, for sure. But you can still make do with basic tasks like reading online, streaming videos, and using social media.
Do I Need to Contact Customer Care to Switch from SafeLink to Qlink?
If either of the above is a reason good enough for you to take Qlink, you can then go ahead and switch from SafeLink. The way you proceed with the process, though, will vary with your situation:
Method 1: Switch from SafeLink to Qlink on Your Own
Basically, this is where you do everything on your own to transfer the free government cell phone service. It's most applicable when you want to switch to Qlink with a new cell phone number instead of the old one from SafeLink.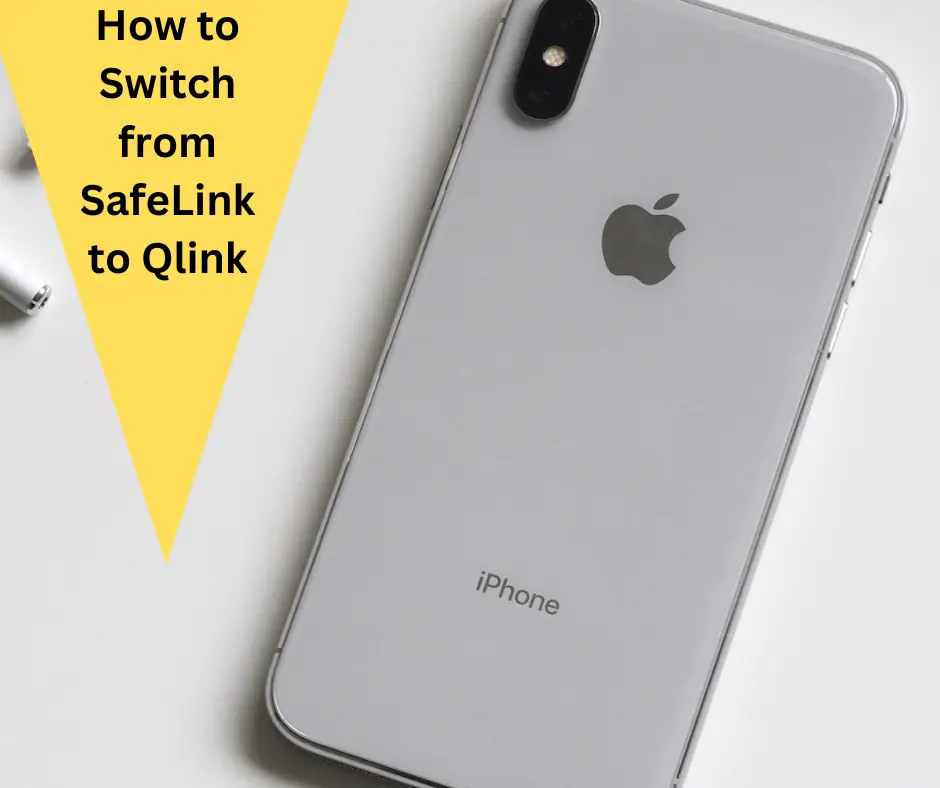 In this case, you won't need to contact Qlink customer support. You just need to gather everything you need, then get the phone and complete the service activation online.
Method 2: Switch from SafeLink to Qlink through Customer Care
If you'd want to switch to Qlink with your existing SafeLink cell phone number, a call to customer care is a must. The customer representative will help initiate the number port-in with SafeLink on your behalf. And once the number transfer is complete, just finish up with the activation online.
If unable to activate your Qlink service online on your own, you can also call customer support for assistance. And this applies when switching to Qlink with either a new or current SafeLink number.
A Step-by-Step Guide on How to Switch From SafeLink to Qlink
From the above details, we can make two ways how to switch from SafeLink to Qlink:
Switch to Qlink with a new cell phone number
Switch to Qlink with your current SafeLink number
Before you proceed with either of the methods:
You'll have to wait for the Qlink SIM (and the phone) to arrive
 If you will activate your new Qlink service on the BYOP program, make sure the device you bring is fully unlocked
Make sure the device for BYOP is also a phone compatible with Qlink Wireless. Part of this means it should have at least frequency band 4, 12, or 71 to work on LTE. Then bands n41, n71, n258, n260, or n261 on 5g.
Get the billing address statement of SafeLink if planning to switch to your current number
Make sure you remember the account number and PIN of your SafeLink service if switching to Qlink with your current number
If switching to Qlink with your current SafeLink number, I'd also recommend you to back up its data. The reason for this is that you should factory reset the device, which deletes all data, before inserting the Qlink SIM.
You must also make sure your SafeLink Wireless service is active if switching to Qlink with the current cell phone number. If you cancel your SafeLink service before the number porting completes, the transfer won't be successful.
 Once with all these details, you can now proceed with the lifeline phone switch as I've shown below:
Part 1: Switch from SafeLink to Qlink with a New Cell Phone Number
Overall, the easiest way to switch to Qlink Wireless service is with a new cell phone number. The process is more or less like applying for a new service, which is why you don't have to involve customer care support.
To do that:
Go to the official Qlink Wireless sign-up page
Enter your area zip code and email address in the appropriate input boxes, then hit the bold orange "Get it Now" button
If Qlink is available in your location, you'll get a prompt to enter your full name. Then tap on the bold blue "Continue" button
Next, fill up your home address, including the street and building. Then, hit the bold blue "Continue" button
After you click "Continue", Qlink will now want you to enter a phone number they can reach you on if needed.
If the cell phone number entered is valid, Qlink will take you to a new window to verify your identity. So, enter your birth date and the last four digits of your social security number in the appropriate input box. Then click the "Continue"
Finally, follow the rest of the onscreen instructions to choose the service plan to use with Qlink and upload the eligibility documents.
After completing the Qlink application, the team will verify your information and documents. It can take a day or more for them to complete this step. And if they approve your request, they will start processing your order for shipping.
Part 1 (b) Wait, Receive, then Activate
Once your order of the free phone and SIM (or SIM only for BYOP) is ready to ship, Qlink will send you an email with the tracking number. And after they have shipped, it can take 3-5 days for the package to reach you.
Take note, it will take a similar timeframe (3-5 days) for Qlink to approve and process your order. So, we're looking at up to ten days or even more to receive the package after you've applied.
Once you've received the package, activate the service to start using it. Qlink activation is also easy to do as you just need to:
Insert your Qlink SIM card into the phone
Power on the phone, then go to the settings and do a network reset
Open the App Store or Play Store and download the My Mobile Account app. Then follow the onscreen prompts to sign up
Once you've signed up, dial the Qlink customer service number 305-260-6232 to make a call test. It's also the final step of activation, which means your phone should be fully working at this point
Part 2: Switch from SafeLink to Qlink with the Current cell phone number
If many people already know your SafeLink phone number, you should switch with it to Qlink. However, wait for your application order to arrive before you call the provider to start the number transfer.
Once you've got the Qlink SIM (and phone), call support at 1-855-754-6543 to start the number transfer. Qlink will ask for your personal details: Full Name, Contact phone number, Billing Address, City, and State, plus SafeLink service Account Number and PIN.
Make sure all these details are as accurate as they appear on the SafeLink bill statement. Even the slightest mistake on the account/ PIN or misspelling of the Full Name will result in a port-in error.
Now that Qlink has all this information, they will contact SafeLink on your behalf and start the number transfer. Leave the two to handle things by themselves, and only call SafeLink to cancel your service when the Qlink subscription is active.
As a matter of fact, you necessarily don't have to call Safelink to cancel your old service. After a number port-in, the old service usually deactivates automatically.
Tip: After number port-in, you'll still need to complete activating the Qlink service on your end. The process here involves the same four steps when you activate Qlink with a new cell phone. (See the steps in Part 1 (b) above).
There are Still Things You'll Miss on SafeLink!
Whatever the reason may be, that's how to switch from SafeLink to Qlink Wireless. It's self-explanatory since you just need to sign up and qualify with Qlink. Then when your SIM card or phone arrives, you can activate it with a new number or transfer the one you used on SafeLink.
Before you switch to Qlink, keep in mind SafeLink is better in a few areas. One of these areas is on the ACP and Lifeline combo benefit for Californians, where the carrier now offers 60GB of high-speed data.
Other SafeLink features you might miss after joining Qlink Wireless include:
Free international calls: to Canada and Mexico
Consistent high 5G data speeds: a recent test peaked at up to 400Mbps
Mobile hotspot feature: available to tether your Internet-enabled device