If I'll be honest with you, a decision between Cricket vs Visible has never been easy for many people. The two are not only some of the best mobile virtual network operators (or simply MVNOs) to cut your monthly phone bills. But also they're directly related to their carrier networks as sub-brands, which is a big plus if you ask me.
First up, Cricket Wireless is a subsidiary of AT&T and also runs on the same network. Then, Visible is a brand of Verizon and also uses the same CDMA towers to bring you the cellular service you need. So, you have the option to enjoy AT&T, and Verizon's reliable network at half the cost.
But again, the million-dollar question is… is switching to Cricket or Visible worth the time? Let's see about that.
Cricket vs Visible: A Summary on the Cell Phone Providers
| | | |
| --- | --- | --- |
| Feature | Cricket Wireless | Visible |
| Founded | 1999 | 2018 |
| Parent Company | AT&T | Verizon Communications |
| Carrier Network | AT&T | Verizon |
| Technologies | GSM | CDMA |
| Free 5G | YES (Varies) | YES |
| Lowest Phone Plan | $30 | $40 |
| Unlimited Minutes | YES | YES |
| Unlimited data | YES | YES |
| Carry-Over | NO | NO |
| Family Plans | YES | YES (Sorta) |
| Free Mexico/ Canada Call Pass | YES (varies) | YES |
| Device Financing   | YES (Progressive Leasing) | YES (Affirm) |
| Video Streaming | YES [Up to HD quality] | YES [standard 480p] |
| Extra Perks | 150GB cloud storage, Unlimited mobile hotspot, Free HBO Max streaming, Unlimited texting up to 37 Countries     | N/A   |
|   |   |   |
About Cricket
Cricket Wireless is a big name in the line of prepaid cell phone service. The provider has been in the industry for over two decades now while still providing budget-friendly rate plans to low-end consumers.
As was mentioned earlier, Cricket is a brand of AT&T and operates on the same network. In regards to the network technology, the main carrier utilizes Global Systems for Mobile Communications (or simply GSM). So, you should be able to use most of the unlocked cell phones, which is a plus since they have fewer bloatware apps.
Speaking of the phones, Cricket is loved by many because of its frequent limited-time deals that can be hard to beat. It's one of the easy ways to get free cell phones with no credit check, including luxury brands like Apple and Samsung.
About Visible
On the contrary, Visible is not on the list of the providers that will give you a free phone. However, you can get a virtual gift card worth $50 to $200 when you purchase one of their phones. You can use the gift card almost anywhere, including Amazon, BestBuy, Hotels.com, Bed Bath & Beyond, Lowe's, AutoZone, Target, Uber Eats, and more.
Better yet, it's not a must you have the full payment to replace or upgrade your device with Visible. The operator does support shop now and pay anytime mobile phones financing, which you can qualify with even a fair credit report.
As for the service part, Visible is a product of Verizon and runs on the same network. Nonetheless, it's relatively cheaper plan pricing, which, by the way, is only one, but with everything you need.
If it's the data allotment, you can browse, stream, and game as much as you want if you stay in line. But we'll talk more about that later on after we introduce the basics.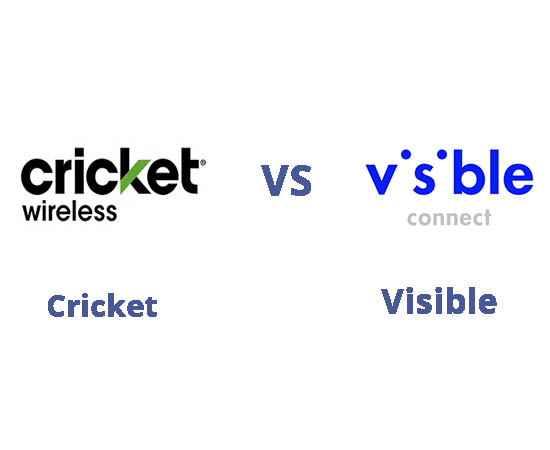 Cricket vs Visible: Comparing the Features and Performance of the Cell Phone Services
Here are the six key similarities and differences between the two wireless phone services.
Network Technology
Well, this is one of the major differences between Visible vs Cricket Wireless. The latter runs on a GSM network channel, which usually requires a unique SIM card to store the data of the user. That SIM card is what you use in case you needed to swap your phone when you're trying to upgrade to the latest model. Or else in times of emergencies, like when we put my cricket SIM card in a MetroPCS phone.
The best thing with GSM networks like our Cricket is that it also becomes easier to find a device to use. This is so as it's the most common technology across the globe (just as its name) and with phone manufacturers.
Of course, this doesn't mean CDMA (or code-division multiple access) mobiles are less common. Right before the merger with T-Mobile, the old Sprint EV-DO network was CDMA, and even Cricket used it for about five years- from 2010 to 2015.
You may also interested: Compares Visible vs Total Wireless
Meanwhile, Verizon has been the major user of the CDMA network since its initial debut (with the CDMA2000). It's the same one Visible, which it funds and owns, operates on. So, it shouldn't be an issue to use a Verizon-locked phone on the MVNO.
Even better, most of the Straight Talk phones that use Verizon towers can work with Visible without flaws. However, you must have the phone carrier-unlocked (CDMA) and without any firmware restrictions.
Point of Thought:
It's worth noting that the GSM and CDMA protocols are fading away in terms of device compatibility. As Verizon points out, the network standards were most significant to 2G and 3G networks, which we could say are no more. But the 4G LTE and 5G devices in the market today are dual-band, anyway, and can run on both technologies.
However, there's still the 4G HSPA+ service that came before LTE as an upgrade of the then 3G networks. The devices that support this one can only be CDMA or GSM, but not both. So, remember that if you have an unlocked 4G phone that shows you an "unsupported sim" message when you try to put a Cricket SIM card.
Free 5G for All
The fifth-generation network, you may know as 5G, is the next big deal right now when it comes to wireless phone service. It's the fastest download and upload speed for smoother streaming and low latency (or lags) during cloud-based gaming. The network also offers a greater bandwidth, in which case you can now connect more devices without experiencing spotty service.
Anyway, both AT&T and Verizon have already set up the infrastructure for the network, though not in all cities. So, it will be a hit-or-miss sort of thing even with Cricket and Visible.
Regardless, my points on the 5G connectivity go to Visible as it offers the service to all at no additional cost. In other words, the single standard plan you have been paying for the 4G LTE is the same you'll continue to use. You'll only need a 5G-capable device that can work with Verizon's Nationwide and Ultra-Wideband spectrums in your location.
Nonetheless, I should warn you that Visible has capped its 5G speeds at 200Mbps instead of the 4Gbps that Verizon advertises. So, if your goal is to make the most of the ultra-fast connection, you might want to stick with Verizon for now.
Cricket 5G Service is Off-Putting
As I've mentioned a moment ago, Cricket Wireless also has a 5G service, just as its carrier network. However, the service is only available at no cost to the subscribers of the $60/mo Cricket More Unlimited plan and the two Simply Data (only) plans.
So, if you were hoping to migrate to the fast AT&T 5G through Cricket Wireless, you can, but only through the two plan options. The Cricket More plan should be the best approach since you'll also get unlimited high-speed data and several other perks.
In my opinion, however, you should just go with Visible if your location does get a strong signal. Or just pay for the AT&T unlimited Elite package if you want to make the most of the new 5G network.
Cell Phone Plans and Pricing
In terms of the plans, the points will also go to Verizon's brand. The Visible's single unlimited phone plan is not only cheaper than its counterpart but also has everything you need and nothing you don't.
If it's to communicate, the plan includes unlimited texting and calls within the United States. You can also call and text your loved ones in Canada, Mexico, Puerto Rico, or the US Virgin Islands at no additional cost.
As for the mobile data, Visible will give you unlimited high-speed data with no caps. True, you may experience slower speeds from time to time, but that is only when the network is very busy.
Speaking of speed, you should be able to read between 5-12Mbps download speeds and 2-5Mbps upload speeds on the Visible 4G LTE. If you're on either of the 5G hubs, your speed test can count up to the Max 200Mbps.
Note, Visible doesn't have a specific family plan like other carriers. However, you can add more lines through the Party Pay and pay as little as $25/ mo. If not that, you can use the Visible Bring a friend program and score your next month an unlimited service for only $5. When you bring 12 friends, that means you'll only pay $60 for the whole year.
Cricket Also has Unlimited Data
If you're in AT&T's coverage zone, you can also enjoy unlimited high-speed data with Cricket Wireless. The carrier has two such plans to choose from, namely the Cricket Core and the Cricket More. Then, there's also the 10GB plan and the 2GB plan, both with capped high-speed and unlimited 128Kbps speeds.
Other than the varying data allotment, all the four Cricket plans have unlimited talk minutes and texting within the U.S. They also have free voice service to Mexico and Canada, as well as unlimited texting to over thirty other foreign countries.
Note, Cricket has capped the high-speed data of the unlimited Core, 10 GB, and 2 GB plans at up to 8Mbps. Once the allotment for the 10GB and 2GB gets depleted, your data speed will revert to 128Kbps, which is only enough for basic browsing and reading emails, but not streaming.
Chart 2:
| | | | | | |
| --- | --- | --- | --- | --- | --- |
| 2 GB Plan | 10 GB Plan | Unlimited Core Plan | Unlimited More Plan | 20 GB Simply Data Plan | 100 GB Simply Data Plan |
| $30 Single Line | $40 Single Line | $55 Single Line | $60 Single Line | $35 Single Line | $55 Single Line |
| 4G LTE | 4G LTE | 4G LTE | 4G LTE/ 5G | 4G LTE/ 5G | 4G LTE/ 5G |
| Unlimited Talking | Unlimited Talk | Unlimited Talk | Unlimited Talk | N/A | N/A |
| Unlimited Texting | Unlimited Text | Unlimited Text | Unlimited Text | N/A | N/A |
| 2GB High-Speed Data | 10 GB High-Speed Data | Unlimited High-Speed Data | Unlimited High-Speed Data | Capped High-Speed Data | Capped High-Speed Data |
| Unlimited 2G data | Unlimited 2G data | N/A | N/A | N/A | N/A |
| Video stream (HD Quality) | Video stream (HD Quality) | Video stream (480p Quality) | Video stream (480p Quality) | Video stream (HD Quality) | Video stream (HD Quality) |
| N/A | N/A | 15GB Hotspot (for $10) | 15GB Hotspot (free) | N/A | N/A |
| N/A | N/A | N/A | HBO Max™ (with Ads) | N/A | N/A |
| N/A | N/A | N/A | 150GB of Cloud Storage | N/A | N/A |
|   |   |   |   |   |   |
It's worth mentioning that Cricket phone plans do have a "family package", which brings you multiple lines at discounted rates. For instance, you can save over $800/ year on the Cricket More bundle if you have three lines.
Also Free Mobile Hotspot
Visible is the clear winner here since the mobile hotspot feature comes with unlimited 5Mbps speed. Of course, you can only share a connection with one device at a time. But it's more generous than the Cricket's that you can only get with the $60 Cricket More plan or as an add-on for the $55 Cricket Core and grandfathered rate plans.
A sum up, Cricket only offers mobile hotspots to new customers if you're on either of the two unlimited plans.
Video Streaming Quality
Overall, both Cricket and Visible supports video streaming at the standard 480p (SD or DVD) quality. Of course, that's a crisp resolution if you're using your smartphone to watch those movies from YouTube or Netflix. But it might appear extremely pixelated if you're mirroring your handset to a larger monitor.
Of course, a data speed of at least 5Mbps is enough to stream in HD quality at either 720p or 1080p. But Visible has said no to that, whereby they'll even throttle your video stream when they detect you're streaming in HD.
Meanwhile, Cricket Wireless also advertises 480p (SD quality) as the standard resolution for video streaming. However, the GSM provider has a special Stream More feature that enables the user to activate and deactivate HD video streaming.
Of course, the feature is primarily to save on data consumption, but it also means the provider isn't against HD movie streaming as its competitor.
Note, the two Cricket unlimited plans allow streaming on 480p quality by default, and you can't turn off the Stream More feature. So, we can rest on that the capped high-speed data plans (10 GB and 2 GB) are the only ones you can stream movies in HD. But then, that can be pretty expensive, considering Cricket evaluates a typical 90-minute long HD movie at 1.25-2.5GB of data.
Cell Phone Deals and Offers
As was mentioned earlier, Cricket Wireless has some of the best deals on phones, in which case you can walk away with a brand-new model at no cost. This includes the latest phones like the iPhone SE 2020, Samsung Galaxy A02s, and Motorola Moto G Play. You can also get amazing discounts on 5G devices like Samsung Galaxy S20 FE 5G, and Galaxy A52/ A32 5G, saving you up to $300.
On its end, Visible doesn't offer free phone deals. However, you can get gift cards worth up to $200 when you shop on the select catalogs. Yes, it's not what we all would want, but it's a little better than none.
Extra Perks
Other than the mobile hotspot, Cricket Wireless also does offer 150GB of cloud storage to Unlimited More subscribers. The users are also amongst to benefit from the recent  WarnerMedi deal, which includes HBO Max™ streaming at no extra cost.
Final Thoughts:
In truth, we all have different reasons we're attracted to certain mobile carriers. If you're in a location with stable Verizon and AT&T, and you're trying to decide between Cricket vs Visible, I'll recommend the latter.
On Visible's single unlimited plan, you can save lots of change throughout the year. And not just on the standard plan charge, but also the referral program where the carrier lets you pay $5 instead of $40.
Another thing, the mobile hotspot can come in handy when you're on the move as you can share the data with your wireless devices without caps attached. Of course, the single device limitation is kind of a downer, but considering the carrier doesn't charge extra when even running on 5G is a big plus.